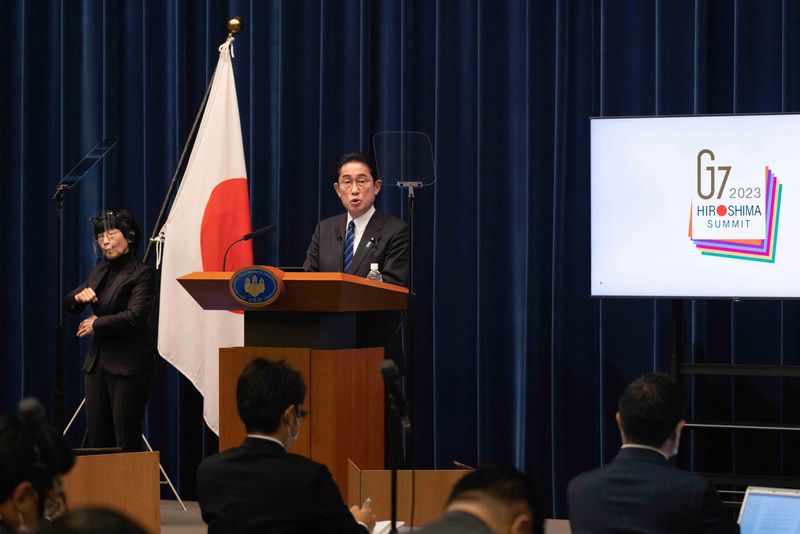 © Reuters. FILE PHOTO: Japanese Prime Minister Fumio Kishida speaks during his news conference in Tokyo, Japan on February 24, 2023. Stanislav Kogiku/Pool via REUTERS

TOKYO (Reuters) – Japan must spread the momentum of wage growth across the country to conquer rising inflation as annual labour negotiations wrap up next month, Prime Minister Fumio Kishida said on Sunday, with backing from a major business lobby.
For years wages have been slow to grow in Japan as cautious firms hoarded a record cash pile, while curbing labour costs, despite government pressure on companies to raise pay.
The government has put a strong focus on wage hikes to stimulate private consumption that makes up more than half of the economy, hoping to stoke a positive cycle of economic growth and wealth distribution under Kishida's new capitalism agenda.
"Above all, wage hikes that beat price hikes are needed," Kishida told an annual gathering of his ruling Liberal Democratic Party (LDP), which lays out its policy agenda for this year.
"The wave of wage hikes must spread to small firms and local areas to enhance competitiveness amid heated competition to attract workers" amid labour shortages, Kishida said.
While achieving "structural wage hikes," Kishida pledged to continue to take steps to curb energy and food prices to ease the pain of inflation on households.
Masakazu Tokura, head of Japan's biggest business lobby Keidanren, expressed support for the wage push.
"Now is the crucial stage to revive a strong economy," he said. "Structural wage hikes and human capital investment are vital…"
At this year's labour talks, large firms are expected to offer the biggest pay hikes in 26 years, or an average of 2.85%, a poll of 33 economists by Japan Economic Research Center (JERC) shows.
Still, that pace would fall short of consumer inflation which is running at 4.2%, and the 5% targeted by Rengo, Japan Trade Union Confederation.
Moreover, the small companies that provide most of Japan's jobs generally can't increase pay, business owners, economists and officials say.
Read More
In a move to buoy Japan's vulnerable economy, Prime Minister Shinzo Abe has called on corporations to boost wages, with the support of the country's business lobby. Mr. Abe, in a statement before the Keidanren, Japan's most powerful business federation, said he would use the national government as a "catalyst" to encourage "dynamic dialogue" between workers and employers for higher wages.
"I want you to make a resolute move to increase base pay in this spring's wage negotiations, so that the effects will radiate through the economy," he said.
The move comes within the framework of Abe's so-called "Abenomics" approach to stimulating the economy. With consumer prices still falling and consumer spending softening, the prime minister has tried to encourage the country's larger companies to raise wages, in order to spur consumer spending and stimulate growth.
The support from Japan's business lobby is a welcome sign towards Abe's efforts, as the centrist bloc of business leaders and traditionally conservative corporate interests have been known to oppose such moves in the past. The Keidanren has reportedly committed to "carefully consider" wages in line with the government's directive.
Abe has also sought to pressure businesses to increase their investment in global markets and start-ups, as part of an effort to make the Japanese economy more productive and self-sustaining. In August, he met with 61 CEOs of major companies, including Toyota and SoftBank, to persuade them to bring jobs and investment back to Japan.
Whether Abe's policies will ultimately succeed in stimulating the economy remain to be seen. However, the growing support from businesses and the business lobby is a major sign of progress in the quest to boost wages and increase consumer spending in Japan.