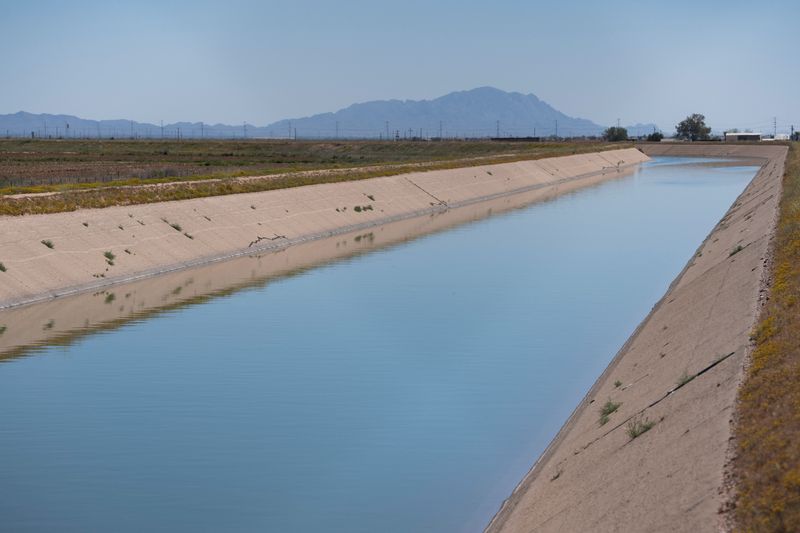 © Reuters. Colorado River water runs through Central Arizona Project canals in Pinal County, Arizona, U.S., April 9, 2023. REUTERS/Rebecca Noble/File Photo

By Daniel Trotta and Brad Brooks
(Reuters) -Seven U.S. states that depend on the overused Colorado River on Monday reached agreement to cut consumption and help save a river that provides drinking water for 40 million people and irrigation for some of the country's most bountiful farmland.
Arizona, California and Nevada will reduce intake by 3 million acre-feet (3.7 billion cubic meters) through the end of 2026, an amount equal to 13% of their river allotment, under a deal brokered and announced by the Biden administration.
Those three make up the Lower Basin states of the century-old Colorado River Compact, which assigns water rights to them plus the four Upper Basin states of Colorado, New Mexico, Utah and Wyoming.
While the Upper Basin states draw their water directly from the river and its tributaries, the Lower Basin states depend on Lake Mead, the reservoir created by the Hoover Dam and whose spigot is controlled by the U.S. Bureau of Reclamation.
The river's long-term health is critical for the entire region, particularly for the economies of major cities such as Los Angeles, Las Vegas and Phoenix, and the agricultural industry.
Monday's agreement clears a major hurdle for reaching a three-year plan for distributing water rights starting in 2024. Without a deal, the federal government might have been forced to impose cuts, likely provoking a flurry of lawsuits.
The agreement, billed by the states as a "historic success," followed a year of arduous negotiations that featured two blown deadlines.
It was facilitated by an extraordinary deluge this year that filled reservoirs and packed the mountains with snow.
Moreover, the Biden administration made it rain with $1.2 billion in grants under the Inflation Reduction Act (IRA) of 2022 that will compensate local water districts, cities and Native American tribes for cutting back.
"This year's hydrology was really important, and not only the rains in California," said Estevan Lopez, New Mexico's signatory to the deal as the state's commissioner to the river compact. "That made this possible, along with the funding from the IRA."
TOUGHER TALKS AHEAD
Now the seven states must go back to work on longer-term deal starting in 2027, most likely for 20 years, that must be reached without being able to count on rainy years or a flood of federal dollars, and with effects of climate change looming.
"There are significantly more difficult things in the future that are going to have to be agreed to," said John Entsminger, Nevada's representative.
The Colorado River Compact has long been problematic as it was agreed following an usually wet period, misleading signatories into believing more water was available to them.
The river has been further strained by rapid population growth and, in this century, a historic drought that – until this year's rains – threatened to drain reservoir levels below the intake valves that deliver water downstream and cut off hydroelectric production.
Entsminger said officials now acknowledge there will be less Colorado River water available in the 21st century than there was in the 20th.
But he cited Las Vegas, which has seen its population increase by 800,000 people since 2002 while cutting Colorado River consumption by 31%, as an example of how to grow amid scarcity. 
While significant, the deal leaves out two major river users: Mexico and Native American tribes.
Lopez said Mexico, which receives 1.5 million acre-feet per year under a 1944 treaty with the United States, has signaled a willingness to cooperate, and the tribes, which have an estimated one-fourth to one-third of the water rights, have been kept informed of the talks.
(Reporting Daniel Trotta, Brad Brooks and Rami Ayyub; Editing by Mark Porter, Donna Bryson, Jonathan Oatis and Sonali Paul)
Read More
On Thursday, the seven states that rely on the Colorado River for water agreed to an unprecedented deal that aims to protect the vital waterway from further depletion due to increased demand and climate change. The river provides water for over 40 million people in Arizona, Nevada, California, Colorado, Utah, New Mexico and Wyoming, so successful implementation of the proposed Lower Basin Drought Contingency Plan is essential for preserving this essential water source.
The plan includes cutting water use by an estimated 3.2 million acre-feet over five years, during which the states will establish a new "capacity sharing agreement" to adjust allocations accordingly. It will also provide additional money for conservation efforts and local water projects.
California, which holds the highest percentage of Colorado River water rights, was the only state that had yet to sign on to the agreement, until Thursday, when the California Legislature approved their part of the deal. The effort was led by Governor Gavin Newsom, who said in a statement that his state "draws deeply on the Colorado River, but also take seriously our profound responsibility to be responsible stewards of this most precious resource. The Lower Basin Drought Contingency Plan is a historic action that will ensure the Colorado River will remain a source of life, recreation, and economic vitality for generations to come."
The agreement is widely seen as an historic achievement, as it will help to make the best use of this increasingly fragile water source in the face of rising population and extreme weather events. The Department of the Interior complimented the agreement as "the product of arduous work and compromise among stakeholders including states, Native American tribal, agricultural, and environmental interests."
In the past, scarcity of Colorado River water has created harsh conflicts between farmers and other water users; however, this latest deal is a successful example of cooperation and collaboration. This newfound synergy will help protect resources that provide water, food, jobs and recreation to millions of people in seven western states and all who rely on the river's life-sustaining water.