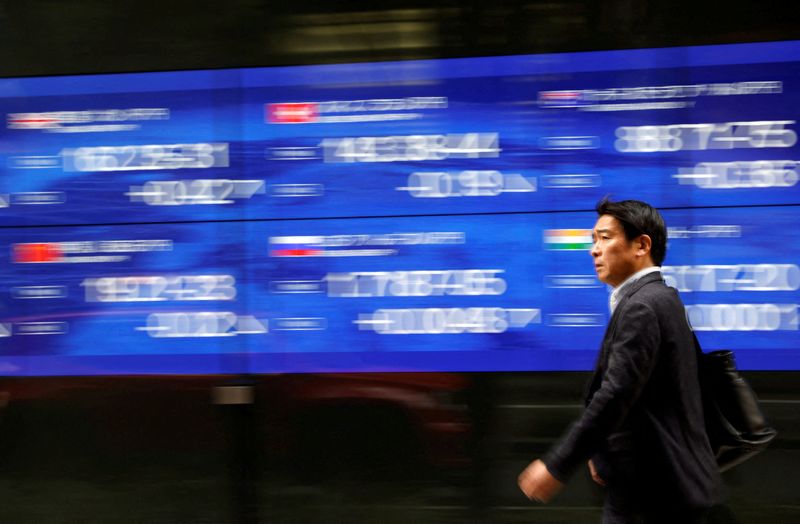 © Reuters. FILE PHOTO: A passerby walks past an electric monitor displaying various countries' stock price index outside a bank in Tokyo, Japan, March 22, 2023. REUTERS/Issei Kato/File Photo

By Stephen Culp
NEW YORK (Reuters) -U.S. stocks oscillated on Friday and benchmark Treasury yields dipped as market participants digested a spate of mixed corporate earnings and data that confirms that while inflation is cooling, it remains well above the Federal Reserve's target.
The and the Dow were modestly higher but Amazon.com pulled the Nasdaq into negative territory, with each index poised to notch modest weekly gains.
Economic data released before the bell confirmed that inflation is falling but remains more than double the Federal Reserve's average annual goal of 2%, and did little to move the needle regarding market expectations of another 25 basis-point interest rate hike when the central bank meets next week.
Meanwhile, the economic outlook is uncertain, with a weaker than expected first-quarter GDP reading and Amazon.com Inc (NASDAQ:) warning of a potential slowdown echoing those uncertainties and weighing on the stock.
"We're receiving conflicting information," said Michael Green, chief strategist at Simplify Asset Management in New York. "The labor market is strong and we've seen decent earnings, all of which is set against the backdrop of increasing fear of recession."
"It's clear that inflation is coming down but what we're struggling with is trying to assimilate this information and trying to figure out what the Fed is going to do with this information."
The rose 70.64 points, or 0.21%, to 33,896.8, the S&P 500 gained 4.27 points, or 0.10%, to 4,139.62 and the dropped 25.39 points, or 0.21%, to 12,116.85.
European shares gained ground, rebounding from an initial sell-off attributed to weakness in European banks.
The pan-European index rose 0.32% and MSCI's gauge of stocks across the globe gained 0.17%.
Emerging market stocks rose 0.41%. MSCI's broadest index of Asia-Pacific shares outside Japan closed 0.48% higher, while rose 1.40%.
Treasury yields fell across the board on signs of cooling inflation.
Benchmark 10-year notes last rose 21/32 in price to yield 3.4484%, from 3.528% late on Thursday.
The 30-year bond last rose 43/32 in price to yield 3.6803%, from 3.756% late on Thursday.
The greenback was nominally higher against a basket of world currencies on the heels of the inflation data, and benefitting from a falling yen in the wake of the Bank of Japan maintaining its low policy rate.
The rose 0.07%, with the euro up 0.07% at $1.1035.
The Japanese yen weakened 1.59% versus the greenback at 136.14 per dollar, while Sterling was last trading at $1.2564, up 0.62% on the day.
Oil prices rose but remained on track for a monthly decline amid signs of an economic slowdown.
rose 1.38% to $75.79 per barrel and was last at $79.40, up 1.51% on the day.
Gold prices were essentially flat after economic data cemented the likelihood of another rate hike from the Fed.
added 0.3% to $1,993.63 an ounce.
Read More
Global financial markets gyrated on Thursday amid mixed economic data reports, stocks of major companies releasing quarterly results and rising expectations of further monetary stimulus from central banks.
Treasury yields fell as U.S. stocks moved higher on the strength of corporate earnings, which exceeded many analyst expectations. The S&P 500 and Nasdaq indices posted the biggest gains since June . The Dow Jones Industrial Average, however, was barely moved.
The yield on the 10-year Treasury note fell from 0.74 to 0.72 percent and the yield on the 30-year Treasury note slipped from 1.47 to 1.43 percent. Lower yields indicate investors have an improved outlook on economic outlook.
Earlier reports showed that jobless claims jumped to their highest level since August, and retail sales increased at the slowest pace since February. In addition, housing starts fell by 5.1 percent in August, worse than expected and slower than the previous month's 4.2 percent decline.
The mixed economic data did little to change expectations that the Federal Reserve will cut interest rates at its September meeting.
Meanwhile, U.S. corporate earnings were a bright spot, as many companies reported better-than-expected earnings and revenue. Energy, technology and consumer discretionary sectors contributed the most to the market's gains. Additionally, strong performance from healthcare and communication services stocks fuelled the rally.
In conclusion, Wall Street gyrated on Thursday in the face of mixed data, but the markets were ultimately buoyed by the good news from corporate earnings. Treasury yields continued to decline, indicating investors have an optimistic outlook on the economic outlook.