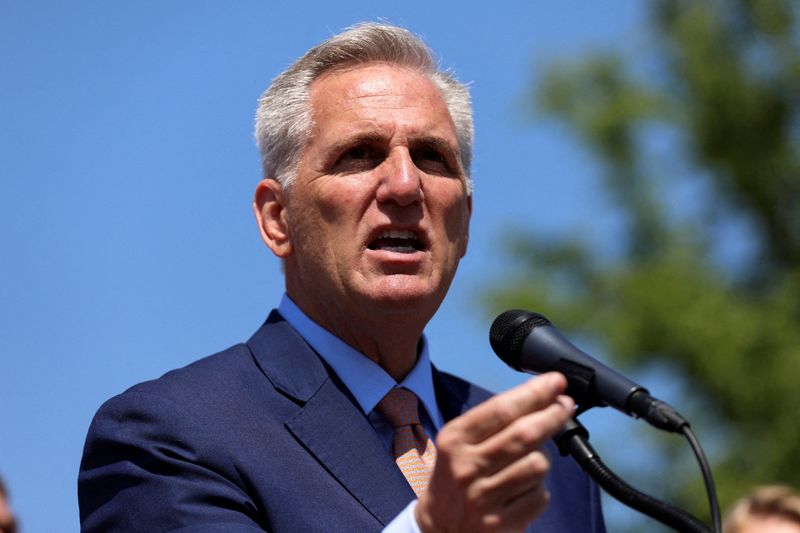 © Reuters. FILE PHOTO: House Speaker Kevin McCarthy (R-CA) and other House Republicans hold a news conference on Capitol Hill in Washington, U.S., April 20, 2023. REUTERS/Amanda Andrade-Rhoades/File Photo

By David Morgan and Richard Cowan
WASHINGTON (Reuters) -The U.S. House of Representatives on Wednesday narrowly passed a bill to raise the nation's $31.4 trillion debt ceiling, defying President Joe Biden by attaching sweeping spending cuts for the next decade.
With this mostly partisan 217-215 vote, Republican House Speaker Kevin McCarthy hopes to lure Biden into negotiations on cutting spending, even as he and his fellow Democrats in Congress insist on a debt limit increase with no strings attached.
"The minute we pass a bill, it changes that entire dynamic, and it puts actual pressure on the Senate to do their job. And if they say they're not going to pass our bill, then which bill are they going to pass?" House Majority Leader Steve Scalise said in a telephone interview before the vote. "The idea that they just sit back and do nothing is not acceptable."
Senate Majority Leader Chuck Schumer disagreed, telling reporters the House bill is "dead on arrival." He said the Republican legislation "only brings us dangerously closer" to an historic U.S. debt default that would shake markets and economies worldwide.
Throughout debate on the bill, Republicans cast Democrats as free-wheeling spenders of taxpayer money, which they say has pushed the national debt into a danger zone.
Democrats, meanwhile, bemoaned the deep spending cuts the measure would bring on programs including healthcare for the poor, Head Start education for pre-schoolers and an array of other programs including law enforcement and airport security operations.
It was unclear when either side would take a step toward the other, even as the potential for a devastating debt default could be just weeks away, according to government estimates.
McCarthy struggled for months to find just the right balance in the bill to get enough of his 222 far-right and more moderate Republican members on board.
Early on Wednesday morning, McCarthy had to give in to some of his members' demands to keep the legislation alive.
He assuaged concerns of Midwestern Republicans about biofuel tax credits and addressed hardliners' calls to toughen work requirements for some federal programs aiding low-income Americans.
Republican critics including hardline House Freedom Caucus Chairman Scott Perry and Representative Nancy Mace said they had dropped their opposition to the bill. Several holdouts from the Midwest also said they were ready to move forward, pending a last-minute review of the newly crafted legislation.
BIOFUELS CHANGES
The overnight changes removed a provision that would have ended a tax credit for biofuels that was part of Biden's climate change initiatives in the 2022 Inflation Reduction Act.
Bending to the far-right wing of the party, Republicans also accelerated some new, tougher work requirements for receiving Medicaid healthcare benefits for the poor.
The latter change further enraged Democrats
"The new plan is even more draconian … even more mean. Kicking poor people off of healthcare wasn't enough. They now want to do it faster," said Representative Jim McGovern, the senior Democrat on the House Rules Committee.
The bill would increase Washington's borrowing authority by $1.5 trillion or until March 31, whichever comes first. The bill would pare spending to 2022 levels and then cap growth at 1% a year, repeal some tax incentives for renewable energy and stiffen work requirements for some antipoverty programs.
The stakes are high: A long 2011 debt-ceiling standoff led to a downgrade of the U.S. government's credit rating, which pushed borrowing costs higher, and Wall Street is already flashing warning signs.
The White House has called on Congress to raise the debt limit without conditions, as it did three times under Biden's Republican predecessor, Donald Trump.
Lawmakers do not know precisely how much time they have left to act. The "x-date" when the Treasury Department would no longer be able to pay all its bills could come as early as June or stretch later into summer.
Democrats also argue that the proposed tradeoff of 10 years of spending cuts is unreasonable for an increase in the debt ceiling that would trigger another potentially painful round of negotiations early next year, just as the presidential campaign heats up.
Read More
On Wednesday, the US House of Representatives passed legislation to raise the federal debt ceiling and make steep spending cuts to the federal budget. This was a win for Republican lawmakers, who have long demanded spending reductions as part of any debt ceiling increase.
The bill includes $315 billion in mandatory spending cuts as part of an effort to control federal deficits. Democrats had argued that any cuts should be offset with revenue increases, but the final legislation did not include any new taxes or other forms of revenue.
The legislation will now move to the Senate, where it is expected to pass. President Obama has indicated that he will sign the bill into law, although he has expressed reservations about the lack of revenue increases.
The bill includes cuts to a wide range of government programs, including Medicare, Medicaid, and Social Security. It also includes cuts to discretionary spending, such as education and scientific research.
The passage of the bill marks a victory for House Republicans, who have long pushed for deep spending cuts as part of any debt limit increase. The bill passed with strong GOP support, with only four Republican members of the House voting against it.
The legislation is likely to have a significant impact on the nation's finances for years to come. The cuts to mandatory spending will reduce federal deficits in the short term, but could have unintended consequences in the future if the cuts are not replaced with new sources of revenue.
The bill's passage is a reminder of the degree to which Congress remains divided on fiscal issues. The debate over raising the debt limit has been highly partisan, with both sides intensely focused on their ideological objectives.
Overall, the passage of the Republican debt ceiling bill is a victory for Republicans, who have long demanded deep spending cuts. However, the bill's impacts on federal spending remain to be seen. It is now up to the Senate and President Obama to determine the ultimate fate of this legislation.