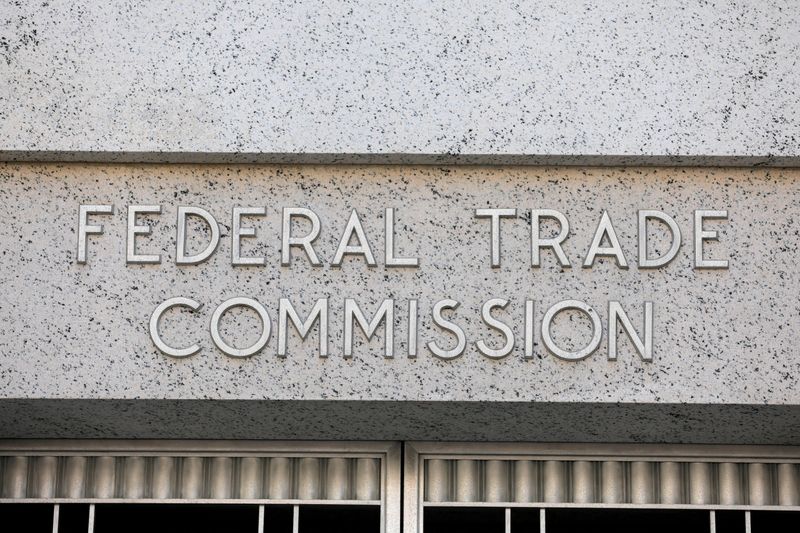 © Reuters. FILE PHOTO: Signage is seen at the Federal Trade Commission headquarters in Washington, D.C., U.S., August 29, 2020. REUTERS/Andrew Kelly

(Reuters) -The U.S. Federal Trade Commission said it had sought information from two privately held companies that negotiate drug rebates on behalf of pharmacy benefit managers (PBMs) as part of its probe into how PBMs affect pricing of prescription drugs.
The two companies, Zinc Health Services and Ascent Health Services, are group purchasing organizations, that negotiate after-market discounts or rebates with drug manufacturers on behalf of PBMs and hold the contracts that govern those rebates.
Zinc Health negotiates rebates for CVS Health Corp (NYSE:) and Ascent Health for Cigna (NYSE:) Group's Express Scripts (NASDAQ:) unit and Prime Therapeutics, which is a privately held PBM, the FTC said on Wednesday.
PBMs act as middlemen and negotiate rebates and fees with drug manufacturers, create lists of medications that are covered by insurance, and reimburse pharmacies for patients' prescriptions.
The inquiry aims to shed light on unfair PBM practices, which include directing patients towards PBM-owned pharmacies, using "complicated and opaque" reimbursement methods, as well as negotiating rebates and fees with drug manufacturers that may impact the cost of prescription drugs to payers and patients, the agency said.
The FTC last year demanded information from the six largest PBMs in the United States, including CVS' Caremark, Humana Inc (NYSE:), Express Scripts and UnitedHealth Group Inc (NYSE:)'s OptumRx.
Read More
The U.S. Federal Trade Commission (FTC) is expanding its probe into the business practices of pharmacy benefit managers—companies that negotiate and provide discounts on behalf of insurance plans for prescription drugs.
On Tuesday, FTC Commissioner Rohit Chopra said that the agency has been looking into the higher prices drug companies pay pharmacy benefit managers, a practice known as "clawbacks," for some time. In addition, the FTC is also looking into whether the pharmacy benefit managers are using market power to stifle drug price competition.
The pharmacy benefit manager (PBM) industry has been blamed for driving up drug prices in the U.S., and has drawn criticism from government watchdog groups and lawmakers. In June, the New York Attorney General's office announced a lawsuit against CVS Health, a major PBM, accusing the company of anti-competitive practices.
The FTC's investigation is the latest in a series of efforts to address rising prescription drug costs in the U.S. Other efforts include the Trump Administration's plans to allow Americans to purchase drugs imported from other countries, and to end pharmacy gag clauses that prevent pharmacists from sharing drug prices with customers.
The investigation into pharmacy benefit managers could have wide-reaching implications for the industry and for consumers. For example, it could lead to more government oversight over the PBMs, or even changes in the way PBMs are paid.
Ultimately, how the investigation plays out remains to be seen. But at the very least, the FTC's inquiry could be helpful in shedding light on what's driving the high cost of prescription drugs in the U.S., and how to address it.