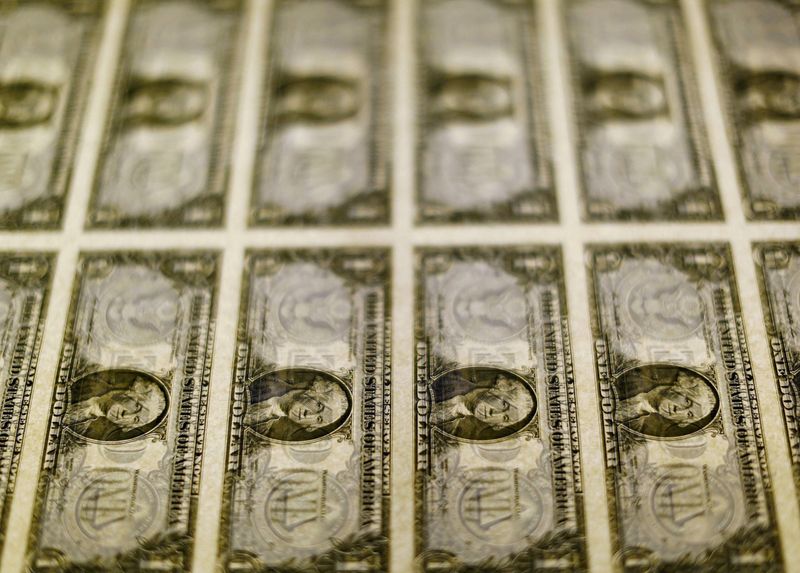 © Reuters. FILE PHOTO: United States one dollar bills are seen on a light table at the Bureau of Engraving and Printing in Washington in this November 14, 2014, file photo. REUTERS/Gary Cameron

By Gertrude Chavez-Dreyfuss
NEW YORK (Reuters) – The U.S. dollar was little changed to slightly higher against major currencies on Friday, as business activity data suggested that the world's largest economy remained resilient, supporting expectations of another 25-basis-point interest rate increase by the Federal Reserve at next month's policy meeting.
Against commodity currencies, the greenback gained as well. Overall, the was on track for its first weekly gain in nearly two months on rate increase expectations for May.
Data showed on Friday that S&P Global (NYSE:)'s flash U.S. Composite PMI Output Index, which tracks the manufacturing and services sectors, increased to 53.5 this month, the highest since May last year and followed a final reading of 52.3 in March. It was the third straight month that the PMI remained above 50, indicating growth in the private sector.
"Although economic activity is cooling, rate differentials are still dollar-supportive, and the U.S. remains the cleanest dirty shirt on the global economic landscape," said Karl Schamotta, chief market strategist, at Corpay in Toronto.
In the case of the euro, a surprising recovery in the euro zone economy in April underpinned the currency.
The dollar index, which measures the performance of the U.S. currency against six others, was flat at 101.76 and headed for a weekly gain of about 0.2%, its first since late February.
The greenback's outlook, however, remained tilted to the downside as investors braced for the end of the Fed's tightening cycle. Fed officials though have been at pains to point out that inflation remains uncomfortably high and rates must keep rising.
Money markets on Friday continued to show expectations of a quarter-point U.S. rate hike next month, which is dollar-positive, followed by a pause in June. The rate futures market has also priced in rate cuts this year as the economy slows.
"The buck is no longer strongly supported by the Fed's message on interest rate hikes and other currencies are flowing as a result of growing optimism globally about a second half of the year that will see not only lower inflation, but avoid too strong of a recessionary pressure," said Juan Perez, director of trading at Monex USA in Washington.
Elsewhere, the recovery in the euro zone unexpectedly gathered pace this month, thanks to a boom in services sector demand compensating for a deepening decline in manufacturing.
HCOB's flash Composite Purchasing Managers' Index (PMI), compiled by S&P Global as well and seen as a good gauge of overall economic health in the euro zone, jumped to an 11-month peak of 54.4 in April from March's 53.7.
The euro was last up 0.1% against the dollar at $1.0982, recovering from a session low of $1.0938.
In other currencies, sterling dipped 0.1% to $1.2431, having dropped by as much as 0.54% earlier on.
The yen was one of the stronger performers earlier in the session, rising to a one-week high against the dollar, amid data showing Japanese consumer inflation held steady above the central bank's target in March. That has put pressure on the Bank of Japan (BOJ) to ditch its ultra-loose monetary policy stance.
Incoming Governor Kazuo Ueda chairs his first BOJ policy meeting next week.
The dollar was last slightly lower against the Japanese unit at 134.17 yen.
========================================================
Currency bid prices at 3:26PM (1926 GMT)
Description RIC Last U.S. Close Pct Change YTD Pct High Bid Low Bid
Previous Change
Session
Dollar index 101.7500 101.7800 -0.01% -1.681% +102.1200 +101.6400
Euro/Dollar $1.0982 $1.0972 +0.08% +2.48% +$1.0993 +$1.0938
Dollar/Yen 134.1500 134.2400 -0.06% +2.33% +134.4850 +133.5500
Euro/Yen 147.32 147.27 +0.03% +5.00% +147.5600 +146.4100
Dollar/Swiss 0.8927 0.8925 +0.04% -3.43% +0.8954 +0.8909
Sterling/Dollar $1.2434 $1.2444 -0.10% +2.80% +$1.2446 +$1.2368
Dollar/Canadian 1.3544 1.3479 +0.50% -0.02% +1.3563 +1.3467
Aussie/Dollar $0.6687 $0.6743 -0.84% -1.91% +$0.6745 +$0.6678
Euro/Swiss 0.9803 0.9789 +0.14% -0.93% +0.9807 +0.9787
Euro/Sterling 0.8831 0.8814 +0.19% -0.15% +0.8861 +0.8813
NZ $0.6135 $0.6178 -0.73% -3.41% +$0.6180 +$0.6127
Dollar/Dollar
Dollar/Norway 10.5860 10.6000 -0.04% +7.97% +10.6790 +10.5810
Euro/Norway 11.6230 11.6099 +0.11% +10.76% +11.6940 +11.5896
Dollar/Sweden 10.3080 10.3054 +0.19% -0.96% +10.3589 +10.2986
Euro/Sweden 11.3221 11.3010 +0.19% +1.55% +11.3415 +11.2990
Read More
The US dollar was relatively flat, albeit edging out modest gains, on Tuesday following a slew of upbeat US economic data which significantly strengthens the case for a Federal Reserve rate hike in May.
The latest figures from the US Labor Department, released on Tuesday, showed that the nation's unemployment rate recently dipped to its lowest level in 10 years, a positive indicator for the American economy. Furthermore, the Labor Department's figures also showed that average hourly wages rose by 6 cents to $26.14, representing the ninth consecutive monthly increase and helping to alleviate concerns about stagnant salaries among American workers.
The Tuesday's data had the most significant impact on the exchange rate of the greenback against a basket of major currencies, with the US dollar index rising by 0.08% on the day. The US currency firmed up modestly against the British pound and the euro, climbing 0.07% and 0.02% respectively. Surprisingly, the Swiss franc also strengthened against the US dollar, rising 0.1%.
While reliable indicators of the US economic health have been slightly more upbeat lately, currency analysts remain slightly uncertain yet cautiously optimistic about the greenback's near-term performance. They may be reflecting the sentiments of the markets, with investors waiting on any signals the Federal Reserve may offer on the prospects of a third rate hike in five months. The central bank is expected to provide more clarity when it meets in early May.
In conclusion, the US dollar was relatively flat against other major currencies on Tuesday, following the release of encouraging labor market figures. Perspectives about the greenback's near-term performance may remain uncertain until the Federal Reserve signals its intention regarding further rate hikes.