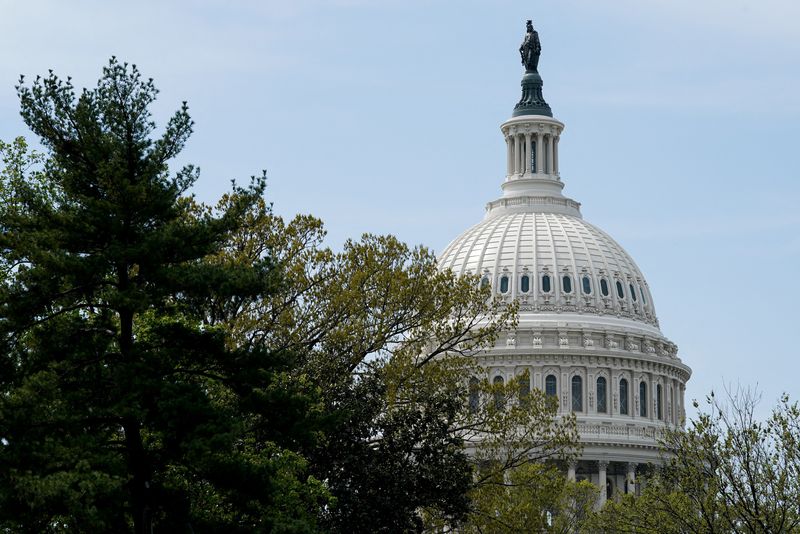 © Reuters. FILE PHOTO: The U.S. Capitol building is seen in Washington, U.S., April 5, 2023. REUTERS/Elizabeth Frantz/File Photo

By Richard Cowan and David Morgan
WASHINGTON (Reuters) – Detailed talks on raising the U.S. government's $31.4 trillion debt ceiling kicked off on Wednesday with Republicans insisting on deep spending cuts, the day after Democratic President Joe Biden and top congressional Republican Kevin McCarthy's first meeting in three months.
Time is tight to avoid a historic, economically destabilizing default, which the Treasury Department has warned could come as soon as June 1, but some areas of potential compromise emerged after a Tuesday White House meeting.
The standoff has rattled investors, sending the cost of insuring exposure to U.S. government debt to record highs, as Wall Street grows more concerned about the risks of an unprecedented default.
Graphic: Debt ceiling fight historically fans credit rating concerns – https://www.reuters.com/graphics/USA-DEBT/zdpxdwdkrpx/graphic.jpg
"Sounds to me like the dance has begun," said Republican Representative Frank Lucas. He added that Republicans in the House of Representatives were unlikely to win the scope of budget cuts they have proposed, but that a middle ground could be found to slow what he called Democrats' "spending binge."
Deep disagreements remained over competing pressures for spending cuts versus tax increases.
Biden signaled an openness to Republicans' demand to claw back some unused money for COVID-19 relief, which is less than $80 billion. Meanwhile, the White House reiterated its backing for legislation speeding government permitting of energy projects by setting maximum timelines.
A White House fact sheet distributed on Wednesday said the administration "supports the important reforms" contained in a bill by Democratic Senator Joe Manchin. Republicans have not endorsed that bill but say permitting reforms would help the U.S. maintain its edge in oil and gas development. Democrats see it as boosting the development of "clean" power projects.
Aides for Biden, McCarthy, Democratic Senate Majority Leader Chuck Schumer, top Senate Republican Mitch McConnell and top House Democrat Hakeem Jeffries were expected to meet Wednesday afternoon and again Thursday, before a Friday meeting Biden has called with the four congressional leaders.
"Default is not an option," Biden told reporters after Tuesday's meeting. "I told congressional leaders I'm prepared to begin a separate discussion about my budget."
CLEAN DISPUTE
Biden and opposition Republicans have been locked in a standoff for months over the debt ceiling, with Democrats calling for a "clean" increase without conditions to pay debts resulting from spending and tax cuts approved by Congress.
House and Senate Republicans, meanwhile, have said they will not authorize any additional borrowing without an agreement to cut spending.
McCarthy estimated that the two sides had as little as two weeks to reach a deal that could then be passed by Congress.
Adding to the urgency, Biden is scheduled to leave on May 18 to attend an annual meeting of the leaders of the Group of Seven major industrialized nations, though he said he would cancel that trip if needed to avoid default.
Rohit Kumar, a former Senate aide who is now co-leader of PwC's national tax office in Washington, said he views Biden's upcoming trip as a possible deadline for a framework agreement that could ultimately serve as the basis for legislation.
"To me, the real action is probably going to happen next week with the president's departure for Japan for the G-7 meeting. That would be the near-term action-forcing event," Kumar said.
Even if there is significant progress, the House and Senate each have their own, often time-consuming procedures for advancing legislation that opponents of any deal could use to delay passage.
The last time the nation got this close to default was in 2011 – also with a Democratic president and Senate with a Republican-led House.
Washington's standoff over the debt limit is the result of a U.S. electoral system that rewards candidates for Congress who are more content waging battles once in office than working toward legislative compromises, according to a new report.
"This dynamic can justify stubborn and reckless actions – like playing chicken with the debt limit," the nonpartisan Fix Our House group argued in a study released Wednesday. Its long-term goal is to reshape the way House members are elected.
It seeks the creation of new, larger congressional districts drawn by independent commissions. Each district would have multiple members elected through ranked-choice voting. The result would be more competitive races than currently, the study argues.
Read More
As leaders on Capitol Hill and in the White House begin tough debt limit and budget negotiations, many are wondering if Congress and the President can reach a deal on a federal budget and avoid a government shutdown.
The current deadline for a new budget agreement is Friday, November 26th. However, the Trump administration and congressional leaders have made it clear that they are far apart on key issues.
The White House is calling for deep cuts to social welfare programs such as Medicaid, while Democrats are pushing for a package of spending increases and tax hikes on the wealthy. Reports indicate that the two sides have yet to reach an agreement on how to raise revenue or what size cuts are necessary.
The dispute over the budget is further complicated by the looming debt ceiling. By mid-October, the government's total debt has exceeded the current debt limit. Without Congress raising the cap, the Treasury Department will no longer be able to borrow to finance US government operations, leading to a wave of defaults and a potential fiscal crisis.
While negotiations have been underway for weeks, some observers feel that the President's recent demand for a border wall is making a budget agreement more difficult. Many Democrats are wary of giving in to the President's tough immigration policies, and could push back against any budget proposal that funds the wall.
As the government approaches the November 26th deadline, the pressure is on for politicians on both sides of the aisle to reach a deal. With the potential for a government shutdown and a fiscal crisis looming, it's a situation that can't be taken lightly.