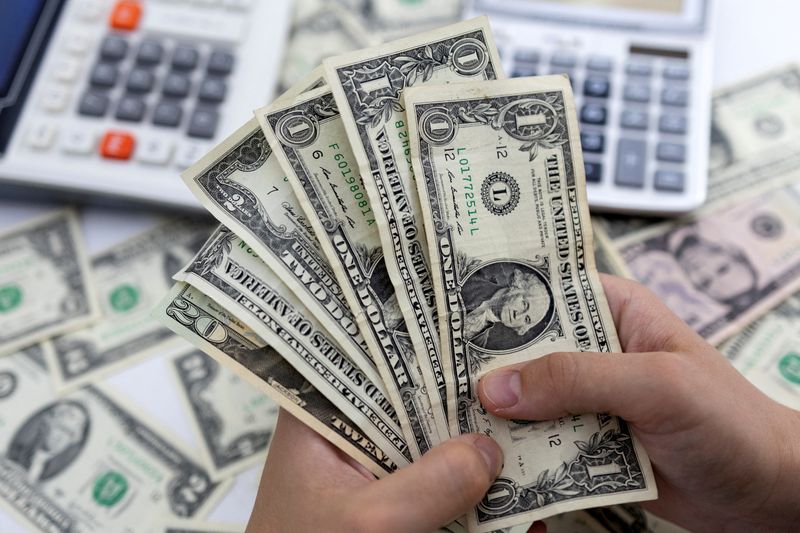 © Reuters. FILE PHOTO: Woman holds U.S. dollar banknotes in this illustration taken May 30, 2022. REUTERS/Dado Ruvic/Illustration/File Photo

(Reuters) – U.S. bond funds witnessed their first weekly net selling in six weeks in the seven days to Feb. 15 as bond yields climbed on concerns over more Federal Reserve tightening after data showed resilient inflation.
A report from the Labor Department on Thursday showed monthly producer prices accelerated in January, while the producer price index for final demand rebounded 0.7% last month after decreasing 0.2% in December.
On Tuesday, consumer price index data showed inflation accelerated in January and was more than expected on an annualized basis. Refinitiv Lipper data showed investors withdrew a net $958 million out of U.S. bond funds, marking the first weekly net selling since Jan. 4. U.S. taxable bond funds suffered $855 million worth of outflows compared with $1.89 billion worth of net buying in the previous week. Investors also sold $311 million worth of municipal bond funds.
GRAPHIC: Fund flows: US equities, bonds and money market funds (https://fingfx.thomsonreuters.com/gfx/mkt/zgpobkqwnvd/Fund%20flows%20US%20equities%20bonds%20and%20money%20market%20funds.jpg)
U.S. high yield, general domestic taxable fixed income, and emerging markets debt funds witnessed outflows worth $3.04 billion, $1.2 billion, and $1.1 billion, respectively; short/intermediate investment-grade funds received $2.87 billion in inflows.
GRAPHIC: Fund flows: US bond funds(https://fingfx.thomsonreuters.com/gfx/mkt/akveqmdgevr/Fund%20flows%20US%20bond%20funds.jpg)
Meanwhile, U.S. equity funds booked $3.56 billion worth of net selling, the biggest weekly outflow in six weeks. U.S. large and mid-cap equity funds faced $4.01 billion and $915 million worth of withdrawals, but small-cap funds remained in demand for a third-straight week, with a net $725 million in inflows.
Meanwhile, investors secured $6.9 billion worth of money market funds in their first weekly net buying in three weeks.
GRAPHIC: Fund flows: US equity sector funds (https://fingfx.thomsonreuters.com/gfx/mkt/byvrlkzoxve/Fund%20flows%20US%20equity%20sector%20funds.jpg)
Read More
Investors in U.S. bond funds experienced their first outflow in six weeks as concerns emerge over a potential rate hike by the U.S. Federal Reserve.
According to data from EPFR Global, investors pulled $4.4 billion out of U.S. bond funds for the week ending May 15th, marking the first weekly outflow since March 28th. Of that amount, $2.6 billion was from U.S. government bond funds, while $1.8 billion was from U.S. high-yield bond funds.
The outflows come amid expectations of a Federal Reserve rate hike in the near future in response to signs of an improving economy, which is leading to worries that higher borrowing costs could hurt bond prices. The Federal Reserve has signalled that it will raise rates later this year, although no hard timeline has been given.
However, despite the outflows, U.S. bond fund investments remain near a record high, with a total of $1.071 trillion invested in domestic bond funds as of May 15th. This is up from $1.055 trillion at the beginning of the year.
Analysts warned that the outflows could continue if the Federal Reserve signals that it's ready to raise interest rates later this year. Bond investors should also keep an eye on economic data for signs of further economic improvement and a subsequent rate hike.