The price of the TRON USDD algorithmic stablecoin has dropped to $0.97, losing even more of its dollar parity. This could potentially put unwanted stress on USDD-paired DeFi pools on Curve.
At press time, USDD makes up around 82% of the USDD/3CRV pool reserves under Curve Pool DeFi protocol, down from a previous figure of 86%. The depeg is detrimental for swapping other DeFi assets like DAI or USDC in exchange for USDD.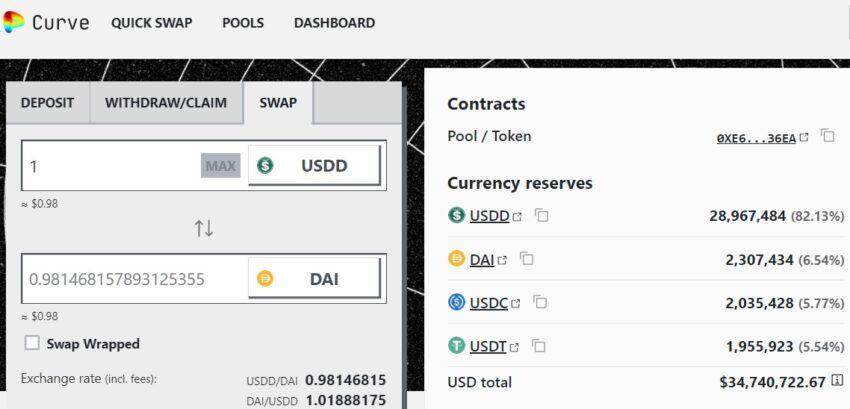 USDD Going the Wrong Way
USDD has struggled to maintain its parity with the dollar since falling below it on Oct. 16. It rapidly spiked to $1.04 on Nov. 14 but immediately fell back under.
On Dec. 12, it fell to a local low of $0.97 before rebounding to $0.98.
Meanwhile, TRON's TRX asset is also trading in the red, showing a price decline of over 3.5% on the day.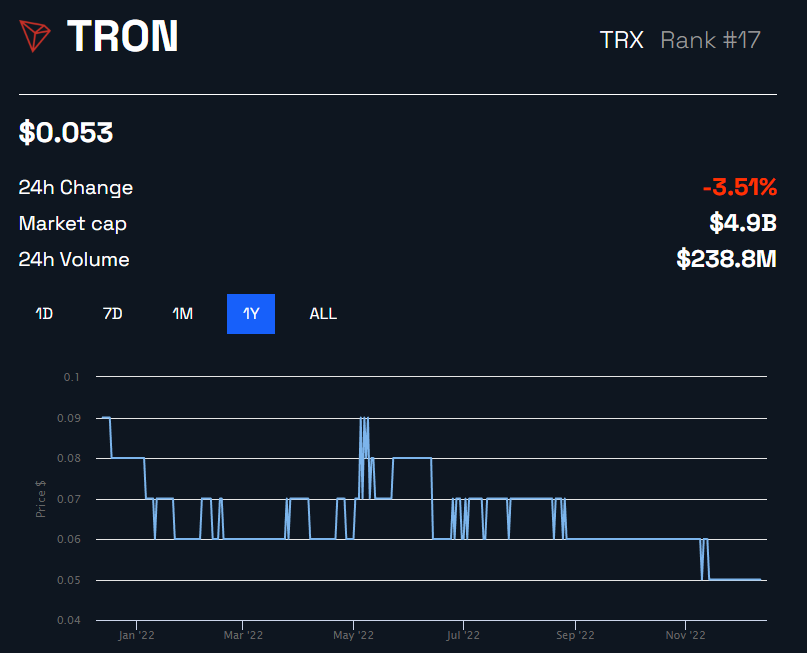 Justin Sun Announces More Capital Deployment
In response to the depeg, founder Justin Sun announced that more capital has been deployed to bring help back the peg. According to the link shared by the founder, a wallet addressed to him transferred close to $1,000,000 worth of TUSD.
Sun also claimed on Twitter that USDD is 200% overly collateralized by numerous popular digital assets.
The Terra ecosystem collapse earlier this year was one of the largest disasters the cryptocurrency industry has seen in recent memory. Since then, all significant stablecoins, like Tether, have been stressing over-collateralization. Since the FTX contagion, concerns have erupted that another algorithmic stablecoin crisis similar to the Terra Luna crash could ensue.
Notably, over the last couple of weeks, TRON has recorded an inflow of $1 billion USDT. In December, the TRON network also adopted the 79th Committee proposal, which will modify two network parameters.
TRON has also topped the list of the most active networks in the past week. 
Disclaimer
BeInCrypto has reached out to company or individual involved in the story to get an official statement about the recent developments, but it has yet to hear back.