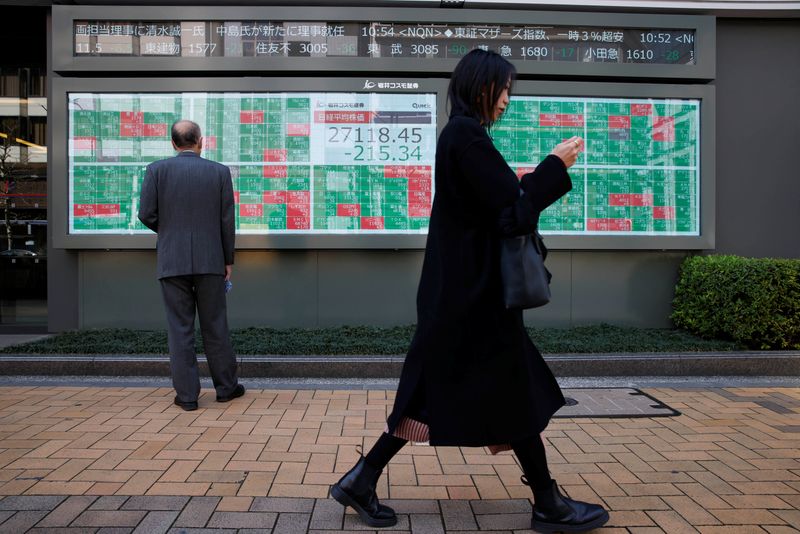 © Reuters. FILE PHOTO: A woman walks past a man examining an electronic board showing Japan's Nikkei average and stock quotations outside a brokerage, in Tokyo, Japan, March 20, 2023. REUTERS/Androniki Christodoulou

By Stephen Culp
NEW YORK (Reuters) – The Nasdaq rose and the dollar weakened on Wednesday as investors weighed solid company earnings against weaker-than-expected economic data and ongoing wrangling in Washington over raising the debt ceiling.
While surging tech shares helped the Nasdaq hold positive territory, the and the Dow were weighed down by weakness in economically-sensitive sectors such as industrials and transports, hinting at mounting recession jitters.
The transports index, widely viewed as a barometer of economic health, is on track for its largest two-day drop in about 11 months.
(Graphic: Leading economic index and – https://www.reuters.com/graphics/USA-STOCKS/gkvlwaaybpb/leadingtransports.png)
"Markets are pretty quiet from a news standpoint, the data this morning wasn't tremendously impactful," said Sal Bruno, chief investment officer at IndexIQ in New York. "(Recession) is still out there as a pretty significant risk, but handicapping the timing of it is difficult."
Upbeat earnings from Microsoft (NASDAQ:), Alphabet (NASDAQ:) Inc and Boeing (NYSE:) Co took the sting out of some disappointing economic data, which suggested weakening corporate expenditures on core capital goods.
(Graphic: Core capital goods – https://www.reuters.com/graphics/USA-STOCKS/egpbyqqqyvq/corecap.png)
"Most companies are beating estimates, but that bar has been set pretty low," Bruno added. "But many (companies) are also talking down forward expectations on the potential of a recession happening in the back half of 2023."
Ongoing congressional wrangling over raising the federal debt ceiling also added to investor anxieties.
"The debt ceiling represents a potential event risk which would be negative for capital markets," said Bill Northey, senior investment director at U.S. Bancorp in Helena, Montana.
The fell 216.78 points, or 0.65%, to 33,314.05, the S&P 500 lost 14.96 points, or 0.37%, to 4,056.67 and the rose 66.27 points, or 0.56%, to 11,865.43.
European stocks closed lower, dragged down by healthcare stocks after the European Union published its much anticipated proposed overhauls of EU's pharmaceuticals industry.
The pan-European index lost 0.83% and MSCI's gauge of stocks across the globe shed 0.30%.
Emerging market stocks rose 0.23%. MSCI's broadest index of Asia-Pacific shares outside Japan closed 0.14% higher, while lost 0.71%.
Benchmark 10-year Treasury yields rose while yields on one-month bills tumbled ahead of a possible vote on the U.S. debt ceiling.
Benchmark 10-year notes fell 8/32 in price to yield 3.4277%, from 3.398% late on Tuesday.
The 30-year bond fell 19/32 in price to yield 3.6856%, from 3.652% late on Tuesday.
The greenback softened against a basket of major world currencies on signs of an economic slowdown following weak economic data, and as debate over raising the debt limit continued in Washington.
The fell 0.35%, with the euro up 0.57% to $1.1034.
The Japanese yen strengthened 0.12% 133.56 per dollar, while Sterling was last trading at $1.2454, up 0.37% on the day.
Crude prices extended their losses as fears of an economic downturn outweighed a larger-than-expected drawdown of U.S. oil inventories.
plunged 3.59% to settle at $74.30 per barrel, while settled at $77.69 per barrel, down 3.81% on the day.
Gold prices pulled back from the key $2,000 per ounce level amid ongoing turmoil surrounding the U.S. banking sector.
was last down 0.08% at $1,987.07 an ounce.
Read More
Nasdaq rose to a record high on Tuesday as technology giants powered the Wall Street benchmark to fresh highs, while fears of a looming recession weighed on cyclical stocks and the dollar weakened.
The Nasdaq Composite Index closed up 1.26 percent at 8,089.54 points, after touching its intraday record of 8,098.76 points. Technology behemoths such as Apple Inc., Microsoft Corp., and Amazon.com Inc provided the bulk of the index's gains, confirming their status as the powerhouse of the American Stock Exchange.
The cyclical stocks, which are particularly sensitive to economic cycles and the signs of a potential recession, however, offered a bleaker outlook. The Dow Jones Industrial Average fell 0.29 percent to 26,504.79 while the S&P 500 dropped 0.28 percent to 2,926.09.
Meanwhile, recession fears and a weakening US dollar have combined to drive Treasury yields to multi-year lows. The benchmark 10-year Treasury note slid to 1.6117 percent, its lowest level since September 2017, while the two-year yield dropped to 1.4368 percent, its lowest level since October 2017.
Overall, the performance of Nasdaq on Tuesday was a strong indicator of the tech-heavy market's dominance. This dominance is likely to continue, despite the fears of a possible recession, as investors flock to tech in search of dependable returns.