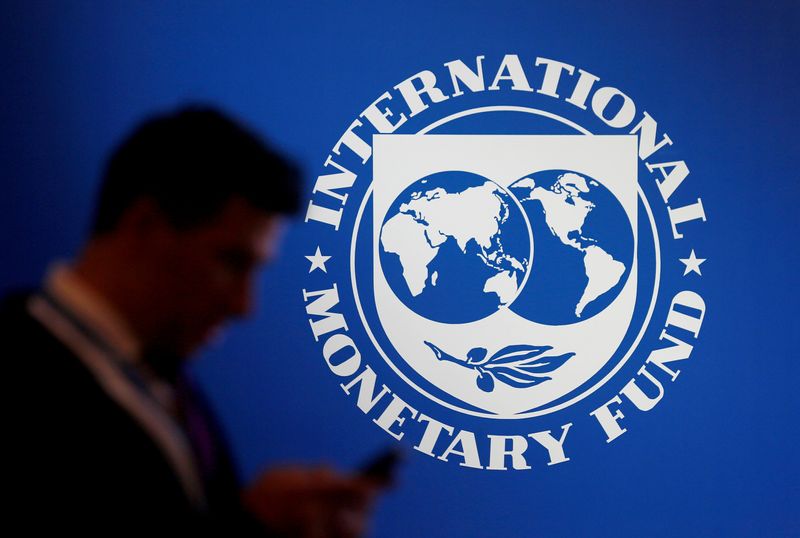 © Reuters. FILE PHOTO: A participant stands near a logo of IMF at the International Monetary Fund – World Bank Annual Meeting 2018 in Nusa Dua, Bali, Indonesia, October 12, 2018. REUTERS/Johannes P. Christo

By Uditha Jayasinghe
COLOMBO (Reuters) – Sri Lanka expects final approval from the International Monetary Fund for a $2.9 billion loan in the third or fourth week of this month, the president said on Tuesday, adding that new support from China means all funding requirements had been met.
The country of 22 million people is struggling with its worst economic crisis since independence from Britain in 1948.
President Ranil Wickremesinghe told parliament there were signs the economy was improving but there was still insufficient foreign currency for all imports, making the IMF deal crucial so other creditors could also start releasing funds.
"Sri Lanka has completed all prior actions that were required by the IMF," Wickremesinghe said.
He said the Export-Import Bank of China had sent "a new letter" on Monday, and he and the central bank governor had sent a letter of intent to the IMF.
"As a result of this step and financing assurances from India and the Paris Club, we expect approval for the programme either in the third or fourth week of March," he said.
The country's international debt and currency roared higher on the news, with bonds adding nearly 3 cents in the dollar while the rupee jumped nearly 8% to a 10-month high.
It was not clear what new support China, the world's biggest sovereign creditor, extended to Sri Lanka on Monday. In January, the Export-Import Bank of China offered Sri Lanka a two-year moratorium on its debt and said it would support its efforts to secure the IMF loan, which a Sri Lankan source said at the time was not enough to meet IMF conditions.
China and India are Sri Lanka's biggest lenders. By end-2020, Sri Lanka owed the Export-Import Bank of China $2.83 billion or 3.5% of the island's external debt, according to IMF data.
'A LOT OF POSITIVITY'
In total, Sri Lanka owed Chinese lenders $7.4 billion, or nearly a fifth of public external debt, by end-2022, calculations by the China Africa Research Initiative showed.
Sri Lanka's rupee hit a mid-rate of 325 on Tuesday, appreciating 12%, analysts said, against the central bank-set spot rate of 337.67. The appreciation was driven by better dollar inflows from tourism and remittances, positive sentiment over imminent approval of an IMF deal and a downturn in imports, analysts said.
"There is a lot of positivity around a possible IMF announcement and more dollar loans are expected with an approval of the bailout," said Udeeshan Jonas, chief strategist at equity research firm CAL Research.
"Also, speculators who were hoarding dollars have started to panic and convert with the rupee starting to appreciate."
Sri Lanka needs to repay about $6 billion on average each year until 2029 and will have to keep engaging with the IMF, Wickremesinghe said.
Countries in debt distress such as Zambia and Sri Lanka have faced unprecedented delays in securing IMF bailouts as China and Western economies have clashed over how to provide debt relief. Sri Lanka has been waiting for about 187 days to finalise a bailout after reaching a staff-level deal with the IMF.
This compares to a median of 55 days it took low- and middle-income countries over the past decade to go from preliminary deal to board sign-off, according to public data from more than 80 cases compiled by Reuters.
Chinese Foreign Minister Qin Gang said on Tuesday that his country would continue to participate in the settlement of international debt problems in a constructive manner.
Responding to a question on the sidelines of an annual parliament meeting in Beijing, Qin also said that China should be the last to be accused of causing debt traps in other countries and called on other parties to share the burden.
Read More
Sri Lanka, a small island nation off the southern coast of India, is expecting to receive approval on a $2.9 billion loan package arrangement with the International Monetary Fund (IMF). The IMF has agreed to approve the deal after receiving strong support from China to assist the cash-strapped nation.
The IMF package will consist of $2 billion in loans and $890 million in grants, with Sri Lanka required to repay the loan portion over the course of four years. The agreement was tied up due to the huge level of debt that had been inherited by the Sri Lankan government.
The Sri Lankan government had called on China for assistance, who pledged its support for the arrangements with the IMF. This allowed Sri Lanka to gain access to the IMF's Financing Facility for Stabilization, providing the country with the liquidity it needed to pay its bills and avoid defaulting on its loans.
The agreement is seen as a major boost for Sri Lanka, which has been dealing with financial issues for several years now. The loan from the IMF will help the nation pay off some of its debts and stabilize its currencies, something that it desperately needs in order to stimulate its economy.
It is also expected that the loan will help reduce the national debt-to-GDP ratio, which has risen to an alarming 83 percent. In addition, the cash infusion is also seen as a way to increase foreign investments, as well as give a much-needed boost to the Sri Lankan rupee which had been in freefall over the past few months.
The deal is expected to be formally signed off by both the government of Sri Lanka and the IMF in the coming weeks. With China's strong support and the IMF lending agreement in place, Sri Lanka will be one step closer to getting its financial house in order.