Bitcoin's dip below $30,000 and subsequent retest of resistance above$29k highlights the past week's top coins outlook.
Shiba Inu (SHIB) price is below its 50 and 200 MA but analysts are bullish on SHIB given overall sentiment and network growth.
Aptos (APT) price has formed a massive bull flag pattern that could see APT explode to new highs in 2023.
The cryptocurrency market continues to see significant volatility as prices of various tokens fluctuate near key levels. Bitcoin (BTC) price fell to around $27,200 this past week and saw the global cryptocurrency market cap drop from above $1.34 trillion to $1.25 trillion amid broader sell-off pressure.
BTC price is however back above $29,000 and has retested resistance near the psychological $30k level this weekend.
At the same time, several altcoins that have recently seen dramatic declines look positioned for fresh moves, with cryptocurrency bulls buoyed by fresh turmoil in the banking sector with troubles for US bank First Republic.
Here's the price prediction for Shiba Inu (SHIB) and Aptos (APT).
Shiba Inu (SHIB) price prediction
Shiba Inu price is down nearly 10% in the past two weeks, having traded lower from highs above $0.000011 recently.
SHIB currently trades below its 50 MA and 200 MA, while the daily RSI is below 40 to suggest bears might have a slight advantage.  

Shiba Inu (SHIB) daily price chart. Source: TradingView
But the 16th ranked cryptocurrency, which remains one of the top memecoins with a market of $6.1 billion, has a growing community buoyed by the success of the testnet for layer 2 protocol Shibarium. 
On-chain data shows the protocol has enabled over 194,000 transactions and seen over 100,000 wallet interactions.
If an upside flip in the price amid new buy Shiba Inu pressure, the main short term target will be the $0.000035 level. The 2021 all-time high provides another key level and a move to $0.01 could be the Holy Grail of the upcoming bull cycle.
Aptos (APT) price prediction
Aptos (APT) is a new layer 1 blockchain network that's benefitted from massive investment by venture capitals. The Aptos mainnet went live recently and the demand for the native APT token saw the price rally to the YTD peak of $19.92 in January.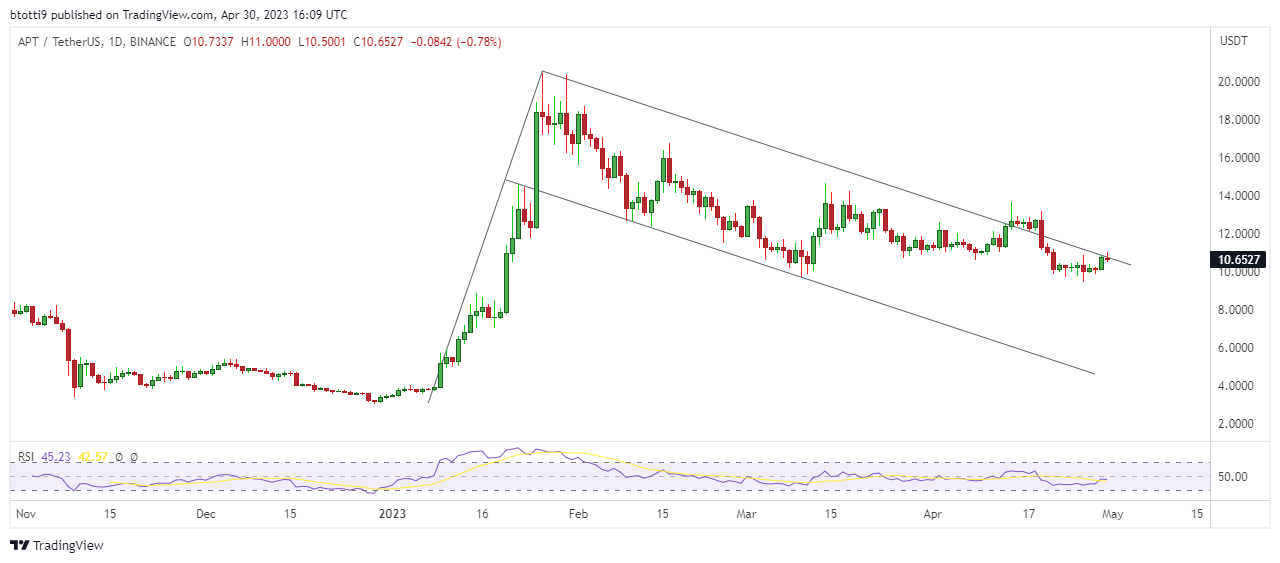 Aptos (APT) price daily chart. Source: TradingView
Currently trading around $10 has the APT/USD pair roughly 46% off the January highs. However, analysts remain bullish on the Aptos price.
Crypto analyst Captain Faibik recently highlighted Aptos bullish flag pattern. If a breakout follows, a move to $20 in the short term could be one of the main targets. 
Meanwhile, this Aptos price prediction for the medium term sees a potential burst to a new all-time high.
---
Share this article
---
Categories
---
Tags
Read More
As Bitcoin (BTC) marches towards the psychological resistance level at $30,000, several aspects of the crypto-market have changed, including the prices of some of the most popular tokens. Two of the tokens to watch are Shiba Inu (SHIB) and Aptos (APT), both of which have seen remarkable growth in the last few weeks.
Shiba Inu (SHIB) is a decentralized meme token built on Ethereum and is a part of the larger Dogecoin meme culture. Upon its launch in May 2021, it surged in popularity and value, reaching an all-time high of $0.000003. Since then, it has leveled off and currently sits at around $0.0000019. Although SHIB has good potential for short-term gains, it is mainly a speculative asset that can be used for fun, rather than a serious long-term investment.
Aptos (APT) is a recently launched decentralized staking and savings platform, offering a range of services such as digital asset management, liquidity, and defi services. The price of APT has seen tremendous growth in the last few weeks, as it went from $0.00122 in mid-December to its all-time-high of $0.51025 in early January, representing an increase of over 41000%. As of now, APT is hovering around $0.23 and is expected to become even more popular in the upcoming days, given its innovative features and strong team.
As for the outlook for these two tokens, it is highly dependent on the performance of Bitcoin. If Bitcoin can break the psychological resistance level at $30,000, it could continue to rally and bring these tokens along with it in a bull run. However, if the rally stalls or if Bitcoin experiences any downside, the price of SHIB and APT could be impacted negatively.
Overall, both SHIB and APT present interesting investment opportunities that could lead to decent gains in the short-term. As Bitcoin tests the major resistance level at $30,000, investors should be aware that these tokens are heavily correlated with the BTC price and be prepared for any potential downside.