2022 has been the year everything crashed for the crypto industry. The latest Forbes report shows that even the richest in the sector were significantly affected, as the top 17 crypto billionaires lost $116 billion of their net worth. 
The loss resulted from the bankruptcies of several crypto companies and the bear market. Due to the massive loss, 10 of the 17 crypto billionaires dropped from the list.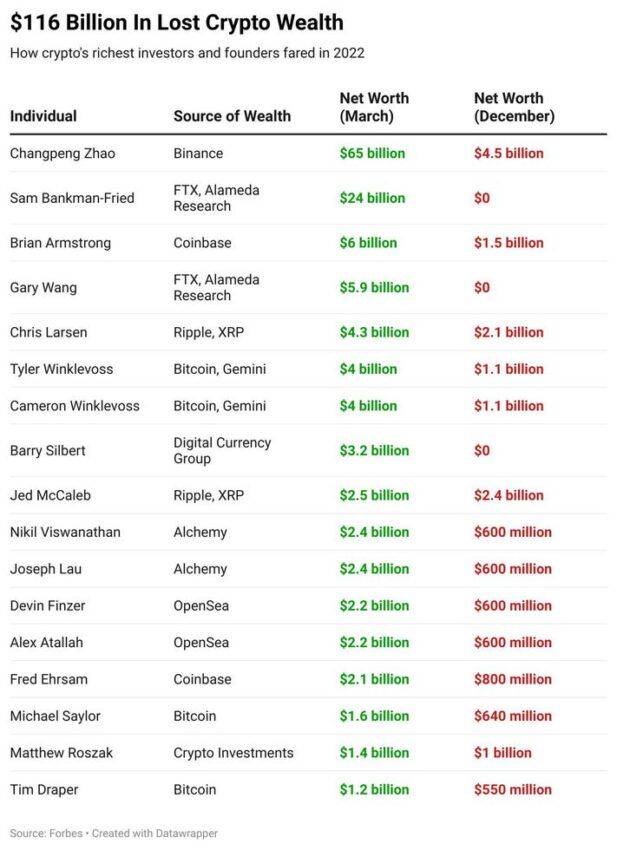 SBF and Other FTX-Related Individuals' Net Worth Drops to Zero
The most notable dropout is the disgraced FTX founder Sam Bankman-Fried. At the start of the year, SBF was worth around $24 billion, while FTX had just closed a $400 million funding round that valued it at $32 billion. 
But less than a year later, FTX filed for bankruptcy while SBF is worth next to zero. According to him, he has less than $100,000 in his account, and he is unsure how he will pay his lawyers.
Meanwhile, he is not the only crypto billionaire whose net worth has dropped to zero in the past year. Others on the list include the CTO of FTX, Gary Wang, and Barry Silbert of Digital Currency Group (DCG). 
For Barry Silbert, Forbes wrote that the potential insolvency of DCG contributed to the significant drop in his net worth. Reports have revealed that DCG has a $2 billion debt and is struggling to raise new funds necessary for it to stay afloat.
According to Forbes, Silbert's 40% stake in DCG is worth next to nothing unless his crypto empire survives its current situation.
Binance CEO Valuation Plunges
Meanwhile, the man who saw the most drop in his net worth is Binance founder and CEO Changpeng Zhao. Forbes valued him at $65 billion earlier this year. But he is now worth just $4.5 billion, which is still enough to make him the wealthiest crypto billionaire.
The decline in his net worth is due to many reasons, which include the failure of projects that Binance invested in, such as Terra Luna and FTX. Binance and CZ also face increased scrutiny as customers and regulators question their financial health. 
There are also allegations that the exchange might have facilitated financial crimes. With CZ owning a 70% stake in Binance, the ailing health of the exchange has affected his net worth. 
Other exchange founders, such as the Winklevoss twins and Coinbase founders, also saw their net worth drop significantly.
Crypto investors who are no longer billionaires include Nikil Viswanathan & Joe Lau of Alchemy and Devin Finzer & Alex Atallah of OpenSea. Others include Michael Saylor and Tim Draper, who invested heavily in Bitcoin.
Jed McCaleb is the only crypto billionaire not significantly affected by the market conditions this year. The Ripple co-founder's net worth dropped to $2.4 billion from $2.5 billion because he has sold most of his crypto holdings.
Disclaimer
BeInCrypto has reached out to company or individual involved in the story to get an official statement about the recent developments, but it has yet to hear back.