L'Oréal S.A. is the world largest cosmetics and beauty company. Headquartered in Clichy, France, the field of activities concentrates on skin care, hair color, perfume, make-up, hair care, sun protection etc.  L'Oréal is a part of Euro Stoxx 50 (SX5E) and CAC40 indices. Investors can trade it under the ticker $OR at Euronext Paris.
In the initial article from July 2020, we have forecasted more strength against 195.70 lows. We were right. As a matter of fact, we see l'Oréal trading at 432 which means that $OR prices have doubled within less than 3 years. Currently, we expect short term strength to continue. However, there are signs for a larger correction to be happening soon. In the current blog, we discuss the wave structure, cycles and the next buying opportunities in l'Oréal.
L'Oréal monthly Elliott Wave analysis 04.26.2023
The monthly chart below shows l'Oréal stock $OR listed at Euronext. From the all-time lows, first, the stock price has developed a cycle higher in wave (I) of a super cycle degree. It is clearly an impulsive move consisting of 5 subwaves. Thereafter, a correction lower in wave (II) has unfolded as an Elliott Wave expanded flat pattern. It is a 3-3-5 pattern which has printed an important bottom on February 2009  at 46.0.
From the February 2009 lows, l'Oréal has accomplished an impressive rally. The rise towards December 2021 peak shows an extension of more than 2.618 multiples in relation to the length of the wave (I). Without any doubt, it qualifies the cycle to become the wave (III). It has ended at 433.65. From there, a pullback in wave (IV) has unfolded as a triangle. A thrust in wave (V) to the upside might become the final push. The target is 465.45-516.74 area. As a matter of fact, soon $OR will show fully developed 5 waves from the all-time lows. There, the entire cycle in black wave ((I)) might end and a larger pullback in black wave ((II)) should correct against the all-time lows. Only then, a new bullish cycle in black wave ((III)) can start.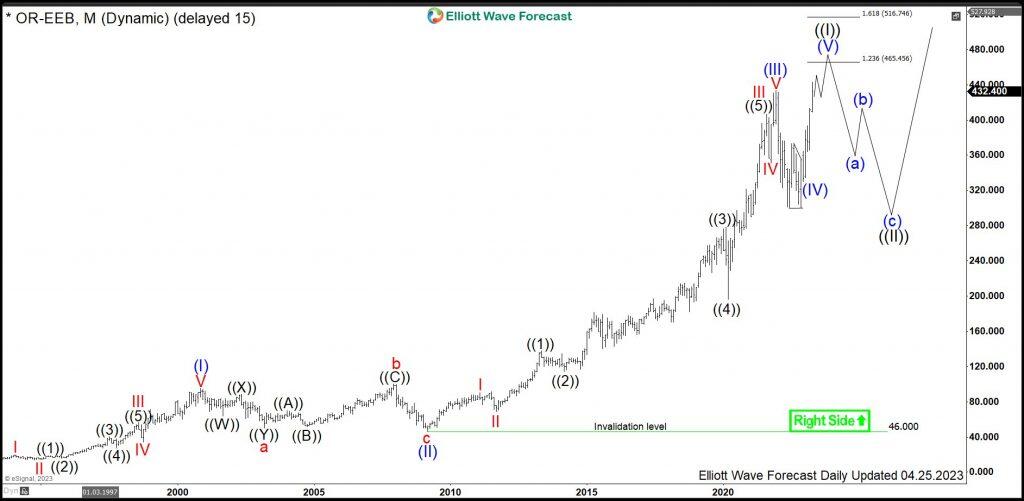 L'Oréal daily Elliott Wave analysis 04.26.2023
The weekly chart below shows in more detail the correction of wave (III) within a triangle in wave (IV) and a thrust to the upside in blue wave (V). From December 2021 highs at 433.65, a zigzag lower in red wave a has printed a bottom in June 2022 at 300.45. Then a bounce in red wave b has set a high in July 2022 at 373.00. From there, waves c-d-e of the triangle structure show a converging price action. RSI readings support the triangle idea. It is the preferred view, that wave (IV) has ended in December 2022 at 330.00 lows. From there, thrust in blue wave (V) has been confirmed by breaking above December 2021 high. Currently, red waves I-II have ended, while above 365.80, wave III is expected to extend and can reach higher within 429.32-468.72 area and go even beyond.
Short term traders can be still looking to buy pullbacks within wave III against 365.80 lows, expecting wave III to extend. Also, pullback in wave IV should find support for more upside in wave V. The target will be 465.45-516.74 area. For investors, on the other hand, it is time to become cautious. Indeed, the cycle in black wave ((I)) looks mature and a correction against all-time lows should happen soon. Therefore, investors do better to wait for a larger pullback in 3, 7, 11 swings against all-time lows. Monthly chart shows the idea of buying lower in 3 swings.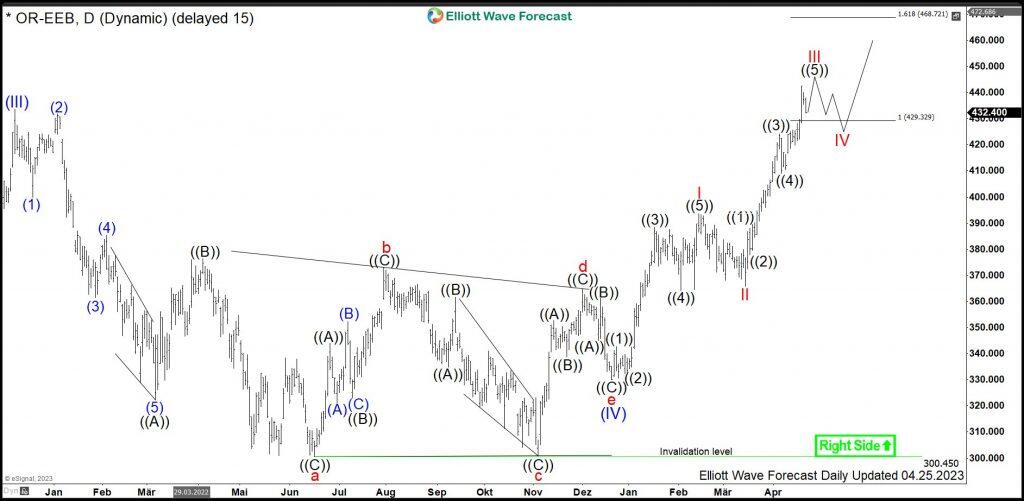 FURTHER DISCLOSURES AND DISCLAIMER CONCERNING RISK, RESPONSIBILITY
AND LIABILITY
Trading in the Foreign Exchange market is a challenging opportunity where above average returns are available for educated and experienced investors who are willing to take above average risk.
However, before deciding to participate in Foreign Exchange (FX) trading, you should carefully consider your investment objectives, level of xperience and risk appetite. Do not invest or trade capital you cannot afford to lose. EME PROCESSING AND CONSULTING, LLC, THEIR REPRESENTATIVES, AND ANYONE WORKING FOR OR WITHIN WWW.ELLIOTTWAVE- FORECAST.COM is not responsible for any loss from any form of distributed advice, signal,
analysis, or content.
Again, we fully DISCLOSE to the Subscriber base that the Service as a whole, the individual Parties, Representatives, or owners shall not be liable to any and all Subscribers for any losses or damages as a result of any action taken by the Subscriber from any trade idea or signal posted on
the website(s) distributed through any form of social-media, email, the website, and/or any other electronic, written, verbal, or future form of communication . All analysis, trading signals, trading recommendations, all charts, communicated interpretations of the wave counts, and all content from any media form produced by www.Elliottwave-forecast.com and/or the Representatives are solely the opinions and best efforts of the respective author(s).
In general Forex instruments are highly leveraged, and traders can lose some or all of their initial margin funds. All content provided by www.Elliottwave-forecast.com is expressed in good faith and is intended to help Subscribers succeed in the marketplace, but it is never guaranteed. There is no "holy grail" to trading or forecasting the market and we are wrong sometimes like everyone else.
Please understand and accept the risk involved when making any trading and/or investment decision.
UNDERSTAND that all the content we provide is protected through copyright of EME PROCESSING AND CONSULTING, LLC. It is illegal to disseminate in any form of communication any part or all of our proprietary information without specific authorization.
UNDERSTAND that you also agree to not allow persons that are not PAID SUBSCRIBERS to view any of the content not released publicly. IF YOU ARE FOUND TO BE IN VIOLATION OF THESE RESTRICTIONS you or your firm (as the Subscriber) will be charged fully with no discount for one year subscription to our Premium Plus Plan at $1,799.88 for EACH person or firm
who received any of our content illegally through the respected intermediary's (Subscriber in violation of terms) channel(s) of communication.
Read More
Beauty giant, L'Oréal, remains a strong performer in the cosmetics industry. The French multinational corporation, well known for producing skincare, makeup, fragrances and hair care products, continues to remain supported in the market despite challenging times.
In 2020, L'Oréal Group reported that their annual revenue had increased by 5.3%, with the professional products sales sector growing faster than the luxury and cosmetics-to-mass markets. The company reached a turnover of €29.87million, which demonstrates their resilience and the loyalty of their customers within the market.
L'Oréal have also been praised for their corporate social responsibility activities. In 2019, the company partnered up with the WWF to support the development of sustainable sourcing processes, such as using recyclable packaging and sustainable materials in the production of their products. This move highlights their commitment to environmental protection, which reinforces their standing as a responsible organisation.
The company also operates a successful internship programme which offers various career opportunities to those interested in a career within the beauty industry. Through providing their interns with hands-on experience and guidance, they are cultivating the next generation of talent in the beauty sector.
Finally, L'Oréal are launching an array of new innovative products to drive growth in their business. Such products include the Revitalift Filler 1.5% Hyaluronic Acid range, and their new MyUV LED self-tanning lamp. Such innovative products are staying at the forefront of the beauty industry and will enable them to remain the leading provider of cosmetics for years to come.
In conclusion, L'Oréal remain a powerful force in the cosmetics industry. Despite facing a challenging year, the loyalty of their customers, their corporate responsibility endeavours, internship initiatives and their strategy for innovation prove that they have a strong and sustained reputation that will keep them at the top of the cosmetics industry in the future.