Oil price continues to rally after Saudi Prince Abdulaziz bin Salman, the country's Oil minister, warns short-sellers to "watch out". 
Inventory data from the API shows a steep drawdown in the prior week, reflecting rising demand ahead of US driving season. 
A bullish triangle pattern forms on the 4-hour chart, increasing the evidence the bearish trend may be reversing.  
EIA inventory data to be released soon could provide volatility. 
Oil price trades roughly a percentage point higher on Wednesday after data from the US showed a dramatic fall in Oil inventories, indicating rising demand. The Oil price was given a further lift after the Saudi Oil Minister warned Oil short-sellers to "watch out" ahead of the OPEC+ meeting on June 4.  
At the time of writing, WTI Oil is trading around $74 and Brent Crude Oil in the upper $77s. A bullish right-angled triangle has completed on the 4-hour chart, posing a challenge to the overall bear trend.  
Oil news and market movers 
Oil price rises after the American Petroleum Institute (API) publishes weekly inventory data which shows a 6.7 million barrel drop in stocks, indicating rising demand.  
Analysts had expected the API data to show a 525,000 barrel rise in inventories.
Saudi Oil Minister, Prince Abdulaziz bin Salman, warned Oil speculators to "watch out" and that they might suffer as they did "in April".
His comments have been taken as warning to short-sellers that the Oil price might rise. 
Abdulaziz defended OPEC and its decision to cut production by 2 million barrels per day (bpd) at its meeting in October 2022. Given the Oil price is at similar levels to October, it may suggest there is a risk the cartel will announce another supply cut in June. 
Oil continues to be underpinned by optimism that a deal will be reached on the US debt ceiling. 
Republican House Speaker Kevin McCarthy said, after talks with Democrats on Monday that, "​​I believe we can still get there. I believe we can get it done." Adding that he thought the talks were the most productive so far. 
The US Memorial Day weekend kicks off on May 27 and marks the beginning of the US summer driving season which will provide a seasonal lift to Oil demand, supporting prices. 
Oil price has decoupled temporarily from the US Dollar which catches a bid as Federal Reserve (Fed) officials continue to talk about the possibility of more rate hikes, and US macro data supports. 
Talk of more rate hikes ought to provide a headwind for Oil, which is priced in USD.
EIA inventory data scheduled for release at 14:30 GMT will provide an official estimate of Oil inventories. If the data supports the API drop, it could give another lift to Crude prices. 
Crude Oil Technical Analysis: Bullish triangle in downtrend
WTI Oil is in a long-term downtrend from a technical perspective, making successive lower lows. Given the old adage that the trend is your friend, this favors short positions over long positions. WTI Oil is trading below all the major daily Simple Moving Averages (SMA) and all the weekly SMAs except the 200-week which is at $66.89.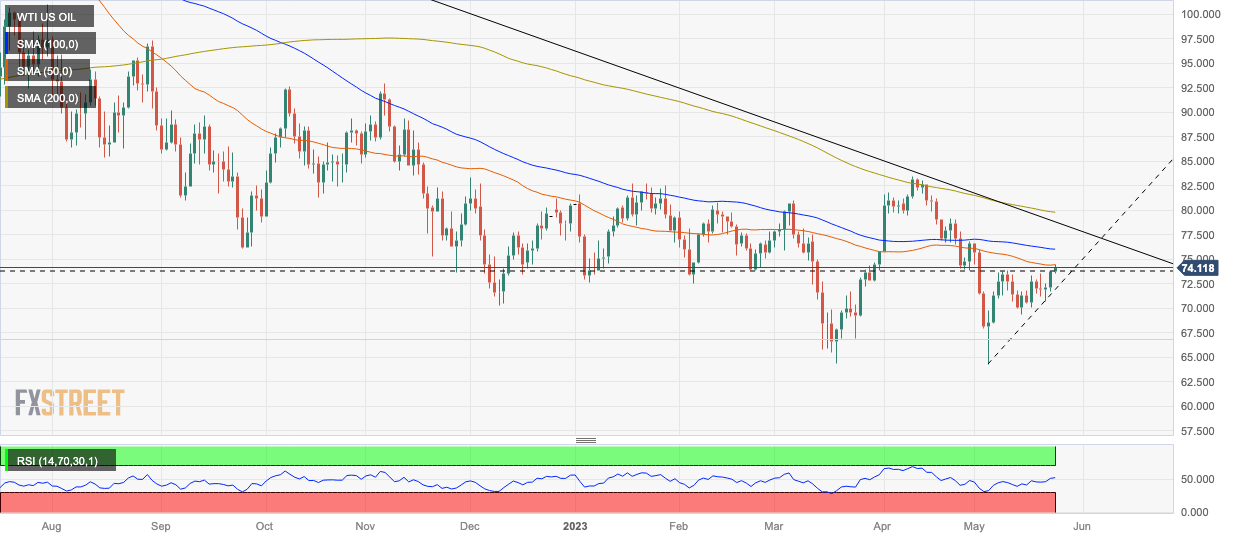 WTI US Oil: Daily Chart
A break below the year-to-date (YTD) lows of $64.31 would be required to re-ignite the downtrend, with the next target at around $62.00 where trough lows from 2021 will come into play, followed by support at $57.50.
Despite the bearish trend dominating, there are growing signs pointing to a possible conclusion and reversal. The mild bullish convergence between price and the Relative Strength Index (RSI) at the March and May 2023 lows – with price making a lower low in May that is not matched by a lower low in RSI – is a sign that bearish pressure is easing. 
The long hammer Japanese candlestick pattern that formed at the May 4 (and year-to-date) lows is a sign that it could be a key strategic bottom. 
Further, a right-angled triangle has formed on the 4-hour chart below (drawn in dotted lines), which because of its shape is biased to breakout higher.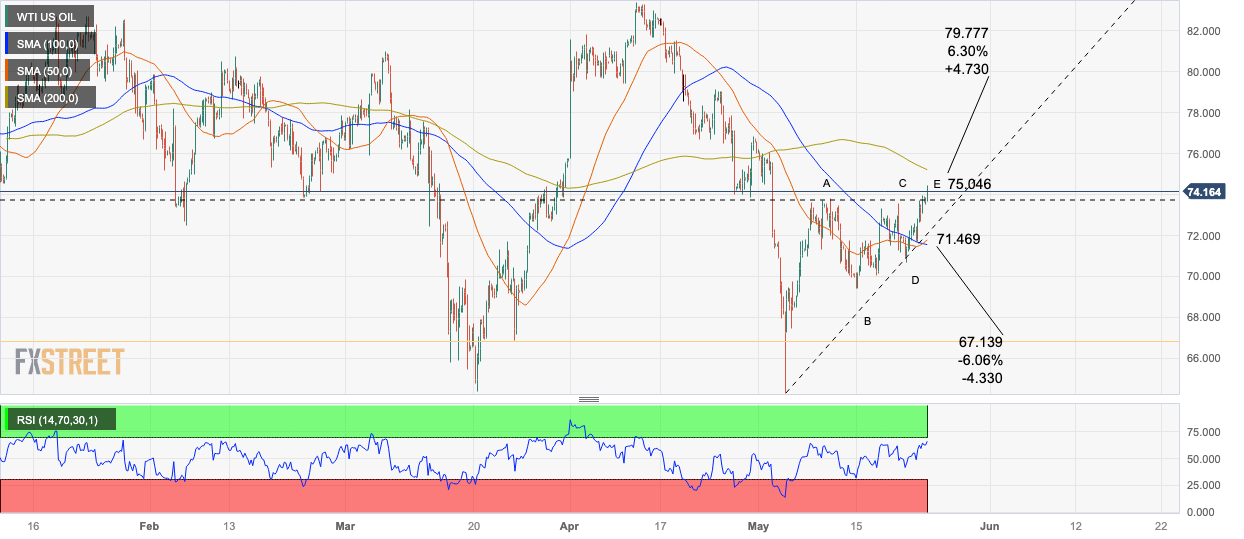 WTI US Oil: 4-hour Chart
The triangle formed after price recovered from the May 4 YTD lows. The initial rebound off the May 4 lows could be a Wave A, with Wave B descending between May 8-15. Wave C then probably rose in the week that followed and then pulled back in a Wave D. This week's recovery is probably a Wave E. Since most triangles are only composed of five waves this one is now probably complete. It could break out at any moment. 
There is a chance the triangle might break in either direction, but it is biased to break higher because the top border is flat (it is right angled). A breakout higher could see price rise in a volatile rally to a potential target of $79.75, calculated by using the usual technical method, which is to take 61.8% the height of the triangle and extrapolate it from the breakout point higher. Oil price could even go as far as a 100% extrapolation in bullish cases, however, the 61.8% level coincides with the 200-day SMA, heightening its importance as a key resistance level. 
Such a break and assuming Oil price reaches its target would mean price breaking above the $76.85 lower high of April 28, thereby, bringing the dominant bear trend into doubt.
False breaks are common with this pattern, however, and traders should ideally wait for a 'decisive' break. Such a break is characterized by a longer-than-average bullish green bar which pierces completely through the upper borderline of the triangle and closes near the 4-hour period's highs, or alternatively three green bars in a row that also pierce above the borderline. 
The RSI on the 4-hour chart is also showing a mild bearish divergence between the tops of Waves C and E and RSI. Whilst price has climbed higher in Wave E, RSI has not followed suit and remains beneath the level it was at when Wave C peaked. This suggests waning bullish interest although given it is mild, there is still a possibility of a breakout if momentum suddenly picks up. 
Given the downtrend is dominant there is still also a possibility WTI Oil price could break lower, with a decisive break below the lower border, likewise required, and a target at $67.27. This is just above where the 200-week SMA is located and likely to offer support. Traders might even wish to wait for a break below the lows of Wave B at $69.40 for added confirmation.  
Brent Crude Oil FAQs
What is Brent Crude Oil?
Brent Crude Oil is a type of Crude Oil found in the North Sea that is used as a benchmark for international Oil prices. It is considered 'light' and 'sweet' because of its high gravity and low sulfur content, making it easier to refine into gasoline and other high-value products. Brent Crude Oil serves as a reference price for approximately two-thirds of the world's internationally traded Oil supplies. Its popularity rests on its availability and stability: the North Sea region has well-established infrastructure for Oil production and transportation, ensuring a reliable and consistent supply.
What factors drive the price of Brent Crude Oil
Like all assets supply and demand are the key drivers of Brent Crude Oil price. As such, global growth can be a driver of increased demand and vice versa for weak global growth. Political instability, wars, and sanctions can disrupt supply and impact prices. The decisions of OPEC, a group of major Oil-producing countries, is another key driver of price. The value of the US Dollar influences the price of Brent Crude Oil, since Oil is predominantly traded in US Dollars, thus a weaker US Dollar can make Oil more affordable and vice versa.
How does inventory data impact the price of Brent Crude Oil
The weekly Oil inventory reports published by the American Petroleum Institute (API) and the Energy Information Agency (EIA) impact the price of Brent Crude Oil. Changes in inventories reflect fluctuating supply and demand. If the data shows a drop in inventories it can indicate increased demand, pushing up Oil price. Higher inventories can reflect increased supply, pushing down prices. API's report is published every Tuesday and EIA's the day after. Their results are usually similar, falling within 1% of each other 75% of the time. The EIA data is considered more reliable, since it is a government agency.
How does OPEC influence the price of Brent Crude Oil
OPEC (Organization of the Petroleum Exporting Countries) is a group of 13 Oil producing nations who collectively decide production quotas for member countries at twice-yearly meetings. Their decisions often impact Brent Crude Oil prices. When OPEC decides to lower quotas, it can tighten supply, pushing up Oil prices. When OPEC increases production, it has the opposite effect. OPEC+ refers to an expanded group that includes ten extra non-OPEC members, the most notable of which is Russia.
Information on these pages contains forward-looking statements that involve risks and uncertainties. Markets and instruments profiled on this page are for informational purposes only and should not in any way come across as a recommendation to buy or sell in these assets. You should do your own thorough research before making any investment decisions. FXStreet does not in any way guarantee that this information is free from mistakes, errors, or material misstatements. It also does not guarantee that this information is of a timely nature. Investing in Open Markets involves a great deal of risk, including the loss of all or a portion of your investment, as well as emotional distress. All risks, losses and costs associated with investing, including total loss of principal, are your responsibility. The views and opinions expressed in this article are those of the authors and do not necessarily reflect the official policy or position of FXStreet nor its advertisers. The author will not be held responsible for information that is found at the end of links posted on this page.
If not otherwise explicitly mentioned in the body of the article, at the time of writing, the author has no position in any stock mentioned in this article and no business relationship with any company mentioned. The author has not received compensation for writing this article, other than from FXStreet.
FXStreet and the author do not provide personalized recommendations. The author makes no representations as to the accuracy, completeness, or suitability of this information. FXStreet and the author will not be liable for any errors, omissions or any losses, injuries or damages arising from this information and its display or use. Errors and omissions excepted.
The author and FXStreet are not registered investment advisors and nothing in this article is intended to be investment advice.
Read More
Oil prices have been on the upswing after Saudi Prince Abdullah bin Abdulaziz Al-Saud addressed the market with predictions that Opec production policy and non-Opec production cuts are anticipated to have positive impacts on crude market conditions.
The prince's comments were a contribution to a rally in crude oil prices that was already underway thanks to a sharp drawdown in global oil inventories. Prices gained a full 8% since mid-day Monday, doing particularly well in Brent crude, which recorded highs not seen since mid November.
Oil analysts in the US have long speculated that the global markets for crude oil are oversupplied, and Saudi Arabia has so far held off on the full brunt of its production cuts as a result of this. The sharp drawdown in inventories along with these promises to cut production had triggered prices to climb higher, gaining five consecutive days despite recent financial market turmoil.
The intensity of the price rally is ultimately due to the prince's comments which have added positive investor sentiment to oil markets. The majority of experts agree that the inventories drawdown and Saudi production cuts are the most effective factors for price increases in the world's crude markets.
In the short term, the wider market response to these news reports has been a recovery in oil prices in both the US and Europe. This suggests a longer-term trend of oil prices will likely be established as global markets continue to take note of Saudi Arabia's commitments.
For now though, the uptick in crude prices will remain volatile as the markets await more developments. A great deal of investor focus centers around Saudi Arabia's relationship with its Opec partners and the probability of their consensus decision to cap production quotas. If long-term production cuts materialize, analysts anticipate that prices for oil will remain on the upswing.