Friday marks two weeks since a Norfolk Southern Corp. freight train carrying hazardous materials in a few of its cars derailed at East Palestine, Ohio, on the Pennsylvania border.
While no one was hurt in the initial derailment, the frightening incident — and the ominous black cloud when officials intentionally burned off the lingering chemicals — has caused a flurry of worry and led to questions from local residents and much of the nation.
Americans are tracking the response by Norfolk Southern
NSC,
-0.81%,
local government, the Biden administration and the Environmental Protection Agency. Many are wondering if what happened in East Palestine, a town of 4,700 about 20 miles south of Youngstown, Ohio, and 40 miles northwest of Pittsburgh, can happen in their own backyards when the transport of dangerous materials goes wrong.
In fact, another Norfolk Southern train hauling hazardous materials derailed Thursday near Detroit, but none spilled, officials said.
Here, we address the FAQs around the incident in Ohio. Sharing information on social media has been a great way for East Palestine residents to have their concerns heard, especially around what may prove to be a lengthy investigation. But social media has also sparked some flawed theories about the spread of the contamination, say environmental officials. For now, an accident investigation and next steps continue to unfold.
What happened when a freight train derailed in East Palestine, Ohio?
On Feb. 3, just before 9 p.m. Eastern time, a Norfolk Southern train derailed near East Palestine, Ohio.
Most of the freight train's 150 cars were carrying cargo that was not hazardous, officials say, including cement, steel and frozen vegetables, according to a manifest of the derailed cars provided to the Environmental Protection Agency (EPA).
But 20 cars contained hazardous materials, according to an update this week from the National Transportation Safety Board, which is investigating the derailment.
About three dozen cars derailed overall, 11 of which were carrying hazardous material, investigators said, while other cars remained on the tracks.
Related: 'Trust the government,' EPA head Regan says as he examines Ohio train spill site
Firefighters and other officials worked for several days to contain the impact from the crash. But authorities eventually grew concerned about rising temperatures inside a single railcar, which they worried could cause a catastrophic explosion and send shrapnel up to a mile away.
Ultimately, officials decided on a "controlled release" of the volatile vinyl chloride (more on this chemical below), which created a billowing black cloud. Because burning vinyl chloride can emit other toxic chemicals, including hydrogen chloride and phosgene, officials ordered the evacuation of a one-by-two-mile area around East Palestine, on both sides of the state line. The controlled fire burned from Feb. 6 to Feb. 8. Officials reportedly measured air contamination before allowing residents to return.
This week, a heated local town hall meeting in the high school gym — which Norfolk Southern did not attend, because it says some of its employees have received threats and it might not be safe — reveals that residents continue to have questions about air and water quality in the area.
Read: Norfolk Southern skips Ohio town-hall meeting over safety fears after derailment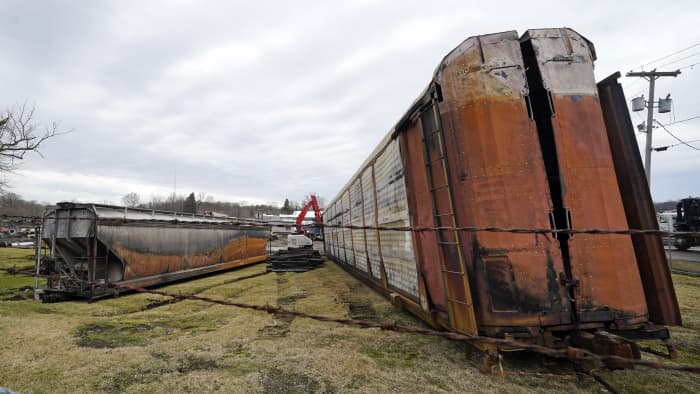 What was the cause of the Norfolk Southern derailment in Ohio and what's still under investigation?
The NTSB's investigation remains ongoing, but early signs suggest that a faulty wheel bearing on one railcar might have caused the derailment, the agency has said.
Surveillance video from a home near the crash site recorded "what appears to be a wheel bearing in the final stage of overheat failure moments before the derailment," investigators said this week, according to National Public Radio.
The NTSB says it expects to release a preliminary report in about two weeks.
What chemicals were involved in the Ohio train derailment?
Five of the derailed cars were carrying vinyl chloride, according to EPA reporting, a manmade substance that is a key feature of PVC, the hard plastic resin used widely as, for instance, plumbing pipes and HVAC ventilation in most U.S. homes. It has uses in healthcare as well.
Vinyl chloride, a sweet-smelling gas, is colorless. It is typically transported in the form of a compressed liquid.
In the short term, inhalation of vinyl chloride can cause respiratory symptoms like shortness of breath, as well as headaches and dizziness.
Chronic exposure to high levels of vinyl chloride has been associated with liver damage and cancer, according to the CDC.
But there was more than just vinyl chloride on board. This week, the EPA released a partial Norfolk Southern manifest that detailed other hazardous chemicals on the train, which included ethylene glycol monobutyl ether, ethyl hexyl acrylate and isobutylene. All can cause irritation or neurological symptoms like dizziness and headaches, particularly with longer exposure.
One tank car lost its entire load of butyl acrylate, a clear liquid used to make paint, adhesives and caulk. The New Jersey Department of Health has warned that exposure to butyl acrylate can cause headaches, dizziness, nausea and irritation to the nose, throat and lungs.
Reports say animals are dying. What's been the derailment's impact on people and pets?
Mary Mertz, the director of Ohio's Department of Natural Resources, said on Tuesday that an estimated 3,500 dead fish have been found in local streams, tributaries and waterways, accounting for at least 12 different species, although none on the endangered species list.
Locals used TikTok to reportedly show area streams.
Area resident Taylor Holzer, who cares for wildlife in need, said several of his foxes had "swollen faces and runny eyes" and one, who was on a property within the evacuation zone, suddenly died after he wasn't able to evacuate it. He had learned of the evacuation orders too late, Holzer told Newsweek: "He crashed so fast and unexpectedly. He wasn't able to blink or function properly as he died in my arms."
Andrea Belden told CBS News her 2-year-old cat Leo, who had a healthy vet checkup in recent months, had to be put down after she says vinyl chloride from the derailment triggered him into congestive heart failure.
Some residents have reported headaches and rashes in the days since the derailment, local news coverage shows. But it's not clear if there have been any hospitalizations that can be linked to the chemical spill in the days since the wreck.
Is the Ohio River contaminated, and which other states near Ohio are impacted?
There's little doubt that the derailment and the official decision to burn off the toxic vinyl chloride to avoid an explosion sparked worries among local residents over whether their air and drinking water are safe.
And because such a major Eastern U.S. River, the Ohio River, is in the area, the worries spread well beyond East Palestine.
Social media posts with tens of thousands of shares this week used a map of the Ohio River drainage basin, which touches parts of 14 states. As one viral theory went: Everyone living in the Ohio River basin, as shown in the yellow area of this Wikipedia map, should be concerned about the safety of their drinking water.
A news analysis by the Associated Press, and similar efforts by others, including USA Today, set out to clarify that the map shows the region of land whose surface water drains into the Ohio River, not the region that gets its drinking water from the river.
Many counties in the map get their drinking water from other sources, experts said. Contaminants including butyl acrylate have been detected in the Ohio River, but the amounts so far don't pose a risk for cities that rely on the river for its drinking water, according to the Ohio Environmental Protection Agency and outside experts.
The concentration of butyl acrylate, the only contaminant of concern that has been detected in the Ohio River, is much lower than the threshold considered hazardous, according to Patrick Ray, assistant professor of environmental engineering at the University of Cincinnati.
That concentration will continue to decrease as it moves downstream, Ray said, due to evaporation, dilution in a large body of water, and a little bit of decomposing. It's likely to be nearly undetectable when it reaches Cincinnati in several days, he added.
The Ohio EPA agreed that the contaminant amounts found so far don't pose a risk for cities that rely on the river for its drinking water.
Similarly, many internet users this week falsely claimed that because the Ohio River ultimately drains into the Mississippi River, thousands of farms that rely on the Mississippi River for water risk contamination. Environmental officials said there's little chance that contaminants in the 1,000-mile long Ohio were showing up along the Mississippi River.
Even as the state EPA says cities that rely on Ohio River drinking water are not at risk, some water companies have shut off their intakes or increased treatment processes as a precaution, the AP has reported.
Read: Ohio's DeWine says he has not taken up Biden on offer of 'anything you need' in wake of train derailment disaster
What are the rules for railroads carrying hazardous materials?
Freight trains moved 2.2 million carloads of chemicals in 2021, according to the Association of American Railroads.
This is in large part because railroads are considered the safest mode of transportation to carry large amounts of hazardous materials, including chemicals, for long distances across the country, according to the Federal Railroad Administration. The agency's website says railroad accidents that resulted in hazardous materials being released caused just 14 deaths from 1994 to 2005, while 116 deaths resulted from hazardous materials spilling after highway accidents in the same time period.
There were 149 incidents where hazardous materials were released from moving trains over the past decade, including those not causing any known health harms, these trade groups say.
It's important to note the federal data is self-reported by train companies, making it tough to verify all the information is accurate.
And some officials, including Ohio Gov. Mike DeWine, a Republican, said his concern lies with substances crossing state lines.
DeWine is urging Congress to change rules around hazardous cargo notification requirements.
Because most of the railcars in the train heading through eastern Ohio were carrying nonhazardous materials, Norfolk Southern was not subject to laws that would have compelled it to notify Ohio officials of the train's contents.
"Frankly, if this is true – and I'm told it's true – this is absurd," DeWine said. "We should know when we have trains carrying hazardous material that are going through the state of Ohio."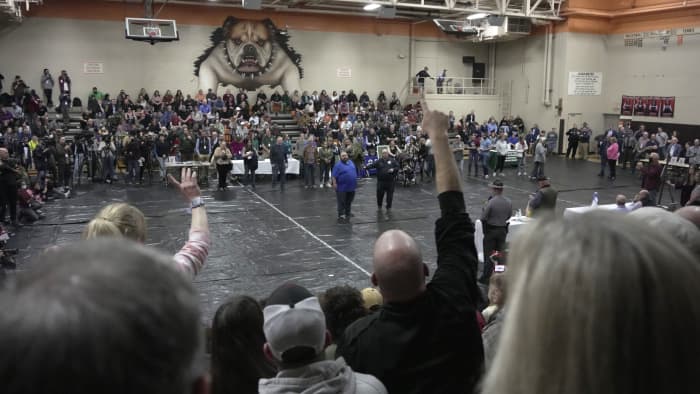 What has Norfolk Southern and the EPA done in response to the derailment?
In addition to monitoring the air outdoors, the EPA says it has screened indoor air at nearly 500 homes in the area. No vinyl chloride or hydrogen chloride have been detected, the EPA said.
Still, residents are frustrated by what they say is incomplete and vague information about the lasting effects from the disaster, which prompted evacuations.
At least five lawsuits have been filed against Norfolk Southern, which announced this week that it is creating a $1 million fund to help the community while continuing to remove spilled contaminants from the ground and streams and monitoring air quality.
Don' t miss: Norfolk Southern, which spent $4 billion on stock buybacks last year, creates $1 million fund for Ohio train-derailment victims
"We are here and will stay here for as long as it takes to ensure your safety and to help East Palestine recover and thrive," Norfolk Southern President and CEO Alan Shaw said in a letter to the community.
Read: Norfolk Southern is in the spotlight after Ohio derailment disaster. What does it mean for the carrier's stock?
Barron's: Norfolk Southern's Train Derailment Isn't a Big Deal to Wall Street. Investors Aren't So Sure.
President Biden told Gov. DeWine that federal assistance is available as needed. DeWine pushed back against charges from Sen. J.D. Vance that the Biden administration was to blame for the derailment and its cleanup.
" 'I'm asking they trust the government. I know that's hard. We know there's a lack of trust. We're testing for everything that was on that train.'"

— EPA Administrator Michael Regan on the ground in East Palestine, Ohio

EPA Administrator Michael Regan, who this week visited the site and walked along a creek that still reeked of chemicals, according to the Associated Press, sought to reassure skeptical residents that the water is fit for drinking and the air safe to breathe. Residents on city water were assured of its safety, although homes with their own wells were encouraged to seek further testing, which some residents did through private means, they said.
"I'm asking they trust the government. I know that's hard. We know there's a lack of trust," Regan said. "We're testing for everything that was on that train."
Regan said Thursday that anyone who is fearful of being in their home should seek testing from the government.
Read More
On December 3, 2020, a freight train derailed in Cincinnati, Ohio, spilling its cargo of sodium hydroxide and prompting fears of chemical contamination. In response, local authorities have taken various precautionary measures and communicated with the public about the incident. To clarify some of the questions surrounding this event, the following is a comprehensive overview of what happened, and of the current status of the situation.
At 2:30 a.m. on December 3, a Norfolk Southern train carrying 772,000 pounds of sodium hydroxide derailed outside Cincinnati. While no individuals or areas were threatened by the spill, a hazardous material response team was sent to clean up the wreckage and monitor the area for any potential environmental or health hazards. It appears that this response team has been successful in containing the spill, as reports suggest that no further contamination has been detected.
In the aftermath of the incident, the Ohio Environmental Protection Agency announced that it would be inspecting the premises of the train and the incident scene to rule out any further risk of chemical contamination. Additionally, the agency has asked area residents to report any issues they feel may be related to the incident, either environmental or health-related. The agency has also monitored local water supplies for signs of contamination.
Meanwhile, the authorities are also investigating what led to the train accident, as well as the effects of the chemical spill on the environment and public health. Further details of these investigations are expected to be released in the coming weeks.
Although the derailment of the freight train was an unfortunate incident, it appears that it has been appropriately handled, and that the public is now safe from any potential chemical contamination. Nevertheless, the Ohio Environmental Protection Agency and the investigations currently underway are key to understanding the full scope of the incident, to ensure that such an event will not reoccur in the future.