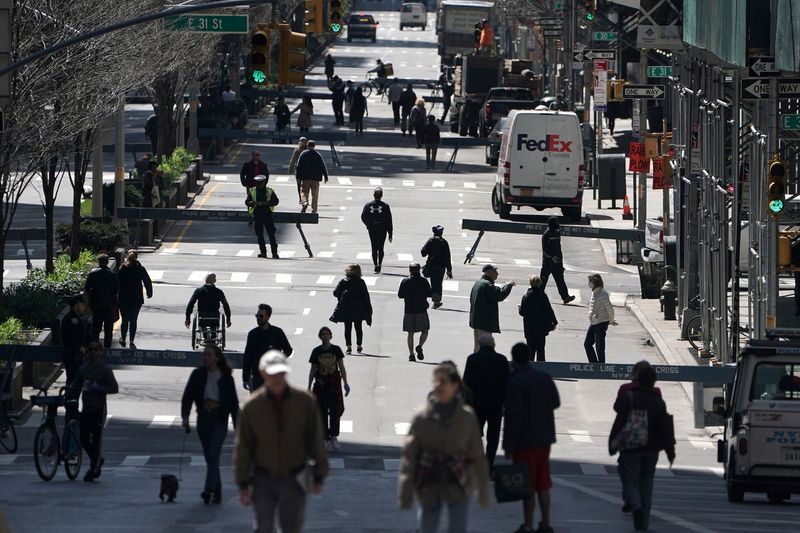 © Reuters. FILE PHOTO: People walk on Park Avenue, that was closed to vehicular traffic, during the outbreak of coronavirus disease (COVID-19), in the Manhattan borough of New York City, New York, U.S., March 27, 2020. REUTERS/Carlo Allegri/File Photo

By David Shepardson
(Reuters) -The Biden administration on Friday approved the release of the final environmental assessment for New York City's congestion pricing plan for public comment, a key step before the project can be green-lighted.
The Federal Highway Administration approval is a milestone in efforts to implement the plan announced in 2019 to reduce traffic and provide funding to improve mass transit by using tolls to manage traffic in central Manhattan.
The approval means the New York project sponsors are cleared to put the environmental assessment and draft finding of no significant impact out for a 30-day public notice before the federal agency makes its final determination.
In August, New York said drivers could face a traffic congestion charge of up to $23 a day in late 2023. A study released last year projected would reduce the number of cars entering Manhattan by 15% to 20%.
The city wants to charge a daily variable toll for vehicles entering or remaining within the central business district, defined as between 60th Street in midtown Manhattan and Battery Park on Manhattan's southern tip.
New York, which has the most congested U.S. traffic, would become the first major U.S. city to follow London, which began a similar charge in 2003.
New York lawmakers approved the plan in 2019, and it was originally projected to start in 2021. But the federal government under President Donald Trump did not take any action.
The Metropolitan Transportation Authority (MTA) said on Friday congestion pricing "is a generational opportunity to make it easier for people to get around in, and get to, the Central Business District, by reducing traffic and funding improvements to the public transit system."
MTA said it was grateful the Federal Highway Administration found the document met standards for legal sufficiency.
Last year, MTA said passenger vehicle drivers could pay $9 to $23 to enter at peak times, while overnight tolls could be as little as $5. Drivers could apply existing bridge and tunnel tolls to congestion charges.
The environmental assessment found the charge would cut traffic, improve air quality, make buses more reliable and increase transit use by 1%-2%. The toll would generate $1-$1.5 billion a year and support $15 billion in debt financing for mass transit improvement.
Read More
New York City's ambitious plan to drastically reduce traffic and improve air quality by implementing a congestion pricing plan in Manhattan has recently cleared a major obstacle.
On Thursday, the Fix NYC Advisory Panel approved the plan, suggesting that the city implement an $11.52 charge for cars and a $25.34 charge for trucks entering certain areas of Manhattan below 61st Street, which could take effect as soon as 2021.
The plan, which has been widely discussed for more than a decade, is intended to ease the city's gridlocked traffic and help improve air quality. The charge is expected to raise $1 billion in revenue each year and will fund public transport improvements around the city, as well as efforts to help commuters who rely on automobiles.
The proposal is due to go before the state legislature in 2019 and must receive final approval from city and state officials before it is implemented. If approved, the plan could have far-reaching effects on the city's transportation system and urban environment.
The estimated $1 billion in revenue generated by the charge would be dedicated to the MTA, the city's public transportation system which has been struggling to meet the ever-growing needs of the city and its commuters. An additional $500 million from the plan would be allocated to other transportation projects including bike lanes, pedestrian safety improvements and bus lanes, according to the Advisory Panel.
In addition, the proposal also calls for the establishment of a "Transit Savings Account", which would allow low-income residents to save money on their commuting expenses each month.
New York City Mayor Bill de Blasio welcomed the plan, characterizing it as a "bold and ambitious plan to improve mobility and reduce congestion in our city". He went on to say that "this is a major step forward in our effort to build a more sustainable transportation system and make New York safer and healthier for all."
The congestion pricing plan is a major step forward in making transportation more equitable and efficient in the city. With further progress made on the proposal in the coming year, the city could soon see a sizable reduction in traffic, a more reliable public transportation system, and cleaner air for all.