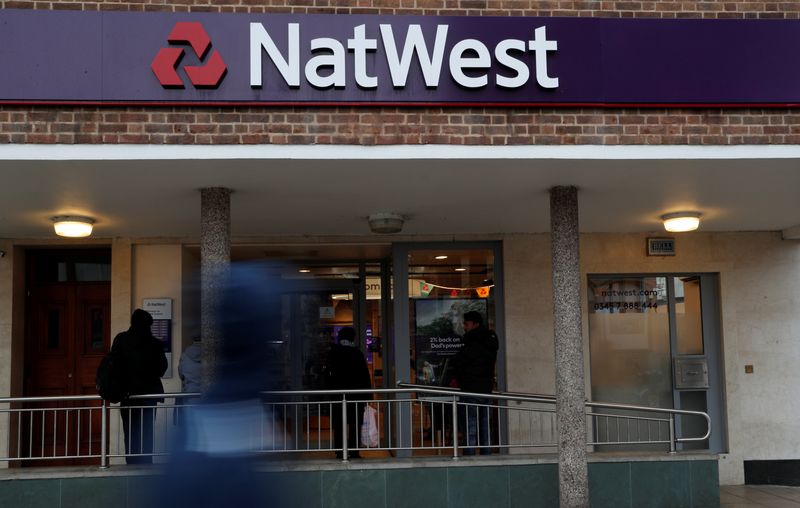 © Reuters. The logo of NatWest Bank, part of the Royal Bank of Scotland group is seen outside a branch in Enfield, London Britain November 15, 2017. REUTERS/John Sibley/Files

By Iain Withers and Lawrence White
LONDON (Reuters) – NatWest warned on Friday that rising interest rates may not deliver the long-lasting earnings bonanza investors hope for, even though profit jumped by 33% last year.
Shares in the bank fell as much as 9% as investors digested forecasts for profitability and costs for 2023, even as the bank reported annual pretax profit rose to 5.1 billion pounds ($6.1 billion) from 3.8 billion pounds.
"We think broadly the results are likely to be seen as a miss on 2023 expectations today," Credit Suisse analysts said, citing the bank's unchanged returns target and guidance that costs would be 300 million pounds higher than analysts thought.
NatWest shares were down 6% at 1153 GMT. Rival Lloyds Banking Group (LON:), also focused on the UK market, was down 3%.
State-backed NatWest did increase payouts for shareholders, announcing a 10 pence per share final dividend and an 800 million pound share buyback.
NatWest CEO Alison Rose said the bank's strategy was delivering and it had been clear on its economic forecasts – including a prediction that Bank of England rates would hold at 4% this year.
It also raised the staff bonus pool by nearly a quarter to 368 million pounds, prompting criticism because it is still 44% owned by taxpayers following its state bailout at the height of the 2008-2009 financial crisis.
"NatWest is using bumper profits to deepen its bonus pool, not to support the public, who bailed it out just 15 years ago," said Fran Boait, executive director at Positive Money, which campaigns for a fair financial system.
Rose's total pay package for 2022 jumped nearly 50% to 5.2 million pounds, up from 3.6 million pounds the previous year.
NatWest Chairman Howard Davies said the figures reflected executive directors receiving an annual bonus for the first time since 2010 and also included long-term awards earned in prior years.
NatWest said the government will receive a total of 2.6 billion pounds for 2022 via the bank's payouts to shareholders.
BAD LOAN CHARGES
Britain's economy narrowly avoided a technical recession at the end of 2022, official data showed last week, but inflation could still squeeze households and lead to more loan defaults.
Inflation, although trending downward, has crushed spending power of British households and businesses, and has slowed the housing market and investment supported by credit.
NatWest set aside 337 million pounds over the year to cover potential soured loans, though this was lower than 400 million-plus figure analysts expected.
"Despite not yet seeing significant signs of financial distress among our customers, we are acutely aware that many people and businesses are struggling right now," Rose said.
While higher rates hurt borrowers, lenders benefit from the widening gap between what they charge borrowers and pay savers.
NatWest's revenue leapt more than a quarter over the year to 13.2 billion pounds, boosted by growth in its mortgage book.
The lender is aiming to deliver a cost-to-income ratio below 52%, excluding costs linked to litigation and conduct, it added.
($1 = 0.8372 pounds)
Read More
NatWest's recent financial update has shown a surge in profits, but their negative outlook has cast a shadow over the company's performance. On Wednesday, the company announced that their profits were up 41% in the first quarter of 2020, due to an improvement in their market share and cost cutting measures. Despite this news, their outlook for the remainder of the year dragged down their share price.
Although the company reported a pre-tax profit of £1.5 billion, which was well above market expectations, their cautious guidance on the housing market and other factors weighed heavily on the stock. NatWest CEO Alison Rose noted the challenges of Brexit in the UK, as well as the potential for additional disruption due to the coronavirus pandemic.
In addition to their negative outlook, investors were hesitant to buy the stock due to the fact that the company stated that their net interest margin (NIM), an important measure of profitability, was expected to remain weak in 2020. NatWest also noted that their provision for bad loans had increased to £836 million, although this figure was still below the market's expectation.
Despite the delay in their share price, analysts have responded positively to the financial update, noting that NatWest have put in place a number of measures to protect their business. These include building up capital ratios and reducing their exposure to risky activities. Furthermore, NatWest have recently enhanced their digital offering and streamlined their processes, both of which are likely to contribute to their long-term success.
Overall, whilst the outlook from NatWest has been a cause for concern amongst investors, it is important to remember that the company remains in a very positive position. With the right strategies in place, they are well-positioned to maintain stable performance throughout the remainder of the year.