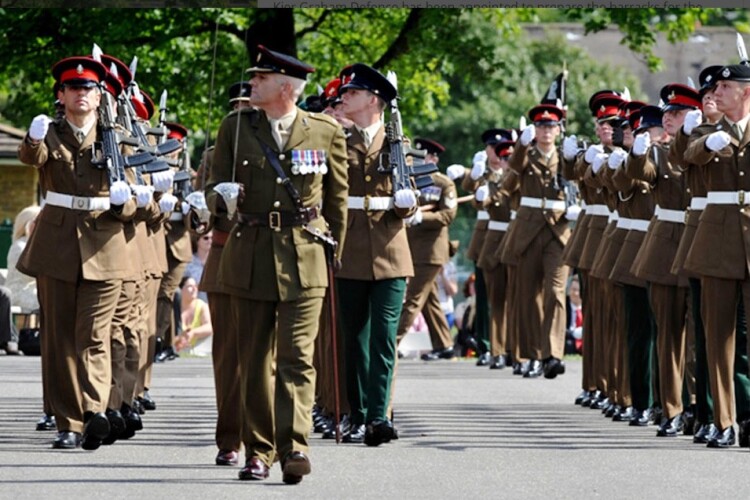 A strategic alliance contract has been signed by the Defence Infrastructure Organisation (DIO) and seven contractors for the design & build elements of a delivery, commercial & procurement strategy process within the Defence Estate Optimisation (DEO) portfolio.
Contractors were chosen from a mini competition using a Crown Commercial Service framework in August 2022. The successful seven are:
Galliford Try Construction
ISG Construction
John Graham Construction
Kier Construction
Laing O'Rourke Delivery
Lendlease Construction (Europe)
Morgan Sindall Construction & Infrastructure.
MoD director of infrastructure Sherin Aminossehe said: "The strategic alliance contract for the Defence Estate Optimisation Portfolio will allow us to capitalise on the wealth of knowledge within the construction industry and harness that expertise in a way we've not previously done. The contract will ensure we can deliver the right buildings and infrastructure for Defence that will enable our military capability and create the right environment for our people to train, work and live in. We will be delivering at pace and start to see the benefits straight away within projects being mobilised this year."
DEO is described as "a £5.1bn investment portfolio that is focused on delivering a better structured, modern and more sustainable estate that more effectively supports military capability and aims to enhance the lived experience of our military personnel". 
DIO commercial director David Poole said: "The market response was highly positive, with 56 tenders received across our 11 packages of work leading to awards to seven competitive contractors. We know how much work goes into preparing competitive tenders and are grateful to Industry for their response.  We are delighted with the results we have achieved and look forward now to mobilising our new relationships and delivering excellence for our stakeholders."

There will be a lot of construction and refurbishment work on both single living and service family accommodation as well as a range of, operational, educational, and technical facilities that span the MoD's UK estate.
Galliford Try was successful in its bids to win the Air & UK Strategic Command and Munster Barracks, Catterick lots, which have an approximate value of £387m, and include refurbishment, new-build and single living accommodation projects at RAF bases and Strategic Command facilities across the country, and Catterick garrison.
Graham has been appointed sole supplier for the £355m Scotland regional bundle, including the Leuchars Barracks major project package in Fife to make a new home for the Black Watch battalion.
ISG will build a £250m barracks and supporting facilities covering 250 acres at the Caerwent Station training area in Monmouthshire, South Wales.  This project paves the way for a return to Wales for a Welsh Regiment, 1st The Queen's Dragoon Guards and 1st Battalion, The Rifles.
James Dimmock, ISG's defence sector director, said: "Alliancing is an ideal model for the delivery of this complex programme, and our insights and experience working across the Ministry of Justice's new prisons programme will prove invaluable as we work together with our framework partners to create the built assets that will enhance the capabilities of our armed forces today and into the future."
Got a story? Email news@theconstructionindex.co.uk
Read More
Today, the Ministry of Defense (MoD) has named seven key partners in the UK's £5bn Defence Infrastructure Organisation (DIO) Construction Framework, which will provide the construction services required to deliver the department's ambitious infrastructure plans.
Each successful bidder, which was selected after a competitive process managed by the Crown Commercial Service, will provide capabilities across 14 key trades and services required to deliver the infrastructure ambitions of the MoD. The seven firms are: BAE Systems, Babcock International, Galliford Try Infrastructure, Kier Infrastructure and Overseas, Morgan Sindall Infrastructure, Osborne, and Willmott Dixon Construction.
The MoD is tasked with providing the skills, resources, and facilities necessary to ensure the UK can defend, protect, and uphold the values our nation stands for. This large-scale construction effort is a key part of our plans to ensure the UK's infrastructure is capable of delivering in line with the operational capabilities of our Armed Forces.
The DIO Construction Framework will allow for a range of projects to emerge and progress quickly and securely, giving the MoD the necessary base to facilitate and implement large-scale investment decisions. The trade and service packages cover all aspects of civil engineering and construction, including demolition, engineering, building works, road and drainage works, surveying, and scaffolding.
The framework supports the MoD's commitment to creating a forward-looking infrastructure plan to ensure the department is providing the best construction services possible. The ability to call upon trusted and reliable partners at short notice is essential in order to ensure the UK's defence operations are of maximum effectiveness.
Commenting on the award, Minister for Defence Infrastructure, Tobias Ellwood said: "The seven firms selected today will be instrumental in helping us ensure our Armed Forces have the necessary resources and facilities to operate effectively. In today's uncertain global environment, it has never been more important to ensure that our Armed Forces are as well-resourced as is possible."
The MoD is confident that the Construction Framework will not only help provide the necessary resources for our forces, but will also bring jobs and other economic benefits to communities across the UK.