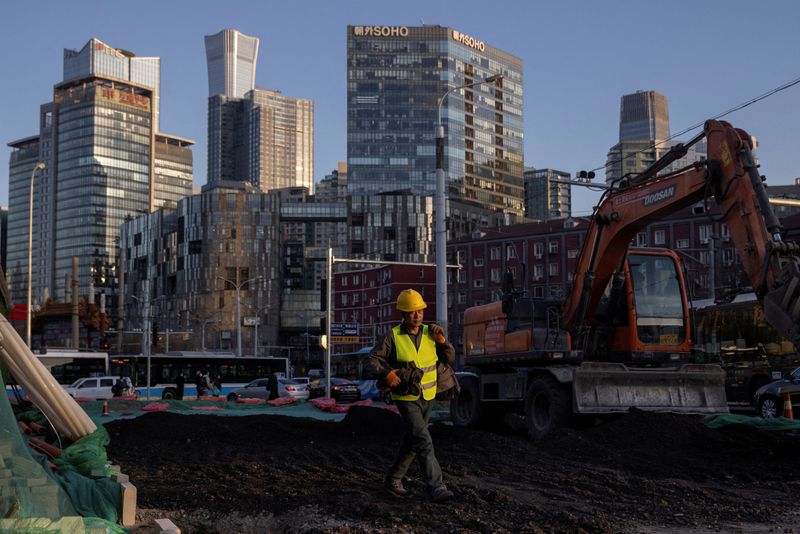 © Reuters. FILE PHOTO: A worker walks across a construction site in the Central Business District, ahead of the opening of the National People's Congress (NPC) in Beijing, China, February 28, 2023. REUTERS/Thomas Peter/File Photo

By Jamie McGeever
(Reuters) – A look at the day ahead in Asian markets from Jamie McGeever.
Chinese reflation vs U.S. inflation.
That's the broad market picture painted by manufacturing PMIs for the world's two largest economies on Wednesday, as Asian stocks excluding Japan surged 2% for their best day in two months, and two of Wall Street's three main indexes slumped into the red.
How Asian markets trade on the second day of the month on Thursday may come down to which of these two forces retains the most momentum. The impact of Chinese and U.S. manufacturing purchasing managers index data on Wednesday was powerful.
China's reopening from years of COVID-19 lockdown appears to be extraordinary. Manufacturing activity exploded in February, expanding at the fastest pace in more than a decade, and new export orders rose for the first time since April 2021.
On top of that, Chinese consumers are back with a bang, with some of the world's top consumer and luxury goods companies saying sales in the country are picking up again.
The U.S. manufacturing PMI report, however, prompted heavy selling across risky assets (stocks) and safe assets (bonds) alike – activity contracted for a fourth month in a row, but the prices paid index jumped much more than economists had expected.
More evidence of inflationary pressures was followed by another flurry of hawkish comments from Fed officials, sending the up to 4%, the two-year yield to a 16-year high near 5%, and the implied Fed terminal rate through 5.50%.
Spiraling bond yields, rates and inflation expectations aren't confined to the U.S. – euro zone PMIs also highlighted stagflationary pressures, while euro zone inflation expectations are the highest in over a decade and, in a rare occurrence, pushing above U.S. equivalents.
Can Asian markets withstand these pressures on Thursday and take their cue again from China's economic renaissance?
There are no top-tier Asian economic data releases on tap – South Korean retail sales, Australian building approvals and Japanese consumer confidence – leaving flash February euro zone inflation as perhaps the biggest market-mover of the day.
Here are three key developments that could provide more direction to markets on Thursday:
– South Korea retail sales (February)
– Australia building approvals (February)
– Japan consumer confidence (February)
(By Jamie McGeever; Editing by Josie Kao)
Read More
The stock market is one of the most volatile and unpredictable places to put your money, and with the month of March being filled with wild swings and high volatility, nerves are high on Wall Street. However, there are tools that investors can use to manage their risk and investments, and one of them is Marketmind.
Marketmind is a cloud-based risk management platform designed to help investors ride the waves of the volatile market. It offers a variety of features, such as portfolio optimization, market analysis, and risk management tools to help investors make better decisions and stay on top of their investments.
With the help of Marketmind, investors can see which stocks are likely to gain or lose money in a specific timeframe. This helps them better assess the risk of their investments, as well as plan for future investments in order to maximize their returns. Furthermore, Marketmind can provide investors with timely market data and analysis that can give them insights into how different factors are affecting their portfolio. This can be invaluable to investors looking to make better decisions about the risk of their investments.
Additionally, Marketmind can provide investors with an Entire Portfolio Valuation (EPV) analysis. This analysis can help investors assess the risk of their portfolios and determine how much of their investments are exposed to market volatility. Furthermore, it can also help them find out which individual stocks are at risk of big losses in the event of a market crash. This can help investors adjust their portfolios to better survive such turbulent markets.
To sum it up, Marketmind is an invaluable resource for nervous investors who want to stay on top of their portfolios during the month of March. By leveraging features such as portfolio optimization, market analysis, risk management tools, and EPV analysis, investors can make smarter decisions and better protect their investments against market volatility.