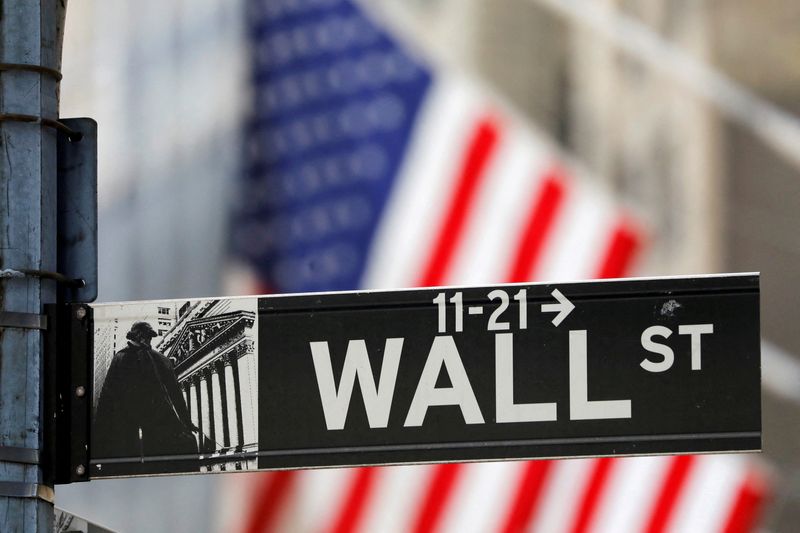 © Reuters. FILE PHOTO: A street sign for Wall Street is seen outside the New York Stock Exchange (NYSE) in New York City, New York, U.S., July 19, 2021. REUTERS/Andrew Kelly/File Photo

By Stephen Culp
(Reuters) – A look at the day ahead in markets from Stephen Culp, New York stock market reporter.
Wall Street's downbeat start to an action-packed week has set a bumpy course for Asian markets on Tuesday.
U.S. stocks appeared to take a breather near the end of a month of solid gains, dipping into red as market participants gird their loins for multiple central bank policy decisions and a spate of high profile megacap earnings, with the Labor Department's hotly anticipated January employment report due on Friday.
The Federal Reserve convenes its two-day monetary policy meeting on Tuesday, which is expected to culminate on Wednesday with a bite-sized 25 basis point hike to the Fed funds target rate.
The Bank of England and the European Central Bank are poised to follow the Fed by hiking crucial interest rates by a more aggressive 50 basis points.
On the earnings front, Caterpillar Inc (NYSE:), General Motors Co (NYSE:), Pfizer Inc (NYSE:), United Parcel Service Inc (NYSE:) and McDonald's Corp (NYSE:) are expected before Tuesday's opening bell.
Meta Platforms Inc (NASDAQ:) waits in the wings on Wednesday, with Apple Inc (NASDAQ:), Amazon.com (NASDAQ:) and Alphabet (NASDAQ:) Inc on deck for Thursday.
Those earnings calls, along with Fed Chairman Jerome Powell's post-rate-decision remarks, will be parsed and scrutinized by investors for clues regarding the likelihood, severity and timing of a potential recession.
Elsewhere, the U.S. dollar gained ground against a basket of world currencies, crude prices plunged as the prospect of rate hikes and robust Russian exports dampened optimism over rebounding Chinese demand.
Speaking of which, the world's second-largest economy's fiscal revenue growth decelerated sharply in 2022 to 0.6% from 10.7% in 2021, largely due to Beijing's strict COVID-19 policies.
Those policies have since been relaxed, sparking hopes of demand revival in China, which could take some of the sting of restrictive central bank policy.
Here are some key developments that could provide more direction to markets on Tuesday:
– South Korea and Japan are expected to post December industrial output and retail sales data
– China due to release manufacturing and composite PMI reports for January
– U.S. will follow Case-Shiller home prices (November), consumer confidence (January) and Chicago PMI (January)
Read More
The world of digital marketing has recently become much more dynamic with the introduction of Swiss-based tech company, Marketmind. Marketmind's innovative new toolset puts advanced marketing technology within reach for businesses of all sizes, transforming the way that marketers craft strategies and approach campaigns.
At the heart of Marketmind is its powerful analytics software. This platform enables businesses to gather insights from both external and internal sources, allowing marketing teams to make more informed decisions. To further support those decisions, comprehensive reports can be generated so users can gain an even deeper understanding of their customer base and the impact of their campaigns.
In addition to its analytics suite, Marketmind also offers a wide range of tools for marketing automation, including social media management and email marketing. This allows businesses to more efficiently create, manage, and track content, resulting in more effective campaigns with less effort expended.
Marketmind's automation capabilities don't stop there, however. It also boasts a series of sophisticated scheduling algorithms which use predictive analysis to anticipate customer behavior. This allows marketers to plan and execute campaigns that are more timely and targeted, ultimately leading to more engagement, conversions, and overall customer satisfaction.
Finally, Marketmind's integrated dashboard allows users to keep tabs on all their marketing efforts in one place. This single view enables marketers to quickly monitor key performance indicators and make necessary adjustments on the fly.
For companies of any size looking to maximize the efficiency and effectiveness of their digital marketing efforts, Marketmind is a must-have tool. With its sophisticated analytics, automation, and scheduling capabilities, Marketmind is revolutionizing the way marketers conduct campaigns. So fasten your seatbelts, because the future of digital marketing will be here before you know it.