Looking to make your move to New Mexico? These five cities are just waiting to be explored. 
1. Tucumcari
In the northeast portion of the state is Tucumcari, home to Mesalands Community College, which features a dinosaur museum. Tucumcari has more than 1,200 hotel rooms because it is a long-time popular stop for travelers along Route 66. 
The city's downtown is highlighted by more than 50 murals painted on district buildings. In addition, Tucumcari has quite a few popular independent restaurants, including Kix on 66, Watson's BBQ and Del's Restaurant. 
The median home value here is a comfortable $75,377 (Zillow, January 2023).
Plus: Six towns worth visiting for their historic downtowns
2. Chama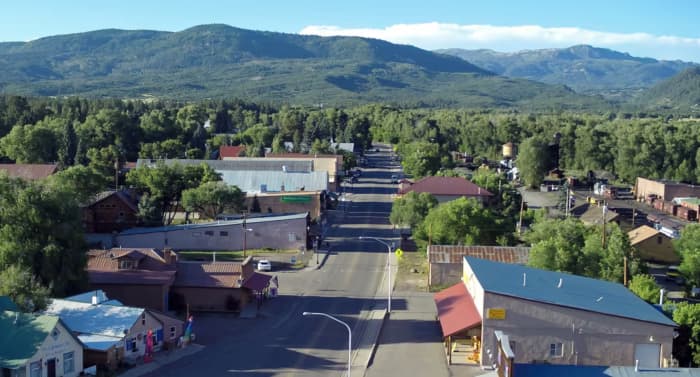 This village in the north-central part of the state is along the Rocky Mountains, about seven miles south of the New Mexico-Colorado border. The historic Cumbres & Toltec Scenic Railroad offers train rides from Memorial Day weekend to mid-October, showcasing rugged mountain views around Chama.
Chama welcomes visitors, especially in the winter months, thanks to multiple opportunities to enjoy cross-country skiing and snowmobiling. During your visit, stay at one of the many bed-and-breakfasts available. Other outdoor recreation options include fishing local trout streams and lakes and hiking and mountain biking along many trails — including the Continental Divide Trail. 
The median home value in Chama was $292,435 (Zillow, January 2023).
You might like: If you're thinking of moving to the country, be aware of these hidden costs
3. Silver City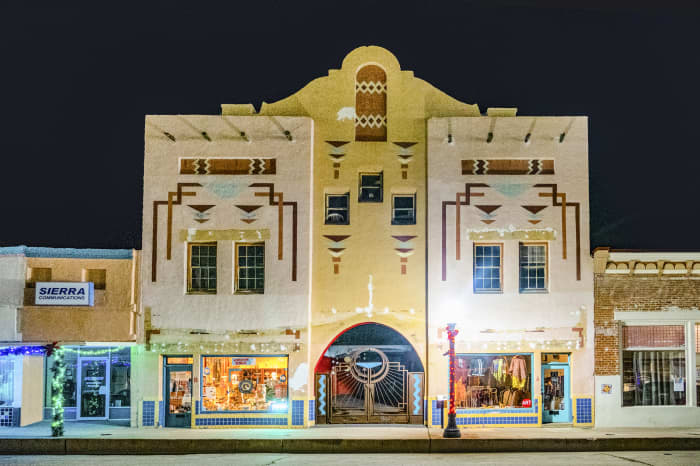 Officially classified as a town, Silver City is in southwest New Mexico and has a population nearing 10,000 residents. Several large festivals are hosted in Silver City, including Chicano Music Festival, Red Hot Children's Fiesta and Red Paint Powwow.
The climate here includes clear mountain air, low humidity and four distinct seasons. Silver City is nestled against the 3.3 million-acre Gila National Forest and several area lakes. In addition, Silver City is home to Western New Mexico University, and many musicians and artists reside in the downtown district, which features about 30 galleries and art studios, along with buildings graced by beautiful murals. 
The median home value is around $216,575 (Zillow, January 2023).
See: 14 of the best and most affordable places to live on the West Coast
4. Artesia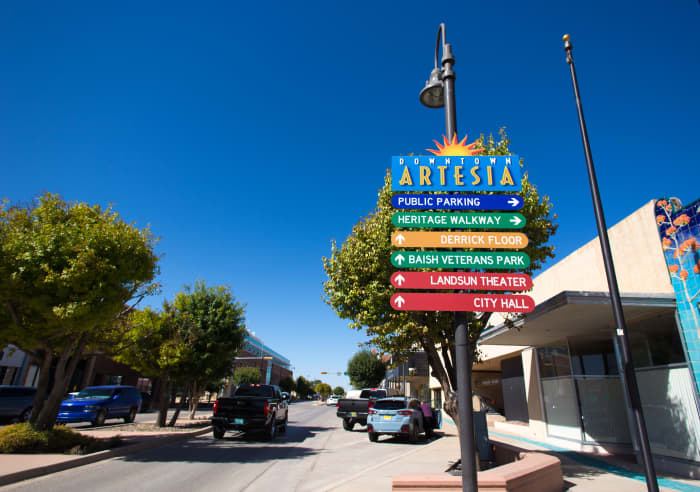 Developed largely by money from the oil and gas industry, the economy of Artesia today is also bolstered by the agriculture, dairy and tourism sectors. This southeast New Mexico city of 12,500 residents offers year-round sunshine without pollution or traffic congestion.
Popular recreation destinations for residents include an aquatic center, along with Baish Park and Jaycee Park. In addition, the community has recently invested heavily in its downtown area, which is now classified as a New Mexico MainStreet District.
The median home value in Artesia is $191,044 (Zillow, January 2023).
See: 12 best American road trips
5. Bloomfield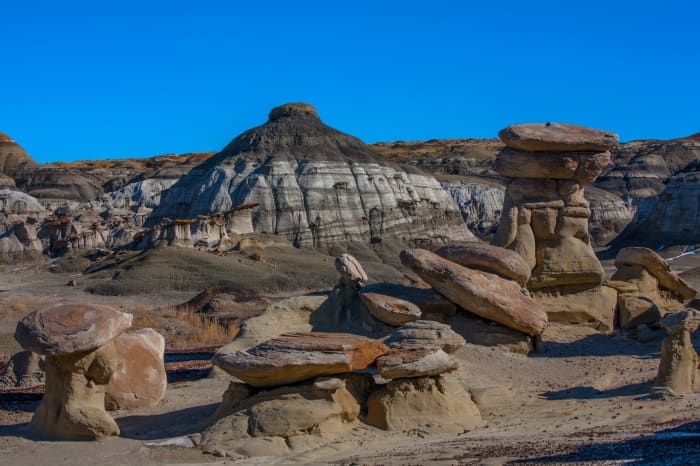 In the northwest portion of the state is Bloomfield, with a population estimated at around 7,800 residents. The city's economy is diverse, with strong sectors in oil and gas, alternative energy, retail and tourism, and more than 400 companies making up the business community.
The San Juan River courses along the city's boundary and provides excellent fishing, kayaking and canoeing recreation. In addition, Bloomfield is an ideal center point to visit nearby attractions like Quality Waters, Navajo Lake State Park, Angel Peak Scenic Area and Salmon Ruins & Heritage Park.
The median home value is $181,119 (Zillow, January 2023).
Read the original article on Livability.
Read More
When considering where to live in the United States, there is no better place to start than The Land of Enchantment—New Mexico. With beautiful landscapes, diverse culture, rich history, and unique attractions, New Mexico offers something to everyone.
For those who are looking for a charming and affordable place to live, New Mexico has a number of small towns that provide loads of amenities and are full of historical charm. Here is a look at five of the most livable and affordable towns in the state.
One town worth consideration is Silver City. With a population of around 10,400 people, Silver City is the perfect place for those who want a laid-back lifestyle. This Old West town is located near the Gila National Forest, offering excellent outdoor recreation and beautiful mountain views. Silver City also has a vibrant art and music scene, so there is always something to do.
Another great town is Taos. This picturesque village is known for its lovely adobe buildings and stunning mountain views. With a population of about 5,700 people, Taos is an ideal place to enjoy outdoor activities like skiing and hiking, as well as take in the centuries-old Hispanic and Native American culture.
For those who are looking for a small-town atmosphere with big city amenities, the city of Las Cruces is a great choice. With a population of over 100,000 people, Las Cruces offers everything from basketball courts and golf courses to museums, a theater, and excellent shopping opportunities.
For a vibrant and diverse city, Albuquerque is a great place to call home. With a population of over 557,000 people, Albuquerque is the largest city in New Mexico. It offers tourists and residents alike a variety of cultural attractions and entertainment options, as well as plenty of top-notch dining and recreation.
Finally, Farmington should not be overlooked. With its close proximity to the Four Corners Monument, Farmington is an ideal place for someone looking for a great spot to explore the outdoors. The town also offers an active art community, great restaurants and bars, and plenty of shopping opportunities.
When it comes to finding an affordable and charming spot to live in New Mexico, look no further than these five towns. There is something for everyone, whether it's seeking outbound adventure or just taking in the charm of a small town. A livable and affordable home in New Mexico is just a few clicks away!