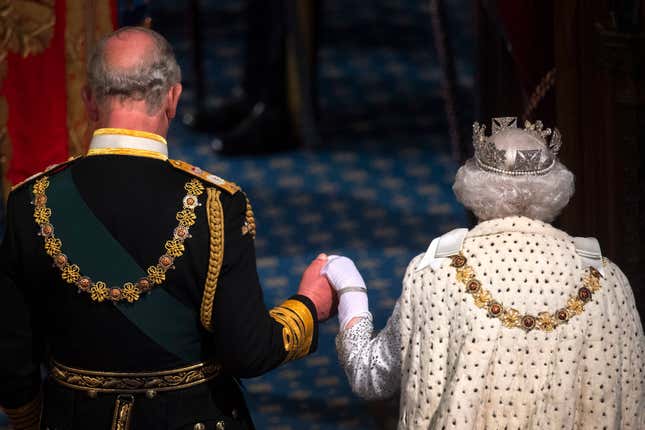 For King Charles III's coronation on Saturday (May 6), Buckingham Palace has framed his choice not to have some ceremonial clothing made for the occasion as a nod to his long-standing interest in environmental preservation.
With a royal closet spanning centuries, Britain's new monarch doesn't need new clothes. Charles will be re-using some garments that have appeared at coronations since 1821, in styles dating back to the Middle Ages, "in the interests of sustainability and efficiency," the Palace said on Monday.
Yet, much like with fashion, the impact of Charles' thrifting on the coronation's sustainability footprint—with all the plastic bunting, the miles-long procession, the 2000 VIP guests, many of whom will likely have bought new clothes for the event—will be marginal at best.
Much of the coronation outfit is based on priestly robes, allegedly as a reminder of the divine nature of kingship, according to the Royal Collection Trust. The Imperial Mantle, the outermost garment, has been worn by four monarchs before Charles. It was sewn by a tailor named John Meyer in the 1820s, who embroidered it with foliage, crowns, fleur-de-lis, eagles, colored roses, thistles and shamrock.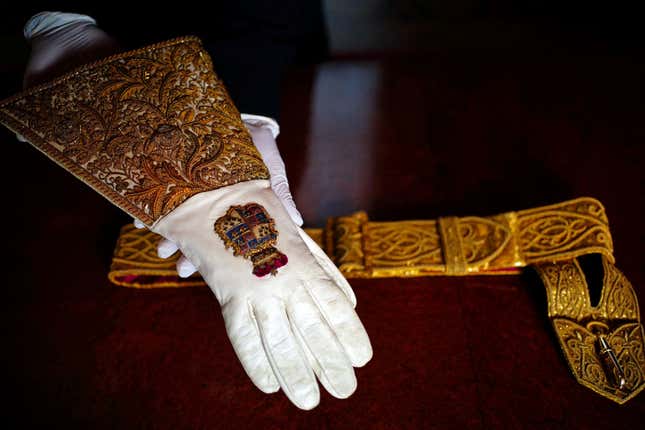 Unlike his mother, Queen Elizabeth II, who had a new glove sewn for her coronation, Charles is reusing his grandfather King George VI's coronation glove from 1937.
Only one glove is worn on the right hand, to remind the king to go easy on raising taxes (which pay for the coronation, estimated to cost between £50 million to £100 million).
But should the gilt embroidery snag, or the white kidskin leather become stained, the Worshipful Company of Glovers, a trade organization founded in 1349, keeps a spare.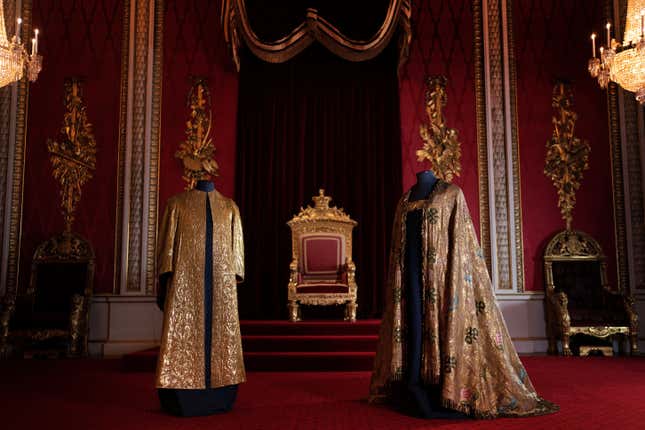 Under the Imperial Mantle (right) is another unisex golden vestment, the Supertunica. While this particular robe was made for King George V coronation in 1911, it is designed after medieval versions, and has been worn by him, King George VI, Queen Elizabeth II, and again during Saturday's ceremony.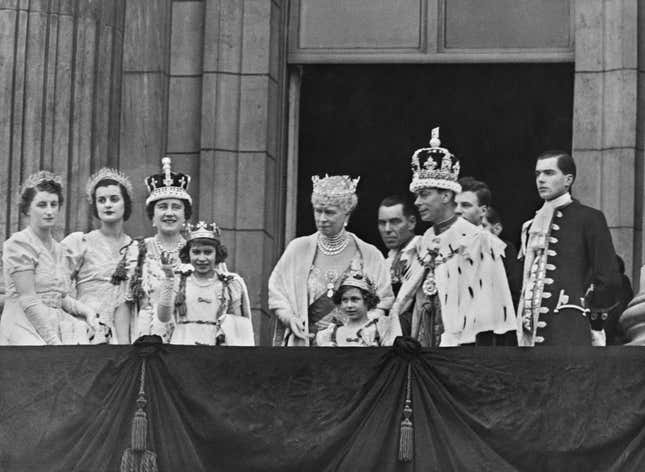 It will be difficult to see under all the robes, but beneath the supertunica, Charles will be reusing his great-grandfather's colobium sindonis, a sleeveless, white linen dress, rather than having a new one made. He will also use the same sword belt as King George VI, third from the right in the photo above.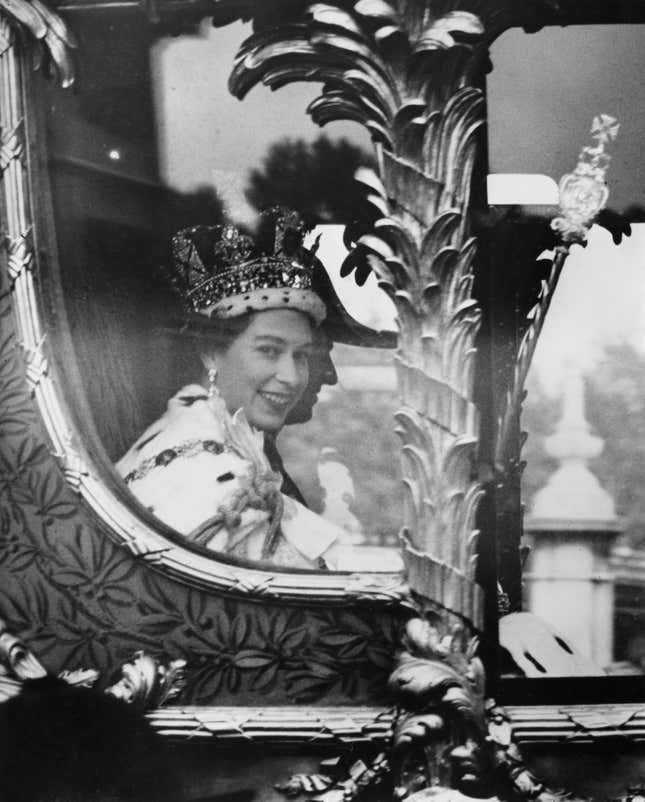 Less of a reused item than an heirloom expected to be dusted off for these occasions, Charles will be crowned with the same headpiece as his mother. The St. Edward's crown weighs about 5 pounds, is made of solid gold, semi-precious stones, a puff of purple velvet, and a strip of flecked fur of ermine, a type of weasel.
The crown is 362 years old, and was made for the coronation of King Charles II in 1661, using the same, melted-down gold as the crown worn by Charles I. The original Charles was beheaded in 1649, presumably casting an inauspicious shadow on his headpiece that subsequent monarchs did not want to evoke.
Read More
In a move towards greater sustainability, King Charles of England has announced his plans to source a second-hand outfit for his upcoming coronation.
In a statement released yesterday, King Charles IV expressed his desire to make his coronation outfit "as sustainable as possible." He reassured the public that he will ensure to find an outfit of high-quality that meets the dignity of the occasion.
The news was met with excitement from sustainable fashion enthusiasts, who view the King's decision as a positive step towards promoting conscious consumerism. Charles' commitment to sustainability follows in the footsteps of his predecessor Elizabeth II, who also wore a high-end ethically made gown to her coronation in 1947.
King Charles' statements demonstrate his willingness to think beyond traditional expectations, and many experts feel that this commitment to sustainability has the potential to inspire positive change. "This announcement is especially remarkable given how rarely "thrifted" clothing is seen at such high-profile events" said Professor Davis of Oxford University.
King Charles and his team are currently in the process of sourcing suitable items for his upcoming coronation. His commitment to sustainable fashion is expected to have a profound impact of the industry and may pave the way for other royals to take similar measures in the future.