Economy 1 hour ago (Jan 30, 2023 06:11PM ET)
2/2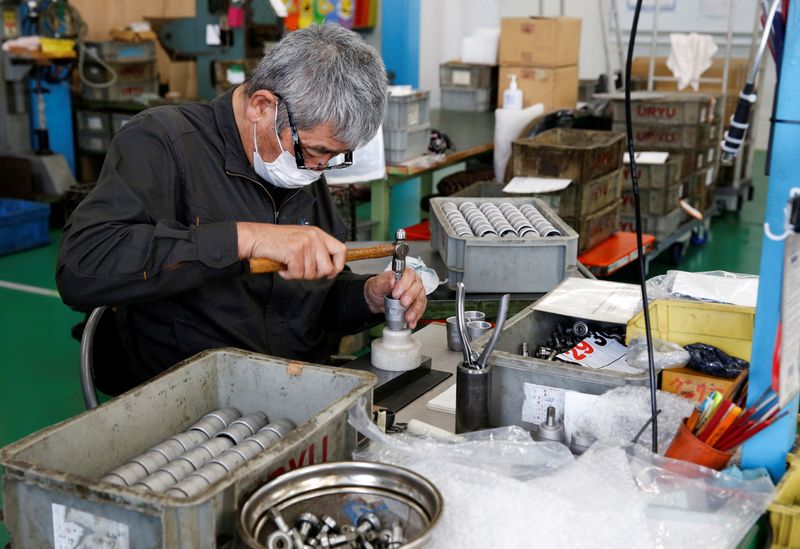 © Reuters. FILE PHOTO: A worker assembles an air drill at the factory of manufacturer Katsui Kogyo in Higashiosaka, Japan June 23, 2022. REUTERS/Sakura Murakami/File Photo

By Tetsushi Kajimoto
TOKYO (Reuters) – From inflation allowances to the reskilling of workers, firms in Japan are stepping up efforts to help employees fight rising prices and a labour crunch, even though some cannot afford pay hikes that do more than offset cost-push inflation.
As annual "shunto" labour talks get into full swing, momentum from both labour and management is growing for firms to offer such hikes to cushion, even if not beat, consumer inflation, which hit a 41-year high of 4% in December.
At the spring session of the labour talks, set to wrap in mid-March, major firms, such as Toyota Motor (NYSE:) Corp, negotiate with in-house unions to set wages for the coming fiscal year from April.
Labour shortages and rising consumer inflation, which is double the central bank's target of 2%, are spurring cautious firms, with a 500-trillion-yen ($3.85 trillion) hoard of internal reserves, to hike wages.
About a quarter of Japanese firms have offered inflation allowances or plan to do so, said corporate credit research firm Teikoku Databank. Such allowances range from 6,500 yen ($50) for monthly payments to 54,000 yen in lump sums, on average.
"I received the money just when we had our second baby," said Shinichiro Mori, who received a one-off allowance of 150,000 yen last summer from groupware developer Cybozu Inc, one of about 800 employees to do so.
"I appreciated the money," Mori, 41, told Reuters. "We spent it on baby goods, utility bills and other living expenses, as we stayed home all day taking care of our baby."
News that Fast Retailing Co, operator of the Uniqlo clothing chain, will revise its pay system for employees, with raises as much as 40%, provides another example.
The private sector expects the drive to help boost productivity, meshing with Prime Minister Fumio Kishida's "new capitalism" initiative on wealth distribution that put a top priority on wage hikes.
Such demands by Japanese policymakers come against the backdrop of 15 years of grinding deflation that saw firms shelve hikes in base salary from the early 2000s to the early 2010s, when rounds of stimulus spending failed to spark economic growth, but piled up public debt instead.
SUSTAINABLE PAY HIKES
OECD data shows Japanese workers' wages have grown about 5% over a period of 30 years from 1990, during which U.S. pay rose 1.5 times and pay for South Koreans doubled.
Takahide Kiuchi, a former member of the board of the Bank of Japan, called for wage hikes to be sustained over time so that cumulative pay rises could offset price hikes in the long run.
"Bonuses or inflation allowances would have only a limited impact on easing the pain of cost-push inflation, as consumers tend to save one-off payouts rather than spend," added Kiuchi, now an executive economist at the Nomura Research Institute.
The government and the central bank say inflation must grow in tandem with wage growth to fuel private consumption, which accounts for more than half the economy, paving the way for the Bank of Japan to achieve its inflation target in a sustainable, stable fashion.
But one-off payments do not make consumers more confident about increasing spending, although a rise in base pay, a salary component that is hard to reverse, is more likely to boost such confidence and set workers spending more.
Real wages fell 2.5% in November, down for the ninth straight month, following the previous month's decline of 3.8%, the latest data shows.
Mori's employer, Cybozu, has offered employees a record pay hike in the upper reaches of the 1% to 10% range this year.
That would surpass the 3% target of Kishida's government, and even the 5% sought by the Japan Trade Union Confederation (Rengo), while Japan's biggest business lobby Keidanren urged companies to offer positive wage hikes, including base pay.
"We always feel the need to respond to labour shortages of engineers, in particular," said Yumika Nakane, the firm's human resources head. "We set pay scales as we're fully aware salary is one of the keys to attract workers."
Despite a jobless rate of 2.5% in November that reflects the tight labour market, and steady job availability, at a ratio of 1.35 per seeker, policymakers complain about the absence of demand-pull inflation that entails wage growth. 
LABOUR TALKS
At this year's shunto talks, large firms are likely to offer the biggest pay hikes in 26 years, or an average of 2.85% for the financial year starting in April, a poll of 33 economists by the Japan Economic Research Center (JERC) showed.
However, small firms, which employ seven of every 10 workers, face a severe situation, and more than 70% of them have no plan to raise wages, a separate poll by the Jonan Shinkin Bank and the Tokyo Shimbun newspaper showed.
To push small firms in this direction, authorities want to improve labour productivity and encourage more workers to switch to industries with better prospects for growth, provided that they will not lack for employment.
Kishida's government plans to tap 1 trillion yen over the next five years in human resources, providing new support for firms hiring mid-career workers as well as for reskilling efforts to spur labour turnover.
Workers have high expectations from this year's labour talks, which they hope will counter cost-push inflation while tackling the tight labour market to help boost the economy.
Some companies are ready to take the initiative.
For instance, Internet media firm Cyberagent's "reskilling centre" has trained 200 information technology engineers, upgrading their skills to match its needs, besides wooing engineers from outside.
From this spring, it will also raise the starting salary for new graduates by 12% to 420,000 yen.
"As the IT industry faces a lack of engineers, we can contribute to resolving the labour crunch by cultivating human resources, which is our strength," said Hiroto Minegishi, the firm's general manager for technical human resources.
"As a result, we can help wages growth and enhance productivity across the IT industry."
($1 = 129.9700 yen)
Related Articles
Read More
A labour shortage and rising inflation are two of the biggest issues facing Japan Inc as the country struggles to remain globally competitive. With wages rising, companies are struggling to attract and retain skilled workers, many of whom have been lured away by higher salaries in other Asian countries.
Japan Inc is now desperately seeking to find new ways to attract the skilled workers it needs. One of the main strategies that companies are using is offering perks such as more flexible working hours, generous relocation packages and other benefits.
Businesses are also experimenting with innovative recruiting techniques such as offering training to foreigners working in Japan and providing foreign students the opportunity to apply for jobs.The aim is to attract those outside of Japan's already limited talent pool.
In addition, Japan Inc is trying to keep up with the competition by offering salary incentives and other bonuses such as stock options and other rewards for workers who go beyond their normal duties. This has been shown to be effective in encouraging employees to stay with the company.
The challenge of the labour crunch and spiraling inflation is one that Japan Inc cannot afford to ignore. Companies have begun to realise that they have to be proactive in their efforts to recruit and retain skilled workers in order to remain competitive. While it is certain that the task will be difficult, Japan Inc is certainly on the right track by taking steps to lure foreign workers. In doing so, the country stands to gain significantly in terms of getting the best available talent.