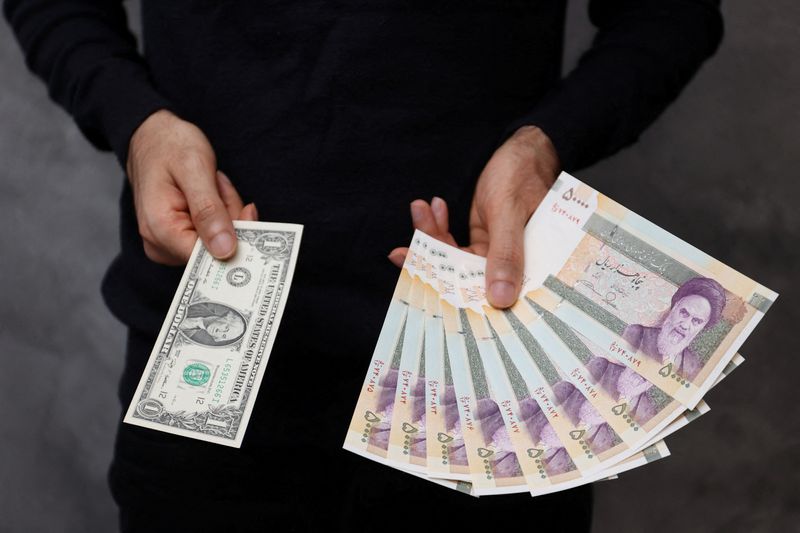 © Reuters. FILE PHOTO: A currency dealer poses for a photo with a U.S one dollar bill and the amount being given when converting it into Iranian rials in an exchange shop in Tehran, Iran December 25, 2022. Majid Asgaripour/WANA (West Asia News Agency) via REUTERS

DUBAI (Reuters) – Iran's rial currency sank to a record low against the U.S. dollar on Saturday despite central bank measures aimed at cooling demand for foreign currency from savers worried about inflation and the country's economic prospects.
The rial was trading at 575,000 on the unofficial free market against the dollar, compared to 540,000 on Friday, according to foreign exchange site Bonbast.com. The website bazar360.com also gave the rate as 575,000.
With annual inflation running at more than 50%, Iranians have been trying to protect the value of their savings by buying foreign currency or gold.
Seeking to cool the market and ease demand for dollars, the central bank on Saturday lifted a ban on private exchange shops selling hard currencies.
Last week, it opened an exchange centre to allow ordinary Iranians to purchase foreign currency, but some market analysts said the move had yet to dampen appetite for greenbacks.
"While some analysts expected that, with the opening of this centre, emotional trading on the free market would decrease, the dollar continued its upward movement … and the fervour has become even more intense on the futures market," economic website Ecoiran said.
The rial has lost nearly 45% of its value since nationwide protests following the death in police custody of a young Kurdish Iranian woman began in September.
The unrest has posed one of the biggest challenges to theocratic rule in Iran since the 1979 Islamic revolution.
Foreign exchange traders say the rial's depreciation stems partly from the unrest and Iran's increased isolation in the face of Western sanctions over its human rights record and Russia's use of Iranian-made drones in Ukraine.
The reimposition of U.S. sanctions in 2018 by then President Donald Trump have harmed Iran's economy by limiting Tehran's oil exports and access to foreign currency.
Since September, nuclear talks between Iran and world powers to curb Tehran's nuclear programme in exchange for the lifting of sanctions have stalled, worsening economic expectations for Iran's future.
Read More
Recently, Iran has experienced a sharp decline in the value of its currency, the Rial, as savers continue to buy up US Dollars. On Monday, the Iranian Rial weakened to a historic low of 119,000 to the Dollar, representing a staggering 21 percent devaluation since the start of the year.
The currency drop is of particular concern for Iranians, who often buy dollars for safekeeping due to the turbulent economy. This has further weakened the Rial, as demand for the dollar increases. In response, Iran's economy minister, Farhad Dejpasand, has warned of "seriously difficult days ahead" for the economy.
The plunge underscores US sanctions imposed on Iran's energy, shipping and banking sectors since Washington withdrew from the Iran nuclear deal in 2018.
The reforms come at a sensitive time for Iranians, who are in the middle of a crisis linked to the coronavirus pandemic. The outbreak has left over 190,000 Iranians infected and over 10,000 dead. It has also aggravated an economic crisis that has seen unemployment levels soar and what little savings Iranians have left erode away amid rising inflation.
In an effort to stabilize Iran's currency, the Central Bank of Iran has recently banned the use of foreign currency in certain transactions. However, such measures are seen by economists as being inadequate.
Ultimately, a stability in the currency requires external support and an easing of US sanctions. Experts agree that if this does not take place the outlook for Iran's economy will remain bleak.