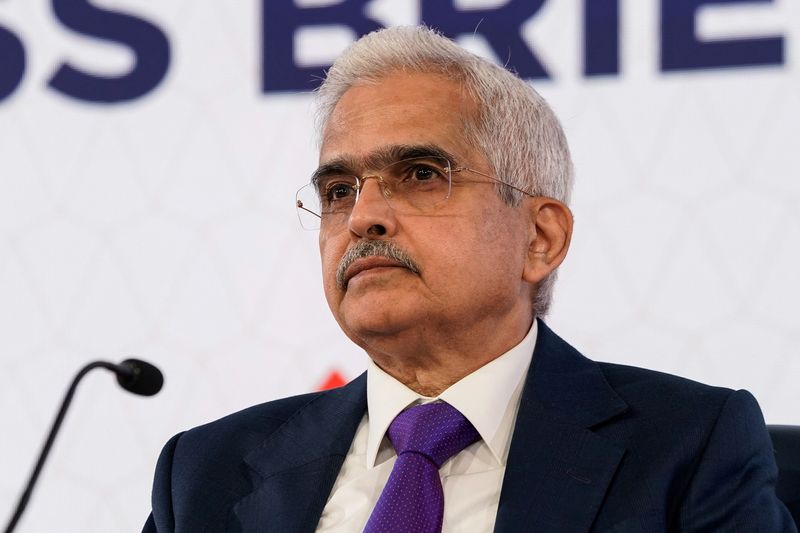 © Reuters. FILE PHOTO: Shaktikanta Das, governor of the Reserve Bank of India, participates in a news conference at the 2023 Spring Meetings of the World Bank Group and the International Monetary Fund in Washington, U.S., April 13, 2023. REUTERS/Elizabeth Frantz

NEW DELHI (Reuters) -India's inflation has moderated, but lingering weather-related uncertainties still pose headwinds, the governor of the Reserve Bank of India said on Wednesday.
"The war on inflation is not over, we have to remain alert," Shaktikanta Das said at an event in New Delhi.
"There is no room for complacency. We will have to see how the El Nino factor plays out."
India's annual retail inflation eased to 4.7% in April from 5.66% in the previous month, according to government data.
This month's retail inflation data, scheduled to be released on June 12, "could perhaps be lower," Das said.
The RBI targets inflation at 4%, with a tolerance level stretching up to two percentage points on either side.
El Nino may not just pose the risk of fuelling inflation further it could also weigh on India's economic growth, Das said. Geopolitical uncertainties, declining merchandise trading due to a contraction in global trade could also undermine growth, he flagged.
India's GDP growth could be above 7% for 2022-23, and that should not come as a surprise, the governor said.
India is expected to record a GDP growth of close to 6.5% in 2023-24, he added.
The RBI aims to stay prudent and act on time to ensure financial stability, remain proactive in foreign exchange management, and focus on keeping the rupee stable, Das said.
The central bank is not targetting at the "internationalisation" of the rupee, but it is an ongoing process, the governor said, adding that the RBI is still working on it.
Seventeen banks have opened 65 special vostro accounts to facilitate foreign trade in rupee, Das said. A vostro account is an account which a local correspondent bank holds on behalf of a foreign bank.
The RBI has also permitted 18 countries to have trade settlement accounts, Das added.
Read More
The Reserve Bank of India's (RBI) Governor Raghuram Rajan said that the economy is moderating, with inflation and industrial production bottoming out as per easing consumer price index (CPI) inflation and increasing retail fuel prices. The Governor also highlighted the possible downside risks which could be posed due to the El Nino, a warming of the Pacific Ocean that affects weather around the world.
At the post-meeting press conference, the Governor noted that the retail inflation in the country fell to a near five-year low in January, while industrial output rose to a four-month high in December. The core inflation rate also moderated in January and non-food manufacturing had seen a sharp increase. The Governor remarked that "the hardening of petrol and diesel prices over the past month has led to an uptick in inflation".
The central bank chief also indicated that there could be headwinds facing the economy, including the "possibility that the El Nino could affect weather conditions, leading to a sharp increase in food prices, which could have a second-round effect". El Nino is a periodic climatic phenomenon characterised by unusually high temperatures over the tropical Pacific Ocean depending on location and season.
The RBI left interest rates unchanged in its monetary policy review last month, but left the window open to further cuts in the future. The Governor noted though that any future rate cut depended on inflation continuing to moderate. He noted that "we remain committed to a low inflation, but we would look at different measures of inflation. If there is an El Nino risk, then rate cuts may not be the appropriate action".
Overall, the Governor seems quite confident with the progress made by the Indian economy with respect to inflation, but remains cautious while keeping an eye on the potential risks posed by El Nino. He emphasised that flexibility will be needed in adjusting monetary policy should the situation develop.