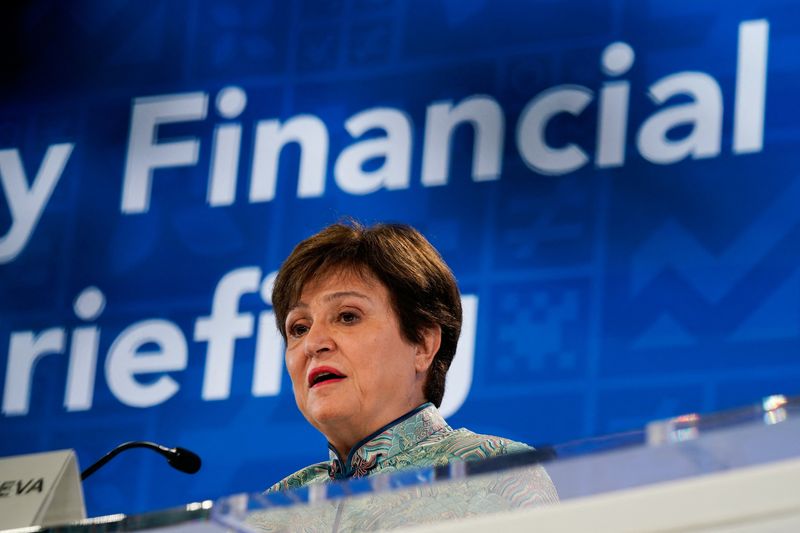 © Reuters. FILE PHOTO: International Monetary Fund (IMF) Managing Director Kristalina Georgieva participates in a news conference during the 2023 Spring Meetings of the World Bank Group and the International Monetary Fund in Washington, U.S., April 14, 2023. REUTERS

BEVERLY HILLS, California (Reuters) -International Monetary Fund Managing Director Kristalina Georgieva said on Monday she expects more weaknesses to be exposed in the banking sector, only hours after First Republic Bank (NYSE:) was rescued by JPMorgan Chase (NYSE:) .
Speaking at the 2023 Milken Institute Global Conference in Beverly Hills, California, Georgieva immediately addressed the biggest topic of the day – the banking crisis that has been unnerving investors for weeks.
She said the quick transition from low to much higher interest rates played a role in uncovering weaknesses at certain banks and added that the pain may not be over.
"It doesn't mean that we have a free pass," she said. "It doesn't mean that there wouldn't be more vulnerabilities to come." Investors have said on the sidelines of the conference that they are worried more drama could lie ahead as investors could target other smaller vulnerable banks.
The IMF welcomed quick action by U.S. regulators to seize First Republic and find a buyer, but noted that the resilience of the global financial system continued to be tested, with strains evident across a number of institutions and markets.
"Recent events continue to remind us of the challenges posed by the interaction between tighter monetary and financial conditions and the buildup in vulnerabilities in the global financial system," a spokesperson said.
The IMF last month trimmed its 2023 global growth outlook slightly as higher interest rates cooled activity but warned that a severe flare-up of financial system turmoil could slash output to near-recessionary levels.
It said contagion risks had been contained by strong policy actions after the failures of two U.S. regional banks and the forced merger of Credit Suisse. But the turmoil added another layer of uncertainty on top of stubbornly high inflation and spillovers from Russia's war in Ukraine.
Georgieva said what was noteworthy in the latest rescue was how quickly deposits moved away from First Republic and said the speed was partly due to the power of social media.
However she also praised regulators and said she expects to see "new regulatory and disclosure thinking around how we deal with this."
Read More
The International Monetary Fund's Managing Director Kristalina Georgieva has recently commented on the increasing vulnerabilities in the banking sector that could be exposed to the public. She states that these banks have been pushed to their limits as the coronavirus pandemic continues to wreak havoc around the world.
Since the start of the pandemic, banks have had to contend with a wide range of economic and financial pressures. As a result, Georgieva says more pressures could be added to the sector in the form of more vulnerabilities that have not been previously exposed. These vulnerabilities, she says, could lead to instability in the banking sector, which could have significant implications for the world's economy.
To address the vulnerabilities, Georgieva has implored banks to do two things. Firstly, they must embrace digitalization and leverage its power to decentralize their operations. This would result in increased efficiency, which could reduce costs and help banks become more agile. Secondly, she suggests that banks must invest in technology and build resiliency in their operations. This would help to shield them from any potential risks that may arise due to further vulnerabilities.
In addition to these measures, Georgieva is encouraging banks to strengthen their ties with their customers. She states that these relationships must be solidified through innovative approaches to products and services offered by banks. This could help to give customers peace of mind, especially during the current precarious time of global economic uncertainty.
The banking sector is undergoing a radical transformation. As Georgieva suggests, banks must adjust their strategies and work together in order to survive and strengthen their resilience during this unprecedented time.