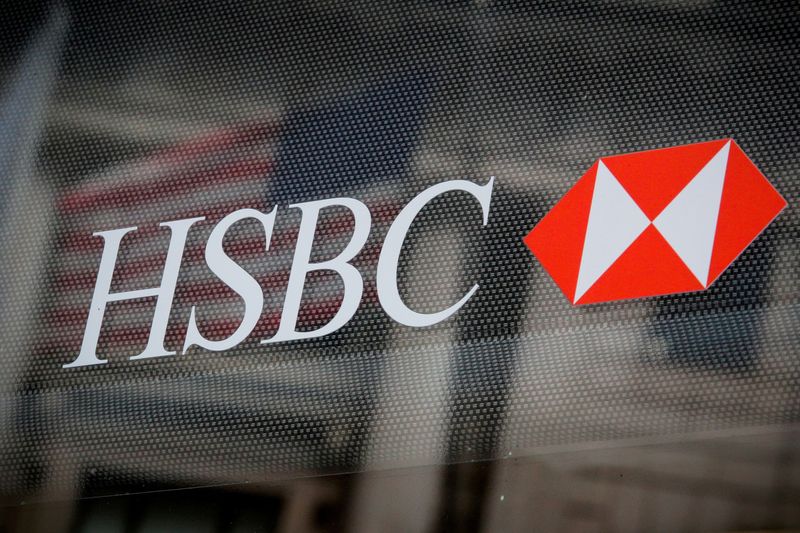 © Reuters. FILE PHOTO: HSBC's logo is seen on a branch bank in the financial district in New York, U.S., August 7, 2019. REUTERS/Brendan McDermid

By Anshuman Daga and Lawrence White
SINGAPORE/LONDON (Reuters) -HSBC Holdings reported quarterly profit rocketed 92%, beating estimates, as rising interest rates swelled net interest income, prompting Europe's largest bank to offer long-suffering investors a dividend and share buyback bonanza.
The London-headquartered bank said on Tuesday it intended to pay a special dividend of $0.21 per share, as a priority use of the proceeds from the $10 billion sale of its Canada business, once that disposal is complete late this year.
The bank's asset disposals have picked up pace in the last year as it fends off pressure from its biggest shareholder, Ping An Insurance Group, which has urged the bank to split off its Asian business to boost returns, a move against which HSBC has pushed back.
"With the delivery of higher returns, we will have increased distribution capacity, and we will also consider a special dividend once the sale of HSBC Canada is completed," Group Chief Executive Noel Quinn said in a statement.
Quinn, who has overseen a programme of job cuts in recent years aimed at stripping out layers from the bank's bloated management structure, said more was to come.
"There will be no easing off at all on costs … We are now considering up to $300 million of additional costs for severance in 2023," he said.
The Asia-focused bank, which counts Hong Kong as its biggest market, also said it will return to paying quarterly dividends in 2023, and would bring forward the consideration of fresh share buybacks to the first quarter of 2023.
HSBC, however, did not raise its key performance target of reaching a return on tangible equity of at least 12% from this year onwards, a goal that some analysts had expected would be upgraded given the boost in lending income from rising rates.
It reported pretax earnings of $5.2 billion for the fourth quarter, up from $2.7 billion a year earlier and ahead of the $4.96 billion average estimate of analysts compiled by the bank.
HSBC said annual expected credit losses rose to $3.6 billion, more than the $3.2 billion analysts had estimated, due to rising inflation pressuring borrowers and lingering problems in China's property market.
Despite the fourth-quarter surge, annual profit fell to $17.5 billion from $18.9 billion for 2021, due to an impairment of $2.4 billion related to the sale of its retail banking operations in France.
That matched the $17.5 billion average estimate of 22 analysts compiled by the bank.
Read More
HSBC Holdings PLC has announced that it will return $15 billion to its shareholders after its 2021 profits nearly doubled compared to 2020.
The bank reported pre-tax profits of $21.9 billion which is up from $12.1 billion from the same period last year. The improved performance was driven by a 10% increase in revenue from its wealth management division and a 4% increase in net interest income.
The London-headquartered bank also recorded a 31% reduction in bad loan provisions when compared to 2020 and annual cost savings of $6.8 billion.
HSBC's chairman Mark Tucker said: "We made a strong start to 2021, following our strategic reset and cost transformation programme in 2020. The improvement in revenue and disciplined expense management have significantly improved our core profitability and capital generation."
He added: "The Board is committed to delivering sustainable value to our shareholders, and has approved a $15 billion share buyback programme, which we expect to complete by the year-end."
The bank's Chief Executive Officer Noel Quinn added: "Our rebound in profitability and improvement in capital generation show the compelling execution of our strategy. Uncertainty persists and we are focused on our disciplined approach to financial management, following a strong start to 2021."
HSBC announced that the $15 billion share buyback programme will start in July this year and is expected to be completed by the end of 2021. The bank says that this decision is part of a plan to maximise "long-term value for shareholders".