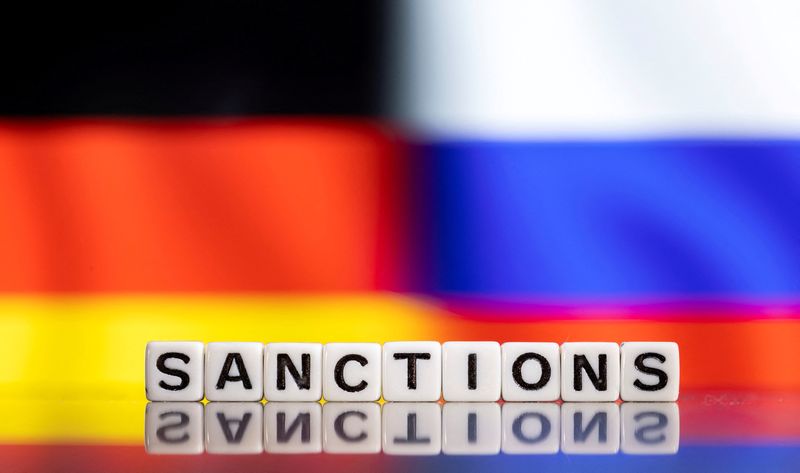 © Reuters. FILE PHOTO: Plastic letters arranged to read "Sanctions" are placed in front of German and Russian flag colors in this illustration taken February 25, 2022. REUTERS/Dado Ruvic/Illustration/File Photo

BERLIN (Reuters) – Germany is making slow progress in enforcing sanctions against Russian oligarchs and institutions, according to government numbers seen by Reuters on Saturday.
Germany has frozen around 5.25 billion euros ($5.57 billion)in assets belonging to sanctioned oligarchs since Russia's invasion of Ukraine, according to the German finance ministry. The figure was 4.28 billion euros six months ago.
The ministry shared this information in reply to a request from member of the German parliament Christian Goerke.
"Since December, only 200 million euros in oligarch assets have been frozen, and for half a year, just one billion. Not a single oligarch has reported his assets since December," Goerke criticized.
Under Germany's sanctions law, targets of European Union sanctions must declare their assets immediately, under penalty of a fine or up to a year in prison.
Eight oligarchs have reported 31 asset positions to the Bundesbank so far, according to government figures. The value equals about 577 million euros. It is distributed among account balances, company holdings and securities.
($1 = 0.9422 euros)
Read More
The path to the implementation of German sanctioned initiatives against Russian oligarchs appears to be advancing very slowly, as the country's Federal security Council has reportedly put plans for punitive measures on hold.
The Federal security Council, which is tasked with coordinating foreign policy as well as internal security, called on Chancellor Angela Merkel's government to move ahead with sanctions against Russian oligarchs. The decision came following the poisoning of the Russian opposition leader Alexey Navalny in August of 2020. Berlin accused the Kremlin of involvement in the attack, with Moscow denying the allegations.
The sanctions proposed by the Federal security Council are expected to target wealthy individuals and companies associated with the Kremlin who have close ties to President Vladimir Putin. The proposed measures are expected to include travel bans, asset freezes, and restrictions on business activities in Germany.
Despite being called on to act expeditiously, the German government has yet to follow through with the proposed measure. This is largely due to the fact that the process of deciding which individuals and businesses to target is highly complex and lengthy. The country's foreign office holds the primary responsibility for drawing up a list of sanctioned targets and then submitted to the Federal cabinet for approval.
Germany's reluctance to move swiftly on sanctions is likely determined to a large extent by its political and economic interests. The country has been courting an increased level of investment from wealthy Russian businessmen, and is therefore wary of doing anything that could jeopardize these potential collaborations. Consequently, the implementation of sanctions may be further delayed, as was seen in other cases in the past.
In summary, plans for sanctions against Russian oligarchs appear to be advancing slowly in Germany. The complex process of deciding which individuals and companies to target, as well as the economic interests of the country, have conspired to delay the implementation of the proposed measures.