Economy 25 minutes ago (Nov 18, 2022 03:55PM ET)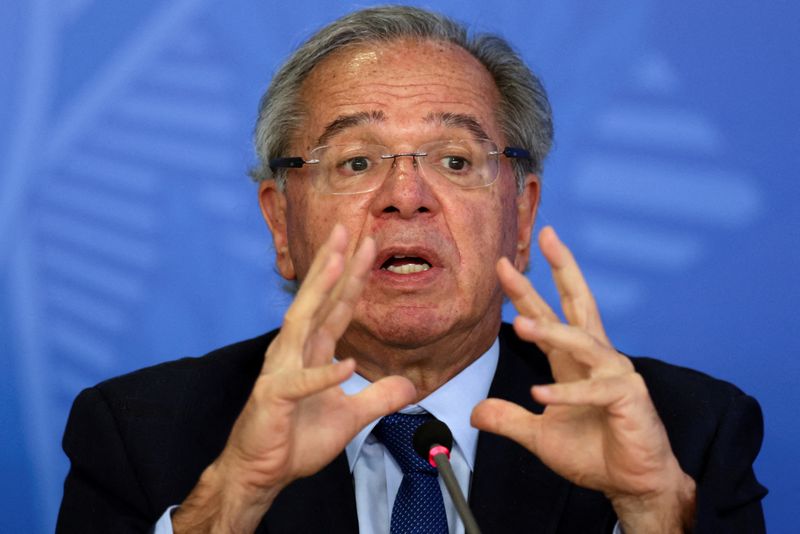 © Reuters. FILE PHOTO: Brazil's Economy Minister Paulo Guedes speaks at the Planalto Palace in Brasilia, Brazil October 6, 2022. REUTERS/Ueslei Marcelino/File Photo

BRASILIA (Reuters) -Brazilian Economy Minister Paulo Guedes said on Friday the alleged conflict between social needs and fiscal sustainability posed by the new government-elect reveals ignorance and technical inability.
Speaking at an event hosted by the ministry, Guedes said any retreat in any economic dimension in relation to what the current administration is doing would be a mistake.
Leftist former President Luiz Inacio Lula da Silva defeated right-wing incumbent Jair Bolsonaro in a tight presidential runoff in October.
Since last week, Lula has been shaking financial markets with speeches in which he underscores the priority of social spending over fiscal responsibility.
"We launched the biggest social program ever, with fiscal responsibility. So what is this story about a conflict between social and fiscal? This reveals ignorance and lack of knowledge, technical inability to solve problems," said Guedes.
The minister stated that the welfare program Auxilio Brasil, which the next government will rename as Bolsa Familia, could indeed be increased but financed by taxes on dividends, which are currently exempt.
Lula's government transition team proposed stripping nearly 200 billion reais ($37 billion) of expenditures from a constitutional budget cap for an indefinite period, with no counterpart on the revenue side, to pay for social benefits to low-income families and increase public investments.
Earlier on Friday, central bank chief Roberto Campos Neto said that the final design of the spending package approved by Congress could force policymakers to "react," implying the risk of a possible monetary policy shift.
IDB
Guedes also said he thinks former central bank governor Ilan Goldfajn, the Brazilian nominee to head the Inter-American Development Bank (IDB), will win the Nov. 20 election.
Lula did not endorse Goldfajn's candidacy. A close aide of his even asked the United States and other countries to support the postponement of the elections until next year so Brazil's nomination could reflect its newly elected government.
Related Articles