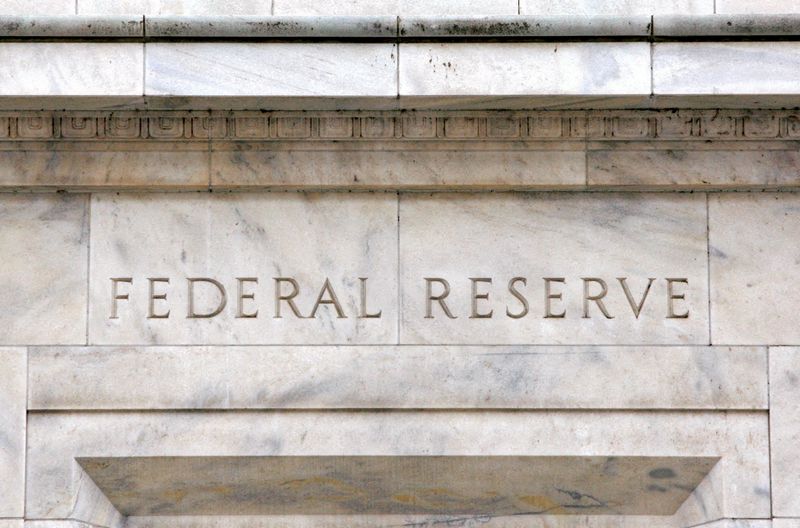 © Reuters. FILE PHOTO: The U.S. Federal Reserve building is pictured in Washington, March 18, 2008. REUTERS/Jason Reed

By Michael S. Derby
NEW YORK (Reuters) – Federal Reserve Governor Lisa Cook said Friday that the outlook for the next stage of central bank monetary policy has grown less clear after the institution has taken appropriately aggressive steps over the last year to lower price pressures.
As the Fed moves toward its next decision on where to set interest rate policy, "I am weighing the implications of stronger momentum in the economy apparent in economic indicators over the past few months against potential headwinds from recent banking developments," Cook said in the text of a speech to be delivered before the Georgetown University McDonough School of Business.
"If tighter financing conditions are a significant headwind on the economy, the appropriate path of the federal funds rate may be lower than it would be in their absence," Cook said, while adding "if data show continued strength in the economy and slower disinflation, we may have more work to do."
Cook spoke as central bank officials are about to head into their quiet period ahead of the May 2-3 Federal Open Market Committee meeting. Officials have signaled that they expect to raise rates by a quarter percentage point to between 5% and 5.25%, matching market expectations. With inflation showing signs of moderating in an economy dealing with the still uncertain aftermath of banking sector problems last month, markets expect this to be the last rate rise in campaign begun in March 2020.
Fed officials, at their March meeting, penciled in forecasts that suggest the looming rate rise will be the final one and that they'll hold steady for the rest of the year. But they are also unclear how much credit conditions might tighten and restrain growth as a result of the banking sector turbulence.
In her remarks, Cook said that inflation has been moving down but underlying price pressures still remain strong and embedded in the economy. She pointed to signs of cooling housing sector inflation as a reason for hope that price pressures will abate further, and noted that inflation, as measured by the personal consumption expenditures price index, is likely to fall to 4% in March from 5% the prior month.
Cook also said the labor market remains strong but there are signs that's also starting to slow down.
"Wage growth has moderated somewhat from the rates reached about a year ago" and "indicators of hiring have slowed," Cook said. She also said the job openings, while still high, have also shrunk.
Read More
The Federal Reserve's chief of staff, Brian Cook, warned this week that the current outlook for the future of monetary policy is less certain than ever before. Cook, who works closely with Federal Reserve Chair Jerome Powell, said the central bank's policy may not remain as accommodative in the face of potential increases in inflation, a situation which could increase interest rates and dampen consumer spending.
The remarks come as inflation has accelerated across the United States and there are signs that the economy is continuing to gain momentum. Along with this, consumer spending and confidence have reached their highest levels in decades, both effects amplified by the Federal Reserve's response to the Covid-19 pandemic.
Cook noted that all the current economic conditions could be carried forward, but there was also the possibility of inflation rising higher than expected which could derail the current rosy economic outlook. Such a situation would mean the Fed would need to slow economic growth by increasing interest rates, which would affect consumer spending, especially with so many households already struggling with debt from Covid-induced job losses.
The uncertainty of the economic outlook could ultimately lead to the Fed taking a more cautious approach to monetary policy decisions. Cook warned that these decisions may no longer reflect a constant stream of stimulus, but instead an attempt to navigate the precarious balance of inflationary pressures and consumer spending.
All in all, it appears as though the Federal Reserve is prepping for a scenario in which monetary policy is not as simple as it seemed in the wake of the pandemic. This could potentially mark a shift in the Fed's stance in the coming months, a shift which is likely to be cautious and weighted with the responsibility of protecting both the economic recovery and consumer confidence.