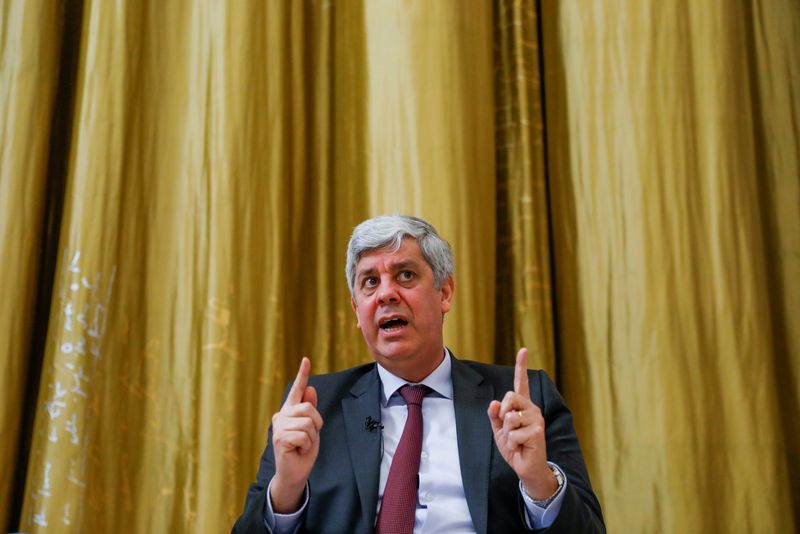 © Reuters. FILE PHOTO: European Central Bank (ECB) governing council member Mario Centeno speaks during an interview with Reuters, in Lisbon, Portugal, March 15, 2021. REUTERS/Pedro Nunes

By Sergio Goncalves
LISBON (Reuters) -The European Central Bank's key interest rate is approaching its peak but further adjustments are still necessary, ECB Governing Council member Mario Centeno said on Wednesday, adding he expected rates to start easing at some point during next year.
"We must be approaching the terminal rate," he told a press conference, adding that the ECB could reach the peak in June or July, always watchful of the inflation outlook.
Centeno said monetary policy was already at the peak of its cycle but suggested that smaller adjustments were still under way.
When that was complete, ECB policy would remain tight "for some more time, but without raising rates, which should start to come down at some point during the year 2024", he said.
The ECB slowed the pace of its interest rate increases to 25 basis points on Thursday but signalled more tightening to come in what markets expect to be the final stage of its fight against inflation, with another 40 basis points of increases predicted for the ECB's 3.25% deposit rate.
Centeno said he expected the "massive falls" in international prices of some raw materials, metals and food – in some cases, drops of 70% and 80% compared with a year ago – would translate into a "sustained reduction in consumer prices".
Euro zone inflation accelerated last month to 7%, from 6.9% in March, far above the ECB's medium-term 2% target, but core inflation, which excludes volatile food and fuel prices, eased unexpectedly.
"What we need to see is that the nature, the characteristics of the process of reducing inflation gives us some comfort that it will be at the end of 2024 or beginning of 2025 sufficiently close to the medium-term target of 2%," Centeno said.
Read More
On Tuesday January 14th, European Central Bank (ECB) Vice President Luis de Guindos said that interest rates in the euro area could start to fall again from their historic low in 2024, significantly later than the timeframe suggested by some members of the governing council.
At a press conference in Madrid, Luis de Guindos, who also serves as Governor of the Bank of Spain, said that ECB President Christine Lagarde has "always said" when indicating the time horizon in which the ECB's monetary policy tools would be in place that "we have to be patient".
De Guindos commented that the central bank's key interest rate, the rate on the main refinancing operations, is currently at 0.00% and has been since March 2016. The ECB has said that the rate is likely to remain at its current or lower levels until at least the end of this year.
De Guindos emphasized that interest rates are currently close to the watermark, and it may be difficult to lower them much further. He commented that if inflation were to accelerate then it would be difficult for the ECB to raise its key interest rate.
Furthermore, de Guindos noted that there are some members of the governing council who believe that interest rates could start to fall in 2022 or 2023, while others said they could potentially start to be lowered in 2024. Ultimately, he concluded by saying it is "reasonable" to expect the ECB's monetary policy tools to start being reversed "in the course of 2024".