2/2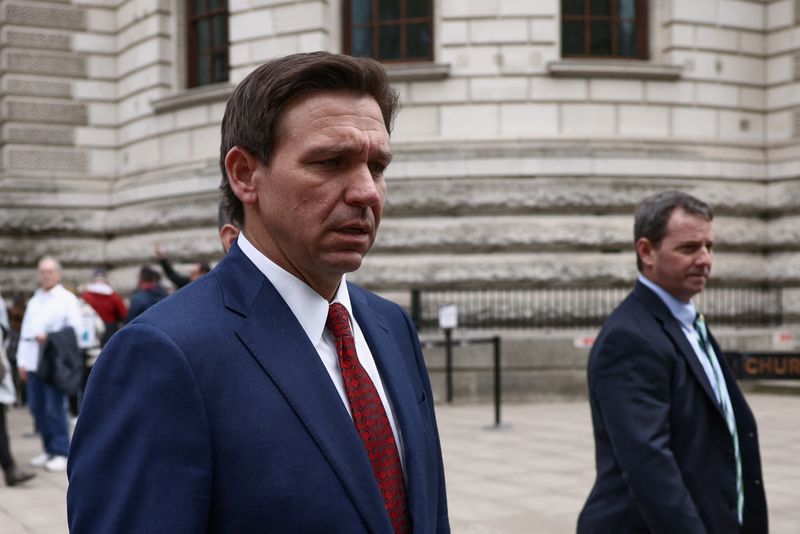 © Reuters. Florida Governor Ron DeSantis walks outside the Treasury during his visit in London, Britain April 28, 2023. REUTERS/Henry Nicholls/File Photo

By Isla Binnie and Ross Kerber
(Reuters) – Florida governor Ron DeSantis signed into law on Tuesday a bill barring state officials from investing public money to promote environmental, social and governance goals, and prohibiting ESG bond sales.
The bill is one of the furthest-reaching efforts yet by U.S. Republicans against sustainable investing efforts, and a clear political message from DeSantis, a likely presidential candidate.
Republicans, including some from energy-producing states, say many executives and investors have lost their focus on returns as they take growing account of issues like climate change and workforce diversity.
"We want them to act as fiduciaries. We do not want them engaged on these ideological joyrides," said DeSantis just before he signed the bill at a webcast event. 
Analysts said the legislation goes further than other state anti-ESG bills, even as business groups worry the efforts pose financial risks. Florida's law now creates some questions of how it will operate in practice, analysts said.
For instance, fund managers working for agencies like the state's big pension fund would have to include disclaimers in some communications with portfolio companies to make clear they do not reflect Floridians' views.
Fund managers that don't include enough disclaimers could face regulatory action, said Joshua Lichtenstein of law firm Ropes & Gray. But, he added, "It's an oddity to say you're only talking on behalf of some of your clients."
The law also outlaws the sale of ESG bonds, a popular way to fund renewable energy projects or lower debt costs for borrowers if they meet gender diversity or greenhouse gas emissions targets.
Lawyers and credit analysts said the new law could deny municipalities access to large pools of ESG-mandated capital. A further issue is how officials interpret the terms, said Thomas Torgerson, co-head of global sovereign ratings at DBRS Morningstar, which rates debt.   
"If we as a rating agency cannot assess environmental, social or governance risk that creates a problem for us. There are climate and weather risks that are highly relevant, especially in a state like Florida, and would be captured in our assessment of credit risk," Torgerson said.
Read More
Florida Governor Ron DeSantis recently signed a bill into law that strictly limits the ability of the state's pension fund to make investments in companies that focus on environmental, social, and governance (ESG) criteria. The bill took effect on June 15th and applies to the Florida Retirement System Pension Plan, the fourth largest pension fund in the United States.
Under the new law, public pension funds must limit investments to those with a "direct financial return." The law aims to promote investments that "enhance the state's economic strength and competitiveness rather than ideological objectives." It also specifically prohibits investments based on the criteria of ESG factors, such as the prevention of climate change and renewable energy.
The bill has been met with opposition from many groups. Environmental and civil rights organizations have expressed disappointment, claiming that ESG investments can have a direct impact on the state's economy. They also point out that the ESG criteria can bring out valuable information on a company's sustainability, which could lead to better investment decisions.
Supporters of the bill have argued that ESG investments have a tendency to be more expensive and do not necessarily result in a financial return. They have also expressed concern that these decisions may be used for partisan purposes.
This new law follows similar legislation that has been passed in other states, such as Kentucky and South Carolina, limiting public pension fund investments in ESG investments. However, Florida's law is considered to be the most sweeping, setting a precedent for other states to follow.
In the wake of this legislation, it is important to consider the implications of ESG investments and how they can provide new opportunities for states. While the bill seeks to focus on direct financial returns, there are many potential benefits that ESG criteria can bring to companies and investors alike. It remains to be seen how this law will affect the state's pension fund, but it is one more piece in the larger puzzle of making investments that have a positive impact on the state and its citizens.