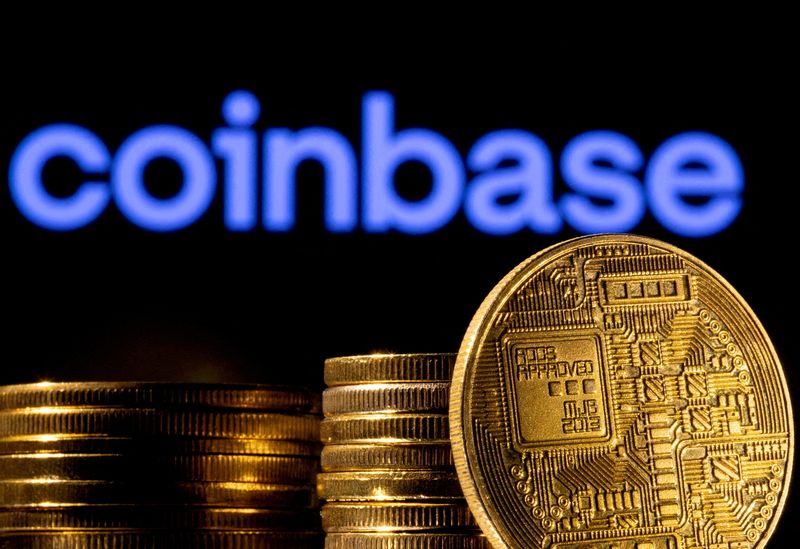 © Reuters. FILE PHOTO: A representation of the cryptocurrency is seen in front of Coinbase logo in this illustration taken, March 4, 2022. REUTERS/Dado Ruvic/Illustration//File Photo

By Mehnaz Yasmin
(Reuters) -Cryptocurrency exchange Coinbase (NASDAQ:) Global Inc posted a smaller-than-feared loss in the first quarter, benefiting from cost cuts and diversification of revenue sources, sending its shares up 7% in extended trading on Thursday.
The company has benefited from its deal for One River Digital Asset Management to ramp up product offerings in subscription and services revenue, while it also launched wallet-as-a-service and other products to scale blockchain.
"We're also seeing the benefits of increased cost efficiencies, and we've taken deep lessons from growing too quickly and believe that we are going to be prudent in our spend going forward," Chief Financial Officer Alesia Haas said.
Coinbase posted a loss of 34 cents a share, while analysts estimated a loss of $1.35 as investors tiptoe back to the speculative asset class to hedge against elevated market risks after a brutal selloff last year.
But the trend is yet to power gains for the cryptocurrency exchange as trading volumes more than halved to $145 million while retail trading volumes, which had been instrumental in making Coinbase a household name in 2021, sank 72%.
Earlier this year, the company said it will cut 950 more jobs in its the third round of layoffs since last year. 
Haas said the improved cost-structure will help the company hit its 2023 goal to improve core profit year-over-year.
The company lowered operating expenses by 24% from last quarter and reported $607 million in expenses, much lower than its prior range of between $625 million and $675 million.
"Everyone was expecting disastrous results, and it does not look to be a disaster for Coinbase at all,"  said Dave Weisberger, CEO of CoinRoutes, an algorithmic-trading platform for the digital asset industry. 
Coinbase shares, which lost 85% of their value in 2022, have risen nearly 40% this year as of Thursday's close as cryptocurrencies gain some ground.
Read More
Coinbase, one of the most popular cryptocurrency exchanges, has today announced that its net losses have decreased compared to last year. The company also reported greater diversity in its revenue sources.
The California-based company, which offers transaction services in more than 100 countries, reported a net loss of $30.4 million for the fourth quarter of 2019. This represents a significant improvement from the reported net loss of $71.4 million for the same period in 2018.
The improved bottom line has largely been attributed to cost cutting. Coinbase reported that it has reduced its costs by 23 percent over the past fiscal year.
At the same time, the company recorded a 12 percent growth in revenue from its operations which totaled $563 million across 2019. This growth was largely driven by increasing customer demand and greater diversity in revenue sources.
The largest revenue stream for Coinbase continues to be transaction fees but Coinbase has also reported growth in other areas such as listing fees and technology deals.
Coinbase has also seen a significant increase in customer numbers. The exchange now serves 43 million customers, a 30 percent year on year increase. In addition, the number of institutional customers rose by 75 percent in the same period to 654.
In the coming year, Coinbase expects to expand its operations internationally, including launching new financial services in Europe. This should further diversify the company's revenue streams and increase customer growth.
Overall, Coinbase has posted an impressive fourth quarter performance. Its financial results reflect the company's focus on cost cutting and building its customer base. It will be interesting to see how its performance develops as the cryptocurrency industry continues to grow.