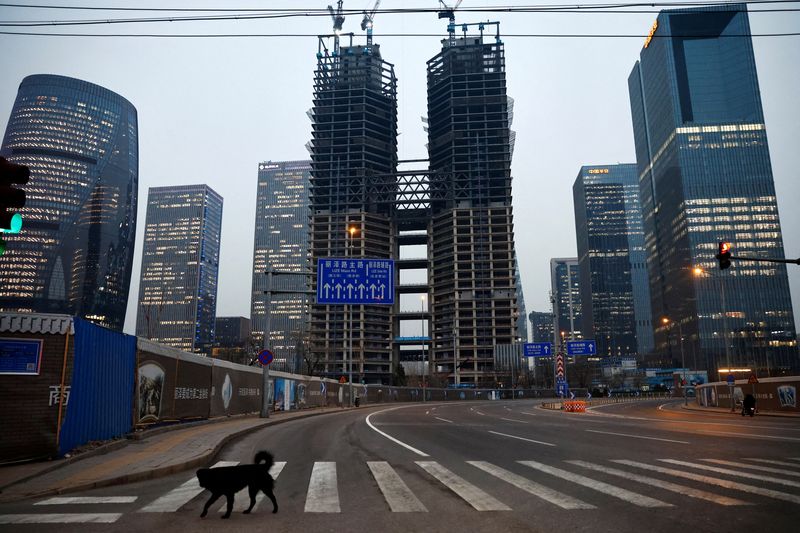 © Reuters. FILE PHOTO: A dog crosses a road at a financial district with buildings under construction, in Beijing, China January 11, 2023. REUTERS/Tingshu Wang

By Kevin Yao and Joe Cash
BEIJING (Reuters) -China's economy grew at a faster-than-expected pace in the first quarter, as the end of strict COVID curbs lifted businesses and consumers out of crippling pandemic disruptions, although headwinds from a global slowdown point to a bumpy ride ahead.
More than a year-long sweeping streak of global monetary policy tightening to rein in red hot inflation has dented world economic growth, leaving many countries including China reliant on domestic demand to spur momentum and raising the challenge for policymakers looking for post-COVID stability.
Gross domestic product grew 4.5% year-on-year in the first three months of the year, data from the National Bureau of Statistics showed on Tuesday, faster than the 2.9% in the previous quarter. It beat analyst forecasts for a 4.0% expansion and marked the strongest growth in a year.
Investors have been closely watching first quarter data for clues on the strength of the recovery after Beijing lifted COVID curbs in December and eased a three-year crackdown on tech firms and property. GDP growth last year slumped to one of its worst in nearly half a century due to COVID curbs.
"Economic recovery is well on track. The bright spot is consumption, which is strengthening as household confidence improves," said Zhiwei Zhang, chief economist at Pinpoint Asset Management. "The strong export growth in March also likely helped to boost GDP growth in Q1."
Chinese policymakers have pledged to step up support for the $18 trillion economy to keep a lid on unemployment, but they face limited room to manoeuvre as businesses grapple with debt risks, structural woes and global recession worries.
China's rebound has so far remained uneven as its investment-fuelled growth of the past to one now reliant on consumption faces challenges.
Consumption, services and infrastructure spending have perked up but factory output has lagged in the face of weak global growth, while slowing prices and surging bank savings are raising doubts about demand.
China's exports unexpectedly surged in March, data showed this week, but analysts cautioned the improvement partly reflects suppliers catching up with unfulfilled orders after last year's COVID-19 disruptions.
"On net, that's a decent set of figures out from China in Q1, which keeps them on track for their growth target of around 5% this year," said Matt Simpson, senior market analyst at City Index.
On a quarter-on-quarter basis, GDP grew 2.2% in January-March, in line with analyst expectations and up from a revised 0.6% rise in the previous quarter.
Asia's shares pared losses on Tuesday after the data, with Hong Kong's down 0.4% in early trade while China's bluechip CSI300 Index gaining 0.3%.
POLICY SUPPORT
The nation's central bank said last week it will maintain ample liquidity, stabilise growth and jobs and focus on expanding demand.
On Monday, the central bank extended liquidity support to banks through its medium-term lending facility but kept the rate on such loans unchanged, an indication authorities are not overly concerned about the immediate growth outlook.
That followed a cut in lenders' reserve requirements for in March.
The government, which has refrained from taking big steps to spur consumption, is still relying heavily on infrastructure spending to spur investment and economic growth.
The government has lifted its annual budget deficit target to 3% of GDP this year and allowed local governments to issue more special bonds to fund big-ticket projects.
"In short, with this GDP report, we believe there is no immediate need for the government to put massive stimulus into the economy," Iris Pang, chief Greater China economist at ING, said in a note.
MODEST GROWTH TARGET
Analysts polled by Reuters expect China's growth in 2023 to speed up to 5.4%, from 3.0% last year.
The government has set a modest target for economic growth of around 5% for this year, after badly missing the 2022 goal.
Separate data on March activity also released on Tuesday showed retail sales growth quickened to 10.6%, beating expectations and hitting a near two-year high, while factory output growth also sped up but was just below expectations.
The sharp rebound in consumption was helped by a statistical year-ago low base of comparison as consumers bore the brunt of COVID curbs in early 2022
China's infrastructure investment rose 8.8% in January-March from a year earlier – outpacing a 5.1 rise in overall fixed-asset investment, while property investment fell 5.8%.
($1 = 6.8761 )
Read More
China, the world's second largest economy, has seen a surge in growth this past year, gathering speed as China's leading economic indicators continue to show a continued rise. The Chinese economy has enjoyed steady and strong growth, with a GDP growth rate of over 6% in the second quarter of 2020, representing a positive sign of economic recovery.
Despite the positive economic performance, the country is likely to face several global headwinds in the coming year. The most prominent of these include the trade war with the US and the economic fallout from the Covid-19 pandemic. The trade war has led to tariffs and restrictions on US imports, making it difficult for Chinese companies to sell their products in the US market.
On the other hand, the Covid-19 pandemic has had a deep impact on global trade and economic activity. This has led to disruption of supply chains and a slowdown in global demand. This has weighed on Chinese exports, and disrupted markets for commodities and services. In addition, the pandemic has affected the travel and tourism sector, resulting in a fall in business activity and consumer spending.
Despite these headwinds, China has been pursuing various policies to support economic growth. These include fiscal support and stimulus packages, an easing of market access, and lower borrowing costs. This is helping to boost domestic investment, which is being supplemented by increased government spending.
Looking ahead, the Chinese economy is expected to remain on a path of growth with the government's policies providing some tailwind. However, global headwinds could still pose a significant challenge and there is a risk of a more severe downturn if these continue to remain. As such, it will be important for the Chinese government to continue to pursue policies that support and stimulate the economy, and this will be key to sustaining the current level of growth in the country.