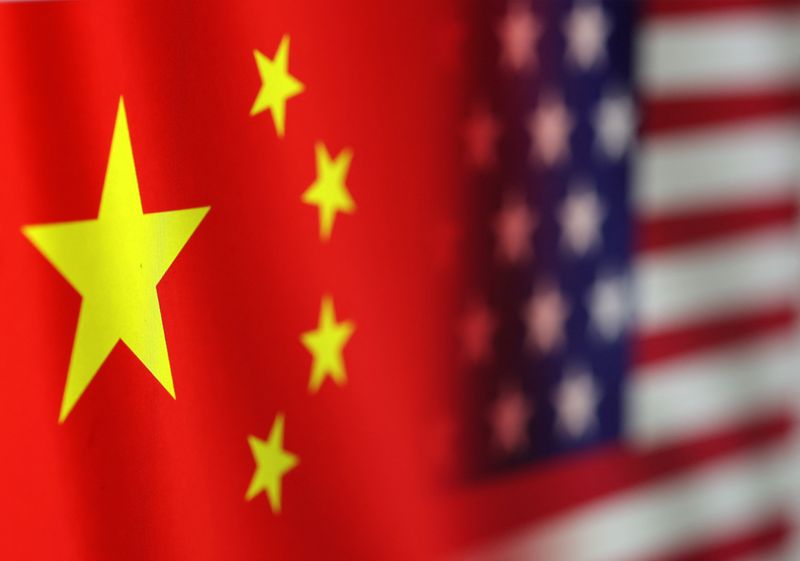 © Reuters. FILE PHOTO: U.S. and Chinese flags are seen in this illustration taken, January 30, 2023. REUTERS/Dado Ruvic/Illustration

By Xie Yu
HONG KONG (Reuters) – China's securities watchdog on Thursday said that it was willing to work with its counterparts in the United States to promote regulatory cooperation on audits and safeguard the rights and interests of global investors.
The China Securities Regulatory Commission (CSRC) was commenting a day after a U.S. accounting watchdog said that it found unacceptable deficiencies in audits of U.S.-listed Chinese companies.
"We noticed that the U.S. regulator said the deficiencies they found this time were normal for a first-time inspection," it said in a statement responding to a Reuters' request for comment, adding that Beijing would continue to work with the U.S.
The U.S. Public Company Accounting Oversight Board (PCAOB) published the findings of its inspections on Wednesday, after gaining access to auditors' records of the companies under a deal reached in September last year.
That access, gained after more than a decade of negotiations with Chinese authorities, kept roughly 200 China-based public companies including Alibaba (NYSE:) and JD (NASDAQ:).Com from potentially being kicked off U.S. stock exchanges.
The CRSC statement said "the inspection report also didn't conclude that the audit opinions by relevant auditors were inappropriate," and that it believed the deficiencies found would help auditing firms rectify their problems and improve quality.
Analysts said the deficiencies found by the U.S. watchdog were unlikely to derail the audit deal, but it would be challenging to turn around practices quickly amid continued U.S.- China tensions.
"Generally, the PCAOB expected high rates and these are not surprising in the short-term," said Jackson Johnson, a former PCAOB inspector and president of Johnson Global Accountancy, an audit advisory firm based in Nevada, adding that there was a lot of work to be done to improve the results before the next inspection.
Law firm Wilson Sonsini's senior partner Weiheng Chen said although the deficiency rate in the PCAOB findings was much higher than the average of its reviews, the results would not lead to the re-statement of a company's financial statements.
"So these deficiencies alone would not cause any stock delisting."
Paul Gills, a professor of accounting at Beijing International Studies University, said the PCAOB statement appeared to be strong-worded, but deficiencies had been expected.
"I assume most of the issues have already been tackled by the auditors…Even though politics are not supposed to enter into it, they obviously do. And if they (PCAOB) appeared to be too accommodating, they would really get a lot of criticism…accusing them of being soft on China," he said.
Reuters reported in March that the PCAOB has started a new round of inspections in Hong Kong as part of the deal, which is a rare bright spot in Sino-US relations at a time when some business leaders have voiced concerns about the decoupling of the world's two largest economies.
Read More
The Chinese government has spoken out regarding its readiness to work with the United States in resolving outstanding issues regarding Nasdaq and New York Stock Exchange-listed securities.
The Chinese-U.S. relationship has been strained in recent months due to differing views on various issues, including trade, intellectual property and human rights. The Chinese government has now opened up to the idea of discussing potential solutions to the long-standing and challenging audit requirement issues concerning Nasdaq and NYSE-listed Chinese securities.
The Chinese government released a statement saying that the Chinese Securities Regulatory Commission (CSRC) is willing to work tirelessly with U.S. authorities to successfully resolve these issues and come to a mutually satisfactory agreement.
Chinese finance minister Liu Kun addressed the issue at hand and said that the Chinese government supports greater-than-ever levels of transparency in regards to U.S. listed Chinese companies and is committed to fully implementing international audit standards in order to protect the worldwide integrity of financial markets.
The Chinese government is hoping to gain the support and cooperation of the U.S. Securities and Exchange Commission (SEC) to carry out necessary inspections as well as allowing Chinese public companies to access resources and data needed to implement these international audit standards.
The challenges relating to the audit requirement hampering Chinese companies listed in U.S. exchanges are yet to be resolved, but China's willingness to cooperate with the U.S. could lead to potential opportunities and positive developments.
Both the Chinese and the U.S. governments are hoping to build bridges and promote a healthy global economy which is resilient to external shock. China and the U.S. are both aware that a collaborative and constructive approach is much needed in today's rapidly changing global economic landscape.