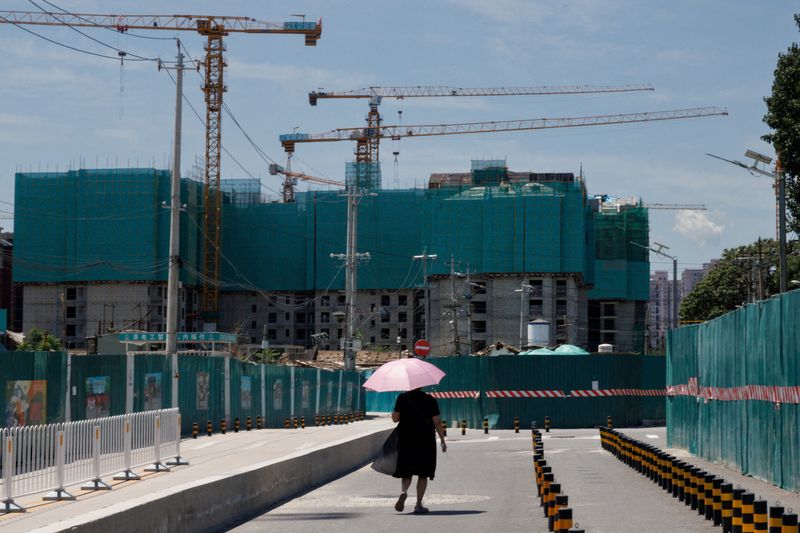 © Reuters. FILE PHOTO: A woman walks near a construction site of apartment buildings in Beijing, China, July 15, 2022. REUTERS/Thomas Peter/File Photo

By Liangping Gao and Ryan Woo
BEIJING (Reuters) – China's new home prices will see a slower growth this year, according to a Reuters poll, suggesting pent-up demand after the country's economic reopening is fading though a slew of stimulus policies boosted confidence.
New home prices are expected to rise 1.4% year-on-year in 2023, slowing from a gain of 2.5% forecast for that period in a February survey, according to a Reuters poll conducted in May.
A string of stimulus policies to the crisis-hit property sector and the lifting of COVID-19 restrictions in December have boosted sentiment in recent weeks.
The revival, however, seems to be uncertain after the pent-up demand was released on top of the patchy economic recovery. Property investment and sales fell sharply in April, and the pace of home price gains slowed during the month.
"Residents' confidence in their incomes and expectations of house prices declines, as well as homebuyers' concerns about the presold homes unable to deliver, remain key factors impacting homebuyers to enter the market," said analyst Huang Yu at China Index Academy.
Property sales are expected to rise 2.7% from a year earlier for the whole of 2023, reversing a fall of 1.5% expected in the last poll, the survey showed.
A homeowner's failure to sell a flat in Beijing after dropping the asking price by 900,000 yuan in one month has created a buzz on social media on Friday.
"Homeowners need to sell at a lower price than the market if they want to sell their homes quickly in Beijing," said a property agent surnamed Lu, and she raised doubts on the sector's recovery in the coming months.
"China's property market has not yet stabilized and is still in a slow recovery from the bottom. The central and local governments are still releasing policies to support property market," said Wang Xingping at Fitch Bohua.
Property investment by developers is expected to fall 4.2% on year for 2023.
"In 2023, the property investment will mainly be driven by completion construction, and the decline in land purchase and new construction is expected to continue due to weak sales. We expect the decline in property investment for 2023 to narrow to around zero," said Wang.
"China property is set for another year of softening," said S&P Global (NYSE:) Ratings on Sunday,adding "weaknesses in China's tier-three and tier-four cities will keep the property recovery on an 'L-shaped' path. "
(For other stories from the Reuters quarterly housing market polls:)
($1 = 6.9121 renminbi)
Read More
China's new home price growth is expected to slow down in 2023, according to a Reuters poll.
Analysts and economists surveyed by the news agency expect that, while the rate of growth will remain strong in the near future, it will taper off next year as the rate of newly built housing drops and property investment slows.
The survey showed that the average of 20 economists and analysts expect new home prices in China to rise 9.8 percent in 2022, up from a projected 8.0 percent gain in 2021.
However, their outlook for 2023 was weaker at an 8.0 percent level.
The survey results come shortly after the National Bureau of Statistics (NBS) revealed that new home prices jumped 10.5 percent in 2020, slightly higher than analysts' expectations and up from a 6.2 percent rise in 2019.
The country's property market is among the few segments that showed positive growth in the aftermath of the coronavirus pandemic.
As a result of the pandemic-induced economic recession, Chinese authorities launched several targeted stimulus measures, which in turn, helped to prop up the property market.
To dampen the potential overheating of the sector, though, authorities have rolled out tighter policies for property investment and home purchases in the larger cities.
Analysts have also warned that such tightening of measures could weigh on new home prices in the long run and hamper the sector's growth in the coming years.
It remains to be seen how the government will tackle the issue in the future and what effect it could have on the future of the country's property market.