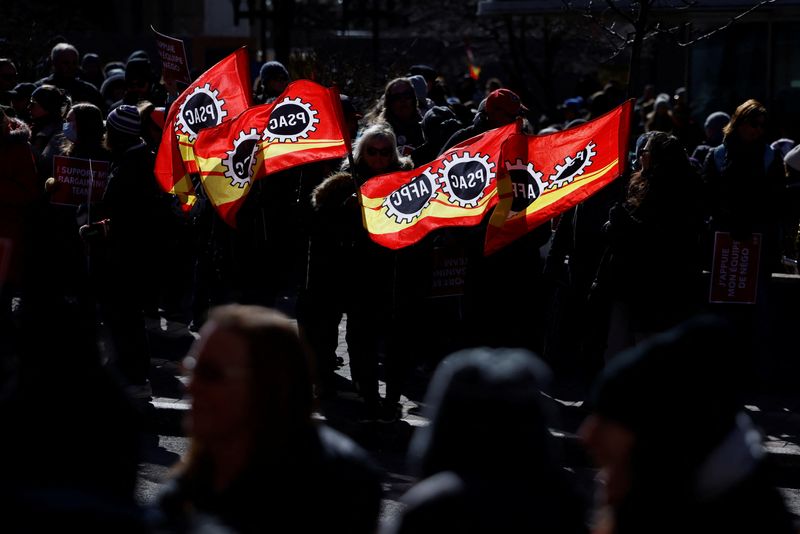 © Reuters. FILE PHOTO: Picketers line the sidewalks as more than 155,000 public sector union workers with the Public Service Alliance of Canada (PSAC) remain on strike, in Gatineau, Quebec, Canada April 20, 2023. REUTERS/Blair Gable

By Ismail Shakil
OTTAWA (Reuters) – A union representing some 155,000 striking Canadian public workers called on Saturday for Prime Minister Justin Trudeau to speed up negotiations over a deal for higher wages and work-from-home guarantees.
A wide range of public services from tax returns to passport renewals have been affected since Wednesday, when about 120,000 workers under the Treasury Board and over 35,000 revenue agency workers, represented by Public Service Alliance of Canada (PSAC) union, went on strike.
PSAC President Chris Aylward told reporters the strike would continue until a "fair deal" has been agreed. He said the union has been waiting for the federal government's response to its proposal made on Thursday and that the union's bargaining teams were "fed up" of waiting.
"I need to see the prime minister getting involved in these negotiations and helping and assisting to move these negotiations along," Aylward said.
Talks resumed shortly after Aylward spoke. The Treasury Board of Canada, which oversees federal administration and has been handling negotiations for the government, said it had "been at the bargaining table every day since mediation started."
"There is no time, nor tolerance for stalling and misinformation," the office of Treasury Board President Mona Fortier said in a statement. "Now that the PSAC has returned to the table after their press conference, talks have resumed."
Earlier, the federal government said it offered a "fair, competitive offer," including a 9% wage increase over three years, and that it would continue negotiations to reach an agreement quickly.
Tax agency workers want a pay bump of 22.5% over three years, while the Treasury Board workers are seeking a 13.5% pay rise over three years. Inflation peaked at 8.1% last year but has since come down to about half of that.
Apart from wages, PSAC also wants the new agreement to recognize the right to work remotely.
Read More
Canada's federal public service employees have recently renewed their call for Prime Minister Justin Trudeau to intervene in an effort to speed up contract negotiations. After more than three years of negotiations, the public service employees – who are represented by the Public Service Alliance of Canada (PSAC) – have reached an impasse in contract talks.
The President of the PSAC, Chris Aylward, has openly called on Prime Minister Trudeau to meet with both sides and press for a resolution of the outstanding issues. From Aylward's perspective, "The chaos and disruption coming from the bargaining table is washing over (members of the public service) and is affecting their morale and their ability to serve Canadians. We need the Prime Minister to make this a priority…"
The federal public service union also organized an Emergency Federal Public Service Summit in Ottawa on February 7th, which was attended by hundreds of workers from all over the country. At the summit, Aylward and other union leaders called on the government to provide "a new direction in the bargaining process."
Meanwhile, the government is demanding the unions accept a two-year wage freeze, job security provisions and benefits cuts without any new spending on public services or job creation. The PSAC feels these priorities are misguided in the context of rising labour costs and flatlined inflation.
The union recently conducted a survey which found that 84 percent of union members would be willing to take job action in order to secure higher wages and proper job security. In addition, union leaders declared that the government's actions were "anti-union" and a "direct attack on collective bargaining."
The outcome remains uncertain, but the PSAC is certainly making it clear that the federal government needs to address their demands. Until a satisfactory resolution to this impasse is reached, Canada's federal public service employees are likely to continue calling on Prime Minister Trudeau to increase his involvement in order to speed up contract talks.