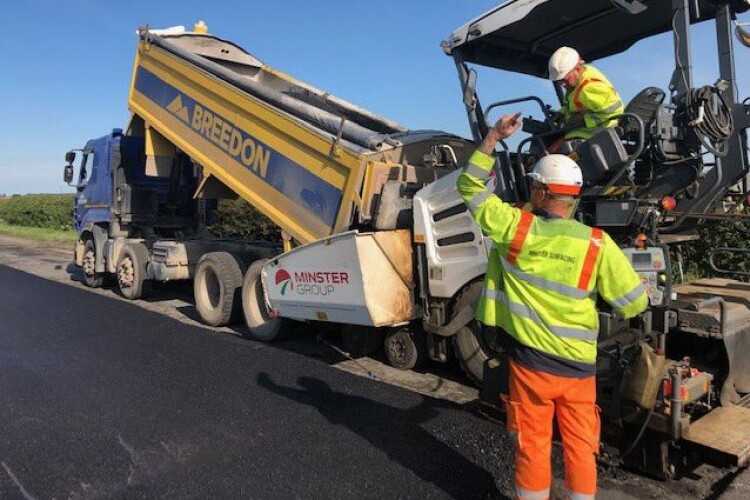 The three businesses are Robinson Quarry Masters Limited, a family-run quarrying and concrete block business in Country Antrim, Doncaster concrete block producer Broome Bros Limited, and Minster Surfacing Limited, a regional surfacing business based in Lincoln.
"Many of our transactions come to us through our local knowledge and personal engagement with the owners," said Breedon chief executive Rob Wood. "As a result, our active M&A pipeline has continued to yield high quality, earnings enhancing opportunities that will enable us to progress our sustainable growth strategy.
"Each of these independent family run businesses is aligned with our vertically-integrated operating model, providing further opportunity to pull through upstream building materials while extending our downstream footprint to deliver profitable growth.  We are delighted to welcome our new colleagues to Breedon and look forward to working with them."
Minster said that it would remain a distinct brand within Breedon under the new ownership and that co-founder Bruce Spencer-Knott was staying on as managing director.
"After 24 years of growing Minster Group into one of the country's leading independent contractors, it's time to take things to the next level, securing its future as part of Breedon Group," Bruce Spencer-Knott said.
Got a story? Email news@theconstructionindex.co.uk
Read More
Breedon Group, the UK's largest independent construction materials group, has today announced that it has completed three separate acquisitions as part of its ongoing growth strategy.
The three businesses acquired are aggregate firm Aggregate Industries' interest in Cemex UK Materials Limited ('Cemex UK'); T. Travis & Co Limited ('T. Travis'); and a concrete block manufacturing business located in Tamworth, Staffordshire.
Cemex UK owns and operates a large quarry located near Breedon's existing Haddington sand and gravel quarry in East Lothian, Scotland, providing a cornerstone business to support Breedon's growth ambitions in Scotland. T. Travis is a 71-year-old, family-run business located in Halstead and Sudbury, Essex that supplies ready-mixed concrete, sand, aggregates and admixtures. The Tamworth Concrete Block manufactory is an established, 9-acre site with existing manufacturing facilities.
Commenting on the acquisitions, Pat Ward, Chief Executive of Breedon Group, said:
"We're delighted to be adding the products and services of these three businesses to our existing offering. Cemex UK brings a respected and well-established quarry in East Lothian, Scotland, which, combined with our adjoining quarry in Haddington, will provide an enviable base from which to serve our customers in that region. T. Travis and Tamworth Concrete further strengthens our presence in Essex and the Midlands, respectively, while adding both ready-mixed concrete and concrete block manufacturing to our product portfolio".
The acquisitions are part of an ongoing growth strategy by Breedon, which has grown rapidly in recent years to become the UK's largest independent construction materials Group, with 38 quarries, 54 asphalt plants, 200 ready-mixed concrete plants and 3 concrete block plants. Breedon has also recently completed a successful rights issue raising £97.3 million, adding further strength to its balance sheet.
The acquisitions of Cemex UK, T. Travis and Tamworth Concrete are expected to accelerate Breedon's growth, positively impacting its financial performance in the coming months and years.