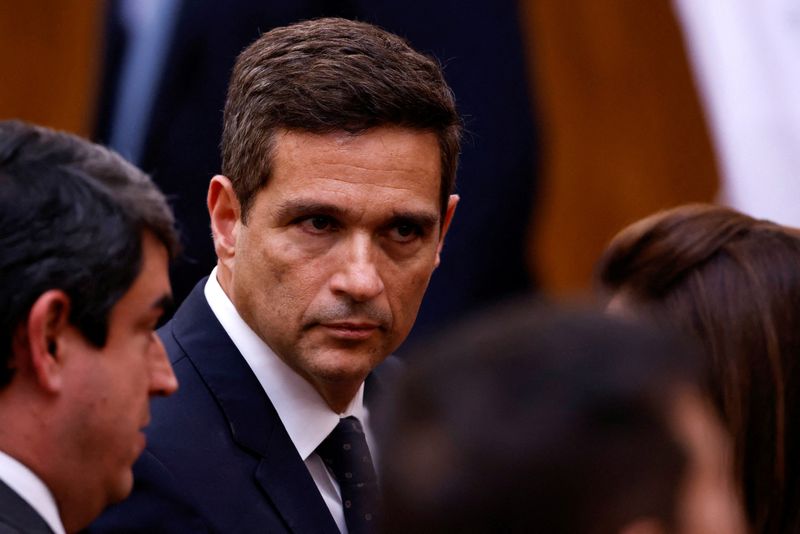 © Reuters. FILE PHOTO: Brazil's Central Bank President Roberto Campos Neto looks on during a ceremony at the Superior Electoral Court headquarters in Brasilia, Brazil, March 7, 2023. REUTERS/Adriano Machado/File Photo

By Libby George and Jorgelina do Rosario
LONDON (Reuters) -Brazil's central bank Governor Roberto Campos Neto said on Friday that the bank's independence is crucial for the country's economy, as political pressure mounted for it to reduce borrowing costs.
President Luiz Inacio Lula da Silva and other politicians have pressured the bank to lower benchmark interest rates, which stand at a six-year high of 13.75%. But Neto, speaking at the Lide Brazil Conference in London, defended the bank's actions.
"What we do is for technical reasons, not political reasons," Campos Neto said, adding that lowering interest rates "only works on credit if there is credibility."
"In the past we cut interest rates and instead of raising credit, it fell, because there was no credibility to make that move," he said.
Campos Neto also said he doesn't think that inflation is being driven by supply constraints, defending high interest rates and the technical targets the bank is using to determine its actions.
Brazil has an inflation target of 3.25% for 2023, which will be lowered to 3% in 2024, but consumer prices reached 4.65% in the 12 months through March. The central bank's next monetary policy committee is on May 2 and 3, according to its calendar.
Campos Neto said that the Brazilian central bank made the biggest interest rate hike in world history during an election period, which "shows that the central bank is quite independent."
"We were very independent during the (presidential) election process. If we hadn't increased interest rates during the elections, inflation would be higher," Campos Neto said during the Lide Brazil Conference in London.
Shortly before Campos Neto spoke in the London conference, Senate leader Rodrigo Pacheco openly criticized high interest rates during the same event, arguing that high rates were hurting growth. 
"I am sure that the central bank will be very much capable to reduce interest rates", Pacheco said.
Campos Neto said that he doesn't think that the bank's independence is under threat, and added: "The debate about interest rates is a normal thing. We need to improve the communication of that we do, how we make decision."
Lula earlier this month hinted at a potential target change, calling high lending costs in the country "inexplicable" as he continued his push for lower interest rates.
"Central bank timing is technical and is different from political timing. The cost of fighting inflation is high, but the cost of not fighting inflation is much higher."
Read More
Despite enjoying strong growth in the early 2000s, Brazil's economy has struggled in recent years. As the country looks to increase investor confidence and attract foreign investment, the central bank has identified an independent central bank as a key component of the economic recovery.
Under the leadership of Roberto Campos Neto, President of the Central Bank of Brazil (BCB), the institution has embarked on a mission to increase its independence from the government. This involves strengthening financial stability, promoting Brazil's global economic engagement and setting a framework for monetary policy.
Central bank independence is crucial for Brazil's economic health. An independent central bank can act swiftly in times of crisis and will be more insulated from political considerations when making difficult decisions about monetary policy. Moreover, an independent and strong central bank signals to investors and foreign companies that the country has stable macroeconomic policy, which is likely to increase investment flows and help support long-term economic growth.
Although there have been some challenges, Roberto Campos Neto and his team have made significant progress towards strengthening the central bank's autonomy. The BCB has adopted several measures, such as a revised monetary policy framework that is more independent of government influence, as well as greater transparency around the bank's operations.
In order to ensure that these efforts have a lasting effect, Roberto Campos Neto has focused on ensuring the central bank's independence is recognized by both domestic and international investors. This has led to the signing of several agreements with foreign counterparts, including the U.S. Federal Reserve and European Central Bank, which represents an important step in furthering its reputation as an independent and reliable central bank.
The efforts of Roberto Campos Neto towards increasing the central bank's independence are crucial for Brazil's economic recovery. By strengthening its autonomy and transparency, the BCB is well placed to play its important role in establishing a stable macroeconomic environment for the country and providing consistent support for economic growth.