Economy1 hour ago (Apr 26, 2022 04:31PM ET)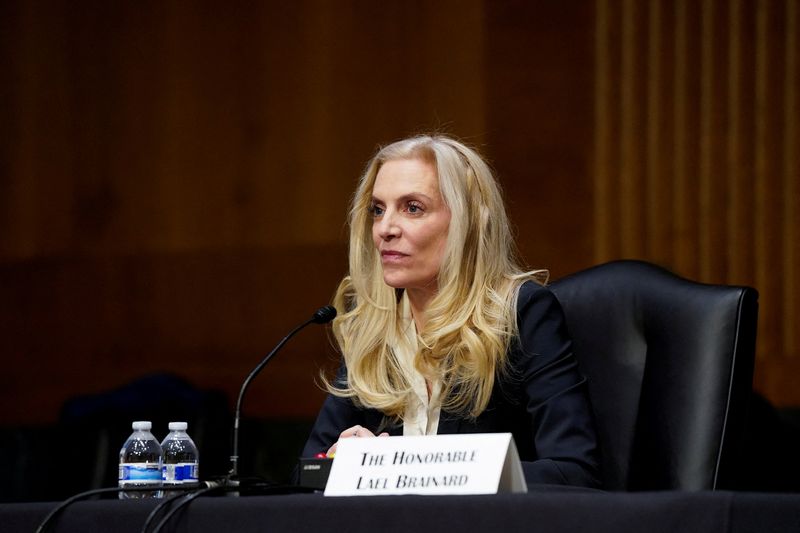 © Reuters. FILE PHOTO: Federal Reserve Board Governor Lael Brainard testifies before a Senate Banking Committee hearing on her nomination to be vice-chair of the Federal Reserve, on Capitol Hill in Washington, U.S., January 13, 2022. REUTERS/Elizabeth Frantz/File Ph

By David Morgan
(Reuters) -Federal Reserve Governor Lael Brainard won confirmation in the U.S. Senate on Tuesday to be the U.S. central bank's next vice chair, the first of U.S. President Joe Biden's four nominees to meet that hurdle.
The vote was 52-43 as several Republicans joined Democrats to meet the 51-vote minimum for confirmation. It came a week ahead of a key Fed meeting where she and colleagues are expected to ramp up their battle against decades-high inflation with a big interest-rate hike and a balance sheet reduction.
Progress toward confirmation for a second Fed nominee, Michigan State University's Lisa Cook, looked headed for a delay Tuesday amid Republican opposition and COVID-19 cases among Democrats that prevented them from voting.
Senate Banking Committee Chair Sherrod Brown on Tuesday sought to postpone a vote on Cook and move ahead on two other Fed nominees that do have bipartisan support, Fed Chair Jerome Powell, renominated to his current position, and Davidson College dean of faculty Philip Jefferson, nominated to a vacant seat on the Board.
But the banking committee's top Republican, Pat Toomey, objected to that order of business, forcing the procedural vote on Cook to go ahead. Lawmakers began casting votes Tuesday afternoon. If the motion to limit debate on her nomination is blocked, Senate Leader Chuck Schumer could try again at a later date.
Cook would be the first Black woman to serve on the Fed's Board since the central bank's founding in 1913.
Republicans have refused to back her, and in a 100-member Senate evenly split between the two parties, her confirmation could require the participation of all 50 of Biden's Democrats.
But on Tuesday two Democratic senators, Chris Murphy of Connecticut and Ron Wyden of Oregon, reported they had tested positive for COVID-19, as did Vice President Kamala Harris, a Democrat who could cast a tie-breaking vote.
At its policy meeting next week the Fed is widely expected to deliver a half percentage point interest rate hike and announce the start of a reduction in its giant balance sheet.
Cook and Jefferson would likely join after that meeting, taking part in deliberations over what are expected to be interest-rate hikes at every subsequent Fed meeting this year and into at least the first part of next year.
Biden earlier this month said he would fill the Fed Board's seventh and final seat by nominating former Treasury official Michael Barr to be the Fed's vice chair of supervision.
Brown said Tuesday a hearing on Barr could take place next month.
"We will move as quickly as we get the paperwork," Brown said.
Barr's paperwork is expected to be submitted this week and it is hoped to have him confirmed in his role by the end of May, a source familiar said earlier this week
Sarah Bloom Raskin, Biden's initial choice for that job, withdrew her name last month from consideration after Republicans on the Senate banking committee blocked a vote on her appointment and a key Senate Democrat signaled he would not support her.
Related Articles