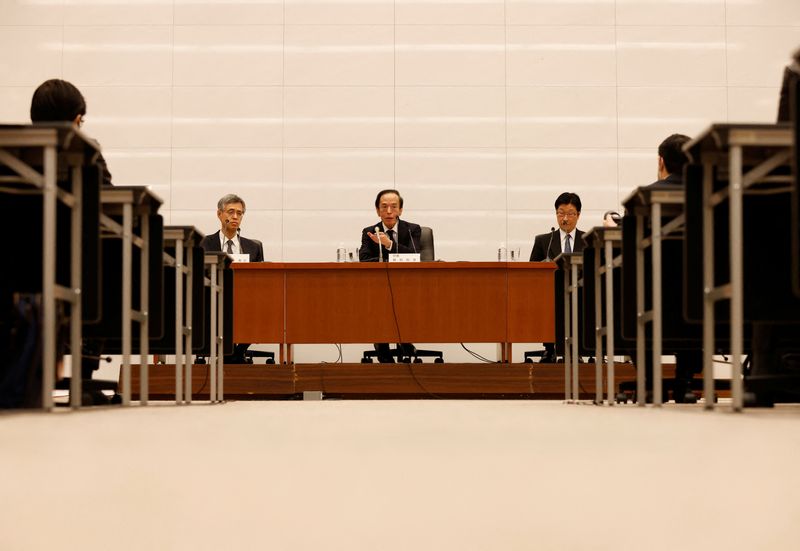 © Reuters. FILE PHOTO: New Bank of Japan Governor Kazuo Ueda and Deputy Governors Ryozo Himino and Shinichi Uchida attend a news conference at the bank headquarters in Tokyo, Japan, April 10, 2023. REUTERS/Kim Kyung-Hoon/Pool

By Leika Kihara and Takahiko Wada
TOKYO (Reuters) -The Bank of Japan is expected to maintain its ultra-easy monetary policy, including its interest rate targets and a 0.5% cap set for the 10-year government bond yield, at next week's rate review, said four sources familiar with its thinking.
At the two-day review ending on April 28, the central bank will also likely leave unchanged its forward guidance pledging to keep interest rates ultra-low, they said.
While wages are rising and inflationary pressure is building, the BOJ is in no rush to dial back stimulus given risks of slowing overseas growth and uncertainty on whether wage rises will be sustained next year, the sources said on condition of anonymity due to the sensitivity of the matter.
"With inflation yet to sustainably hit its target, the BOJ can be patient" in contemplating tweaks to yield curve control, one of the sources said, a view echoed by two other sources.
Under yield curve control (YCC), the BOJ guides short-term interest rates at -0.1% and the 10-year bond yield around zero with an implicit cap of 0.5%.
With inflation exceeding its 2% target, investors have speculated that the BOJ will soon phase out or end YCC, which some argue has distorted bond market pricing and crushed financial institutions' profits.
New Governor Kazuo Ueda, who will be chairing his first policy meeting, has stressed the need to keep monetary policy ultra-loose to ensure inflation sustainably hits the bank's 2% target.
The sources said that at next week's meeting the BOJ is also likely to make no major tweaks to its forward guidance, including its pledge to keep interest rates at "current or lower" levels.
Some in the BOJ see scope to change a separate line of guidance that commits it to ramp up stimulus as needed "with an eye on the economic impact of the COVID-19 pandemic," they said.
With Japan having already scrapped its COVID-related curbs, the BOJ will likely remove reference to the pandemic's fallout in coming months, most likely at the meeting in June, the sources said.
But such a change is unlikely to signal any shift in the BOJ's accommodative policy bias, they said.
Japan's core consumer inflation hit 3.1% in March, well above the BOJ's target, as companies continued to pass on higher raw material costs to households.
The central bank will scrutinise that and other data in coming up with fresh quarterly growth and inflation forecasts, set for release after next week's policy meeting.
Read More
The Bank of Japan (BoJ) is expected to maintain its policy of ultra-low interest rates and dovish monetary guidance when its board of directors meets next week, sources familiar with the matter said.
The sources, who asked not to be identified as the deliberations are not public, said the BoJ's two-day policy meeting on Tuesday and Wednesday will likely see the bank leaving its short-term rates at minus 0.1 percent and its long-term government bond yields near 0 percent.
The BoJ is expected to maintain its pledge to expand its asset purchases if needed, while keeping its overall balance sheet at around ¥400 trillion ($3.9 trillion). This policy, known as 'yield curve control', has been an important factor in keeping borrowing costs low in order to support Japan's recovering economy.
The sources said the BoJ is expected to stick to its dovish messaging, citing continued uncertainty due to the ongoing coronavirus pandemic. Its policy statement is unlikely to offer any major change in outlook or prospects.
The BoJ has been at the forefront of the world's major central banks in responding to the coronavirus pandemic with a series of unprecedented measures. These have included purchases of corporate debt, broader share buybacks and other forms of 'quantitative and qualitative easing', or QQE.
The sources said that while the BoJ's low-rate policy has helped to cushion the impact of the pandemic, it has yet to gain much traction in the form of higher wages and prices. This could be a factor in the central bank's decision to stick to its ultra-low rate policy.
The BoJ's board of directors is expected to release its policy statement on Wednesday. It will also hold a press conference to further discuss its policy stance.