Bitcoin's net emissions are down for 3rd month in a row Andjela Radmilac · 34 mins ago · 2 min read
New data shows that the Bitcoin mining industry reduced its output by a whole mega ton of CO2 emissions in three months.
Cover art/illustration via CryptoSlate
The environmental impact of Bitcoin mining has been a hot topic in the past year, especially in the U.S. Following the coveted mining ban in China, a huge number of large mining operations set up shop in the U.S., taking advantage of loose regulation and low energy prices.
The influx of mining companies to the U.S. raised concerns about their impact on energy consumption, as many regulators feared that they would raise demand for fossil-fuel-based energy.
However, the latest research from Daniel Batten, the founder of CH4Capital, shows that the net emissions from Bitcoin mining have significantly decreased.
The research looked at Bitcoin's electricity consumption as estimated by the Cambridge Bitcoin Electricity Consumption Index (CBECI) and adjusted it to account for various energy sources miners use. It found that the net emissions from Bitcoin mining in the U.S. have dropped from 35.3 megatons of CO2 in December 2022 to 32.04 megatons of CO2 in February 2023.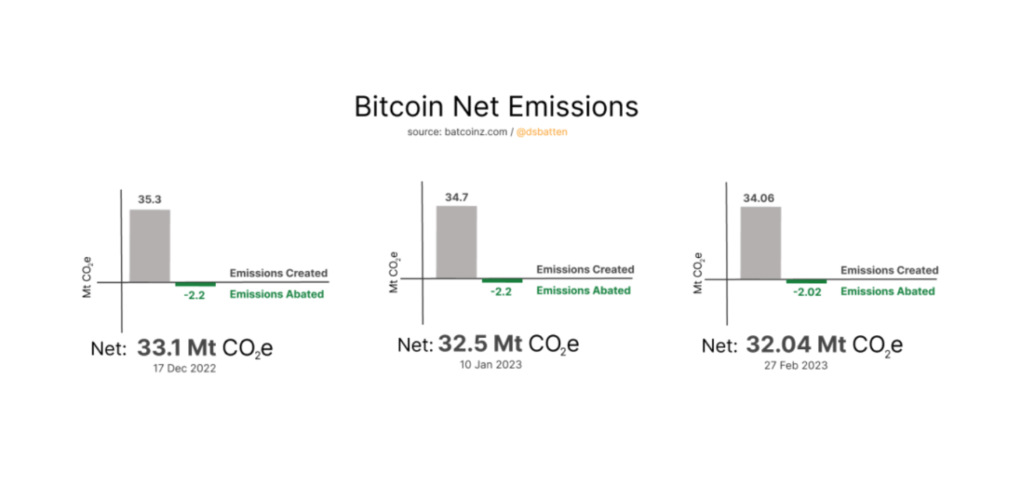 And while Batten acknowledged that these calculations rely on Cambridge's data which tend to overestimate electrical consumption, he noted that the downward trend still remains in place.
A huge part of this decrease can be attributed to Marathon Digital, one of the largest public Bitcoin mining companies in the U.S. In December, Marathon announced that around 100,000 of its newly acquired ASIC miners would be hosted on wind and solar farms, deploying the majority of them in Texas. The company will deploy 133,000 miners in total across the U.S., with all of them powered by renewable energy sources.
The push towards renewable energy in the U.S. will most likely cause other large miners to consider solar and wind power.
Read More
For the third consecutive month, research indicates that Bitcoin's network emissions – the amount of carbon dioxide emitted by its use of electricity – are down significantly.
This latest news comes as a breath of fresh air for the industry, which has long faced scrutiny for its massive energy consumption.
The current Bitcoin emissions rate is approximately 34.36 megatons of CO2 equivalent per year, down from an all-time high of 57.16 megatons, according to data from CoinShares released this week.
This is the lowest level since May of last year, and it is a promising sign that the network is making progress toward reduced energy consumption.
While energy efficiency remains a top concern for the industry, the growing demand for Bitcoin is also having a positive effect on emissions.
The increasing usage is driving the overall energy efficiency higher as the network works more efficiently and uses fewer resources to process more transactions.
This is especially true when compared to traditional financial systems, which have much higher overhead costs and higher amounts of emissions associated with them.
The reduction in emissions is good news for the industry and the planet, with scientific studies and reports from the U.K. government demonstrating the effect human activity has on global warming and climate change.
Despite the overall reduction in emissions, some experts argue that it is too early to celebrate substantial progress in the industry toward being eco-friendly.
Critics point to the fact that Bitcoin still greatly outpaces other cryptocurrencies when it comes to emissions, as well as ongoing concerns about the negative environmental impacts of mining operations in certain areas with low renewable energy sources.
Ultimately, it appears that Bitcoin's energy usage is headed in the right direction, but the industry must remain vigilant in ensuring the growth and usage of the asset doesn't lead to significant damages to the environment.