Bitcoin price fell below $20,000 after its biggest dump since November 2022.
The top crypto asset by market cap dumped amid broader selloff for cryptocurrencies, largely fueled by negative news.
Among other news, the New York Attorney General has sued KuCoin over offering of unregistered securities, with Ethereum named as one of the securities.
Bitcoin price has dropped nearly 10% in the past 24 hours amid negative cryptocurrency news that could yet catalyse further losses.
As the Bitcoin price chart below shows, the value of the leading cryptocurrency by market fell to lows of $19,569 on cryptocurrency exchange Bitstamp.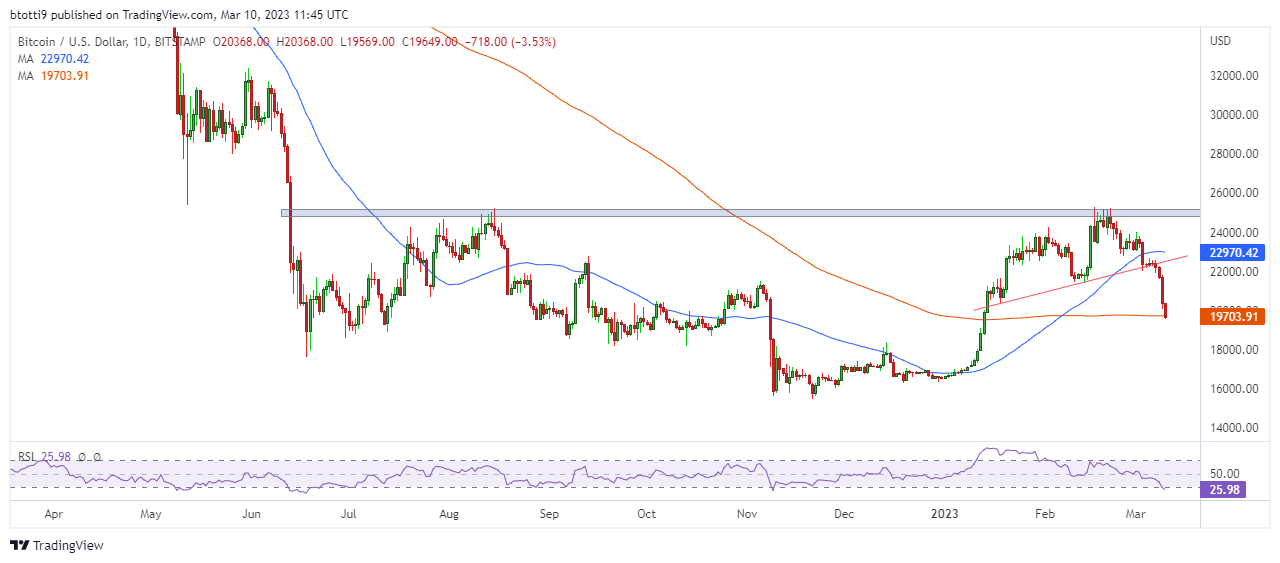 Bitcoin price fell below $20,000 to hit $19,569 on Bitstamp. Source: TradingView
This after a selloff that began late Thursday extended into Friday morning, with the dump pushing BTC below the psychological support zone of $20,000 for the first time since early January. Bitcoin has also seen its biggest price dump since November 2022 during the FTX dump.
Why Bitcoin and crypto crashed today
As CoinJournal reported early Friday, today's selling pressure for cryptocurrencies comes after the New York Attorney General sued the crypto exchange Kucoin alleging it sold unregistered securities. The negative news was compounded by the fact that the lawsuit identified Ethereum as one of the securities.
The market's reaction saw Ethereum price plunge to lows of $1,375 and was down 9.8% at the time of writing.
Overall selloff pressure also follows news that crypto bank Silvergate was winding down. The company's shares plummeted nearly 50% in the aftermath, with fears of even more damage amid a Silicon Valley "bank run."
Another headline news likely to have fueled fresh downside for crypto was reports that the US was targeting a new tax on Bitcoin mining. Huobi Token's flash crash and a security breach on Hedera also added to the broader market bloodbath.
Crypto analyst Miles Deutscher highlighted this confluence of negative triggers, noting that stocks and cryptocurrencies have shed over $2 trillion in market cap over the past 24 hours. 
In the last 24 hours:

• Stocks + crypto shed $2T in value
• New York Attorney labels $ETH a security
• KuCoin hit with lawsuit
• Silicon Valley bank crash
• Huobi flash crash
• Biden proposes tax on $BTC mining
• Voyager liquidating assets

Just another day in crypto..

— Miles Deutscher (@milesdeutscher) March 10, 2023
---
Share this article
---
Categories
---
Tags
Read More
The past few days in the crypto world have been downright brutal. Bitcoin and other major digital currencies have seen steep losses, with the world's biggest cryptocurrency plunging below the $20,000 level for the first time since late December.
The bearish trend began on January 11, when Bitcoin fell more than 10% to under $32,000. Other major cryptos, including Ethereum and Dogecoin, followed suit, and pretty soon the entire crypto market had been hit with a wave of panic selling.
The plunge continued into the weekend, with Bitcoin briefly bottoming out at just under $19,400 on Sunday. It has since recovered some of its losses, trading in the low $20,000 range as of Monday morning.
So what caused this sudden crypto bloodbath? Analysts point to a range of factors, from regulatory concerns to technical issues. The recent crackdown by Chinese authorities on cryptocurrency mining and trading activities has undoubtedly played a role, as has the rise of new competitors such as Ethereum and Ripple.
The good news is that the current selloff doesn't seem to be driven by fundamental problems with the underlying technology. Rather, it appears to be a mostly technical reaction to the recent surge in prices. This means the digital asset class should be able to make a quick recovery once investor sentiment starts to improve.
In the meantime, traders and investors should exercise caution. While this dip may present an attractive buying opportunity, it's important to take stock of the current market conditions before making any big moves.