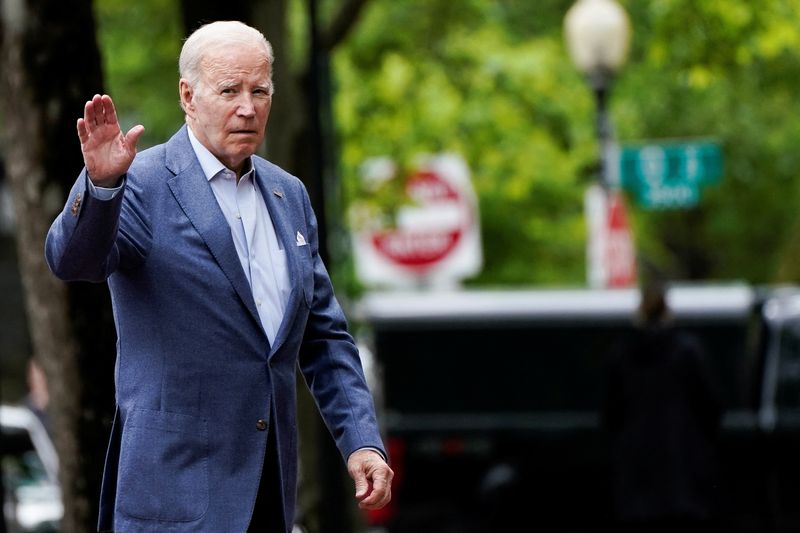 © Reuters. FILE PHOTO: U.S. President Joe Biden arrives to attend Catholic Mass at Holy Trinity Catholic Church in Washington, U.S., April 30, 2023. REUTERS/Elizabeth Frantz

By Jeff Mason and Andrea Shalal
WASHINGTON (Reuters) -U.S. President Joe Biden on Monday urged House of Representatives Speaker Kevin McCarthy to take the potential for an unprecedented U.S. debt default off the table, warning that it would result in skyrocketing credit card and mortgage rates.
"America is not a deadbeat nation. We have never, ever failed to meet the debt," Biden told a small business event at the White House.
He said the threat of default by some Republicans in Congress was "totally irresponsible" and that it was essential to take that threat "off the table."
"It would lead to higher interest rates, higher credit card rates, mortgage rates would skyrocket," Biden said.
"The most immediate thing we can do is ensure continued reliance of our economy and the financial system. The most important thing we have to do in that regard is to make sure the threat by the speaker of the House to default on the national debt is off the table," he added.
The U.S. House of Representatives on Wednesday narrowly passed a bill to raise the government's $31.4 trillion debt ceiling that includes sweeping spending cuts over the next decade. While the bill is not expected to win Senate approval, McCarthy hopes to lure Biden into negotiations on cutting spending, even as the White House and congressional Democrats insist on a debt limit increase with no strings attached.
The U.S. Treasury Department could run out of ways to pay its bills in a matter of weeks if Congress fails to act, and financial markets are already flashing warning signs. A 2011 standoff led to a downgrade of the government's credit rating, which pushed borrowing costs higher and hammered investments.
McCarthy, speaking during a visit to Jerusalem, said he was concerned about the debt ceiling, but that the only way to solve the problem was for Biden to negotiate.
"We are going to have to come together to solve it," he said. "I'm looking forward to the president changing his mind and negotiating with us."
Read More
Following a debate over how much the United States debt should be raised, President Joe Biden has asked Republicans to take defaulting on debt off the table.
During a speech at the White House on Thursday, Biden warned that failing to raise the debt limit could cause a dramatic increase in the interest rate paid by Americans on their mortgages, car loans, and student debt. He said this would burden families struggling to get by.
"We must act. We must act now. We must act together," the President said.
He argued that raising the debt limit is a critical step to providing an economic boost and job growth. Biden reminded his audience that the US reached a record level of national debt due to the coronavirus pandemic and the relief package passed by the government to address it.
The President asked his Republican counterparts to come together and find a bipartisan solution to prevent the US from defaulting on its debt. He declared that the administration is willing to work with legislators from both parties in this effort.
"No American should be held hostage at the mercy of partisanship," Biden concluded.
The President's remarks come weeks before an August 2 deadline to raise the government's stockpile of debt. Many fear that if an agreement is not reached, the country could be headed toward an unprecedented debt crisis.
By stressing the importance of a bipartisan solution and appealing to common values, Biden urged the Republicans to work together to make sure a debt default doesn't become a reality.