2/2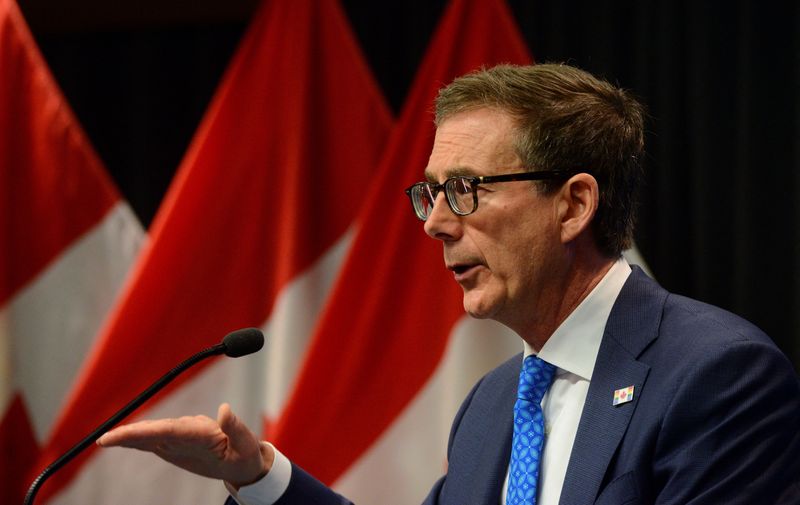 © Reuters. FILE PHOTO: Bank of Canada Governor Tiff Macklem holds a news conference at the Bank of Canada, amid the coronavirus disease (COVID-19) outbreak, in Ottawa, Canada, June 22, 2020. Sean Kilpatrick/Pool via REUTERS/File Photo

By Steve Scherer
OTTAWA (Reuters) – The Bank of Canada is expected to keep rates on hold on Wednesday, becoming the first of the world's major central banks to suspend their tightening campaign, after economic growth stalled in the fourth quarter of last year.
When the bank last met to set policy in January, it lifted rates by 25 basis point, as expected, to 4.50%, and said it would seek to leave rates unchanged for a while to let previous rate hikes sink in.
Over the past year, the bank raised rates by a total of 425 basis points to tame inflation, which peaked at 8.1% and slowed to 5.9% in January, still almost three times the 2% target.
"We expect the Bank of Canada to be the first G10 central bank to hold rates," said Jay Zhao-Murray, a forex analyst at Monex Canada.
The majority of the 32 economists surveyed by Reuters last week said the Bank of Canada (BoC) would likely keep rates on hold through the end of this year, and all of them forecast the bank to stay on hold on Wednesday.
Money markets expect the policy rate to be left on hold on Wednesday but are pricing in another tightening by September.
While some data have been particularly strong since the bank's last policy meeting, including a blockbuster January jobs report, gross domestic product stalled in the fourth quarter – far weaker than the 1.3% annualized growth forecast by the BoC.
"Look for the Bank of Canada to point to slowing GDP growth and inflation when justifying its decision to maintain the level of rates," said Royce Mendes and Tiago Figueiredo, Desjardins economists, in a note.
"The central bank is unlikely to do much to endorse the view that further rate hikes will be necessary," they said.
Macklem has left the door open to raising rates further, but he has also said that if inflation comes down as the bank has forecast, then higher borrowing costs will not be needed.
Macklem said in January inflation would slow to about 3% by mid-year, and then reach 2% in 2024. He also said he expects near-zero growth for the first three quarters of 2023.
Senior Deputy Governor Carolyn Rogers (NYSE:) will deliver a speech, titled "Economic Progress Report" and take questions from the media on Thursday in Winnipeg. There will be no speech or news conference on Wednesday after the rate decision.
Minutes from this week's meeting are due to be published on March 22.
Read More
The Bank of Canada is expected to leave its key interest rate unchanged at its upcoming meeting as Canada's economic growth stalls and inflation continues to linger near the bottom of the central bank's target range.
At its last meeting on January 22nd, the central bank left the overnight rate unchanged at 1.75 per cent, its level since October 2018. The interest rate sets the benchmark for borrowing costs for mortgages, loans and other lines of credit.
The Bank of Canada regularly reviews its rate decisions against economic data and has maintained the 1.75 per cent rate since October 2018 while waiting to see how recent economic growth would play out. Despite a period of steady economic growth during the fourth quarter of 2019, troubling economic data has come in recently indicating that the economy may be cooling off.
Inflation has been weighed down by lower gas prices and lingering effects from last year's slowdown. Average prices over the last 12 months have been lower than the Bank of Canada's 2 per cent target.
The economic outlook is likely to be the primary focus at the Bank of Canada meeting. The Bank is likely to keep rates unchanged until the evidence of growth strengthens, particularly inflation.
Overall, the Bank of Canada is expected to hold rates steady at its upcoming rate decision on March 13th, although a potential rate cut remains possible if economic conditions continue to worsen.