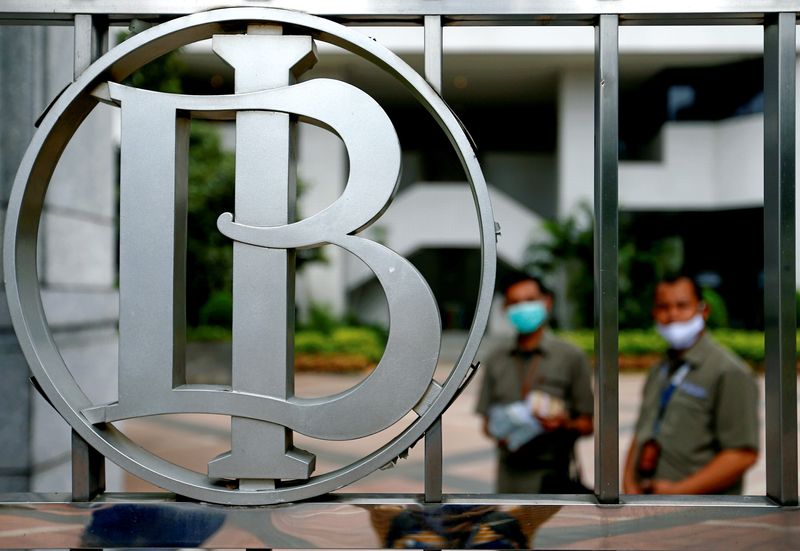 © Reuters. FILE PHOTO: Bank Indonesia's logo is seen at Bank Indonesia headquarters in Jakarta, Indonesia, September 2, 2020. REUTERS/Ajeng Dinar Ulfiana

By Anant Chandak
BENGALURU (Reuters) – Bank Indonesia will hold its key interest rate at 5.75% on Thursday and for the rest of this year, suggesting its current tightening cycle is almost certainly over despite inflation remaining high, a Reuters poll of economists forecast.
After six consecutive hikes since August 2022, the central bank paused last month and stressed the current level should be sufficient to guide inflation back to its 2%-4% target range.
Inflation in Southeast Asia's largest economy hit a seven-year high of 5.95% in September, driven by volatile food and energy prices, but has since slipped to 5.47% in February.
BI Governor Perry Warjiyo said core inflation, which is stripped of volatile components, was easing faster than anticipated after peaking in December so there was no need for more hikes. He said the Bank aimed to get headline inflation within the target band by end-2023.
All 30 economists in the March 8-13 Reuters poll expected the central bank to hold its benchmark seven-day reverse repurchase rate at 5.75% at its meeting on Thursday.
Median forecasts in the poll showed the policy rate would remain at that level for the rest of 2023, and only two economists surveyed expected a rate cut this year. Three expected an increase to 6.00% next quarter.
"BI recently declared victory over inflation with Governor Perry Warjiyo indicating that he need not hike rates any more this year," noted Nicholas Mapa, economist at ING.
"Dovish commentary from Warjiyo clearly shows that BI is now shifting its focus to bolstering growth to help offset the challenging global landscape."
That stance differs from many major central banks and some neighbouring Asian countries such as the Philippines, Thailand, and India that are expected to continue raising interest rates.
However, some economists cautioned about the risk of widening interest rate differentials, with the U.S. Federal Reserve likely to raise rates further, as well as a possible flare-up in domestic prices due to the upcoming Ramadan festival when there is more shopping and consumption in general.
"While we believe that BI might have come to the end of its rate hike cycle, there is now a great deal of uncertainty as to its future course of action," noted Kunal Kundu, economist at Societe Generale (OTC:).
"A rather hawkish statement by Fed Chair Powell suggesting rates moving higher and faster and remaining elevated for longer raises the possibility of the bank eventually deciding to go further. There is a possibility of BI going further and higher for longer."
(This story has been corrected to fix the tightening cycle milestone in paragraph 1)
Read More
On June 18th, Bank Indonesia announced that it would keep benchmark interest rates unchanged at 5.75 percent for the remainder of the year in order to maintain its steady momentum for the country's economic recovery. Bank Indonesia Governor Perry Warjiyo has expressed confidence in the economy's ability to improve if the current interest rate is held steady.
The current rate of 5.75 percent is the same as it has been since October of 2019. Bank Indonesia is keeping the rate steady in order to promote higher investment, stronger consumer spending, and stronger purchasing power. The central bank also noted that inflation has remained under control, as consumer prices declined to a six-year low in April, and that the current stable exchange rate is allowing monetary policy to remain effective.
In addition, Bank Indonesia believes that the rate of 5.75 percent will contribute to growth in the medium-term. This rate is seen as a key factor in providing stability and the highest possible levels of economic growth while staving off potential inflationary pressures.
Despite the optimistic outlook from Bank Indonesia, there are still reasons for caution, as the economy continues to face various headwinds. A rapid increase in the number of Covid-19 cases, along with vaccine hesitancy, could hinder the economic recovery. Additionally, questions remain about the sustainability of the economic expansion. If economic indicators point to a slowdown, Bank Indonesia may be forced to adjust policy.
Overall, Bank Indonesia's decision to hold its benchmark interest rate steady at 5.75 percent is a sensible move in the current economic climate. The hope is that the rate will continue to provide support for the country's economic recovery, while inflation remains in check and consumer spending increases.