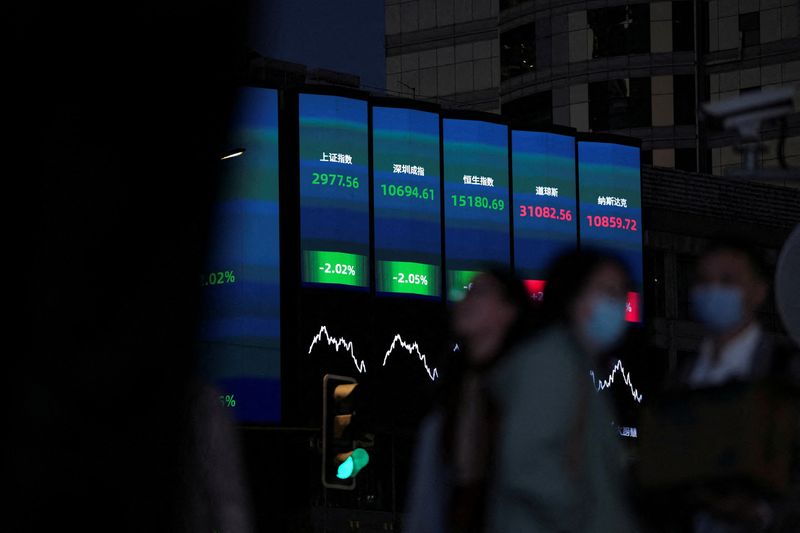 © Reuters. FILE PHOTO: A view of a giant display of stock indexes, following the coronavirus disease (COVID-19) outbreak, in Shanghai, China, October 24, 2022. REUTERS/Aly Song

By Ankur Banerjee
SINGAPORE (Reuters) – Asian shares nudged lower on Friday, weighed down by China and Hong Kong stocks due to concerns over the stuttering recovery in the world's second-biggest economy, although clocked a near 33-year peak.
MSCI's broadest index of Asia-Pacific shares outside Japan eased 0.20% but was set to eke out a gain of 0.19% for the week.
China shares fell 0.61%, while Hong Kong's dropped as much as 1.8%, dragged down by tech stocks after Alibaba (NYSE:) Group Holding Ltd reported a lower-than-expected 2% rise in quarterly revenue.
Data in the week underscored that China's economy lost momentum at the beginning of the second quarter, stoking worries over the wobbly post-COVID-19 recovery.
Japan's Nikkei though continued its ascent, rising to its highest since August 1990, during the country's so-called bubble era.
Investor attention has been firmly on the negotiations over U.S. debt ceiling and increasing hopes that a deal could be reached sent U.S. shares higher overnight [.N]. E-mini futures for the rose 0.16%.
U.S. President Joe Biden and House of Representatives Speaker Kevin McCarthy, the top Republican in Washington, hope to finalise a deal on the debt ceiling after Biden returns from the Group of Seven meeting in Japan on Sunday.
"What makes things more complicated this year is that the Democrats and Republicans are so wide apart from each other … negotiations will take a long time because each one is trying to get something out of that negotiations," said Alexandre Tavazzi, head of CIO office and macro research for Pictet Wealth Management.
Meanwhile, data overnight showed fewer-than-expected Americans filed initial jobless claims last week, lowering odds that the Federal Reserve will cut interest rates before year-end.
Hawkish rhetoric from Fed speakers continued with Dallas Fed President Lorie Logan and St. Louis Fed President James Bullard saying inflation was not cooling fast enough to allow the Fed to pause its interest-rate hike campaign.
Markets are now pricing in 36% chance of a 25 basis point hike when the Fed meets next month, compared with 10% chance a week earlier, CME FedWatch tool showed.
Focus will now switch to Fed Chair Jerome Powell's panel discussion later in the global day.
ActivTrades market analyst Anderson Alves said the hawkish narrative starkly contrasts with the message from May's Fed meeting, which signalled a high bar for future hikes, a sentiment that Powell seemingly did not discourage during the last news conference.
In the currency market, the yen strengthened 0.14% to 138.51 per dollar, but was near the six-month low of 138.75 it touched overnight.
Against a basket of currencies, the dollar rose 0.077% and was wedged near a two-month high. The euro was down 0.07% to $1.0761, while sterling was last trading at $1.2391, down 0.14% on the day.
The fell to 7.0677 per dollar, the weakest since Dec. 2. Analysts predict more weakness in the future and point to the Fed's policy as being the bigger driver than economic weakness at home.
fell 0.14% to $71.76 per barrel and was at $75.78, down 0.11% on the day.
eased 0.1% to $1,956.18 an ounce.
Read More
Asian stocks were mixed today in the wake of reports that slower growth in China would likely impact the willingness of the US to raise its debt ceiling.
Investors in the region seemed to be taking a cautious stance ahead of the release of economic data from China. China is the world's second largest economy and its continued growth has a major effect on global market sentiments.
Chinese Premier Li Keqiang has made it clear that economic growth could slow in the near future, and this uncertainty is spilling over into other markets. Meanwhile, talks on the US debt ceiling are ongoing with little progress being made.
Analysts feel that investors remain cautious due to the lack of clear direction from both China and the US. On the other hand, the US is expected to maintain its debt ceiling as it will have serious implications for the nation's financial health.
In Japan, the Nikkei 225 stock average was down 0.4 percent at the close of trading while Hong Kong's Hang Seng index rose 0.8 percent. Elsewhere in Asia, the Shanghai Composite index and South Korea's Kospi each lost 0.2 percent.
The risk-averse sentiment could continue in the region in the coming days, with investors cautiously waiting on further news on the debt ceiling and US-China trade relations.
Overall, the mixed performance of the Asian markets today reflects the uncertainty in the region due to the pending debt ceiling negotiations and slower growth in China.