APE suffered a drop in new holders after the launch of APE staking in Q4 2022.
Krill accounts held

70.5% of APE's total supply by the end of Q4 2022.
A persistent decline in Apecoin's [APE] value in Q4 2022, aggravated by the unexpected implosion of cryptocurrency exchange FTX, Messari, in a new report, found that the meme coin recorded a temporary surge in the number of new holders between October and December 2022.
---
Read ApeCoin [APE] Price Prediction 2023-24
---
In its new report titled "State of ApeCoin Q4 2022," Messari assessed the altcoin's performance in Q4 2022 and found that the count of its new holders increased momentarily prior to the launch of APE staking.
Messari's report suggests…
According to Messari, the APE ecosystem saw an influx of about 500 new holders per day during the fourth quarter, as indicated by the number of unique wallet interactions. It noted further that this surge in interest in Q4 was likely due to the impending launch of APE staking.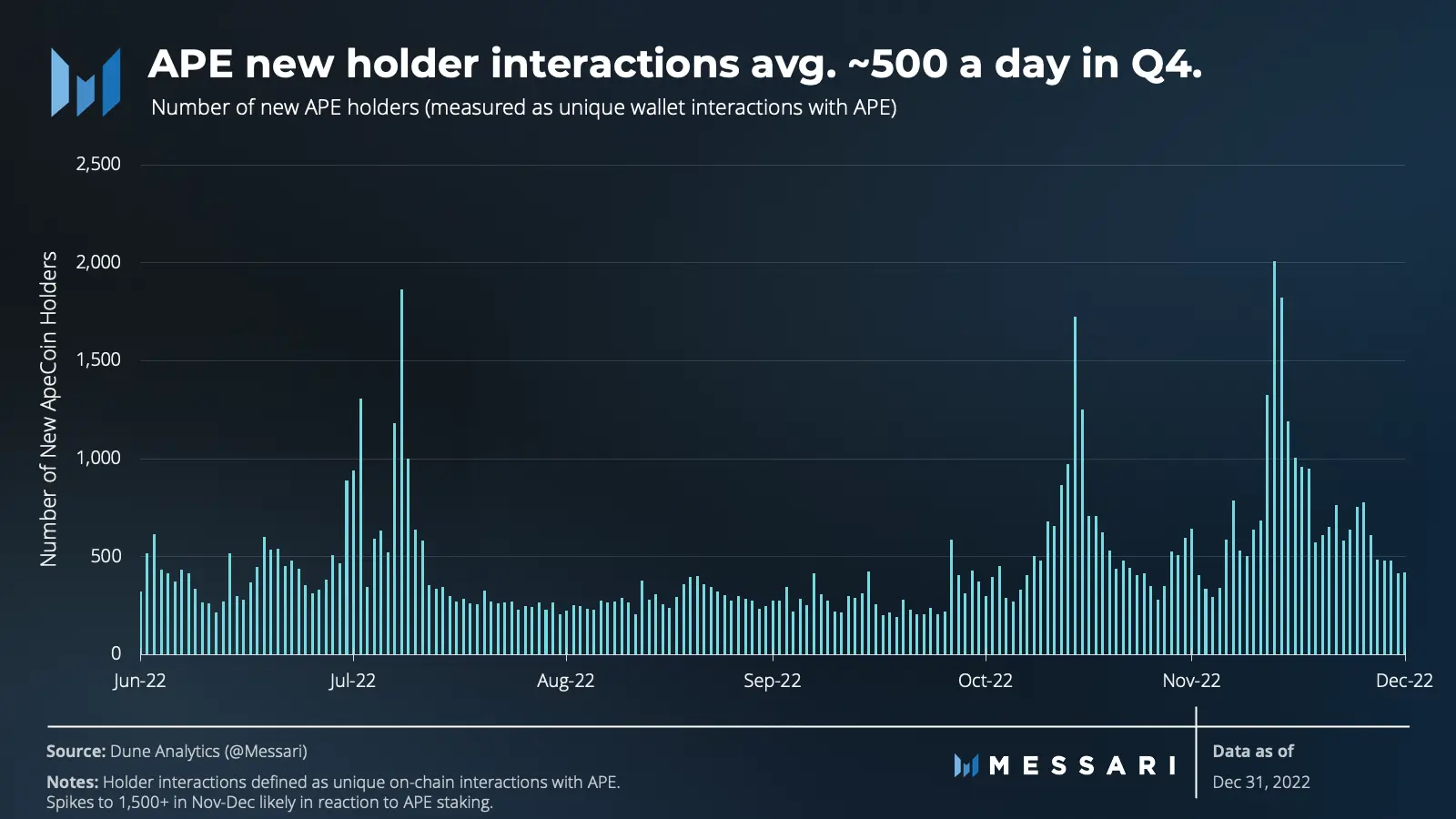 APE staking was launched on 5 December and has since allowed holders to lock their APE tokens into four staking pools — ApeCoin pool, Bored Ape Yacht Club [BAYC] pool, Mutant Ape Yacht Club [MAYC] pool, and Paired pool. This allows them to earn yield periodically. Per data from Etherscan, 108,298,954.439971 APE tokens worth over $630 million have been locked so far.
Further to the launch of the staking feature, the quantum of staking rewards claimed grew rapidly. The staking rewards were issued after a proposal was passed through the DAO governance system. 
However, the count of new holders declined as the increase in staking rewards led to a surge in selling pressure for the altcoin, making it undesirable for many new holders. According to Messari, the quick fall in the count of new APE holders revealed:
"That more product development is needed to create long-term demand for the APE token."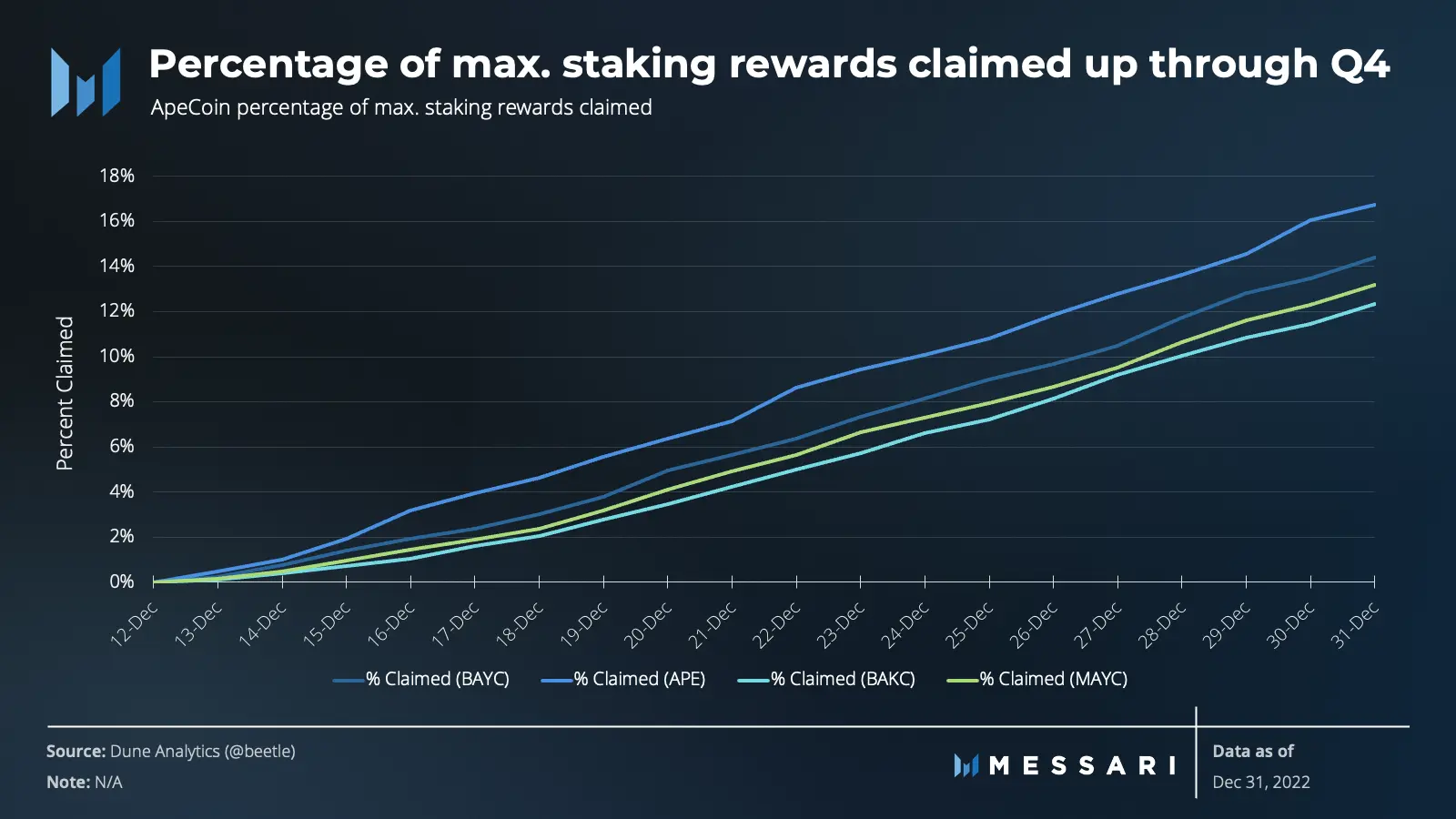 The little ones held more APE tokens 
Per its Dune Analytics dashboard, Messari had categorized the size of APE holding accounts based on the average APE price of $4 in Q4 2022. 
---
Is your portfolio green? Check out the APE Profit Calculator
---
The account sizes are divided into different categories: Krill ($250 or less), Fish ($250 to $2,500), Seal ($2,500 to $12,500), Dolphin ($12,500 to $25,000), Shark ($25,000 to $250,000), and Whale ($250,000 or more). 
At the end of Q4, 112,323 unique wallets were holding APE's total supply, with 70.5% of the holders being Krill accounts, 20.51% being Fish, 5.92% being Seal, 2.03% being Dolphin, 1.17% being Shark, and 0.33% being Whale. The Krill accounts saw a significant increase in the quarter, while the middle tiers (Fish, Seal, and Dolphin) saw a decrease in their share.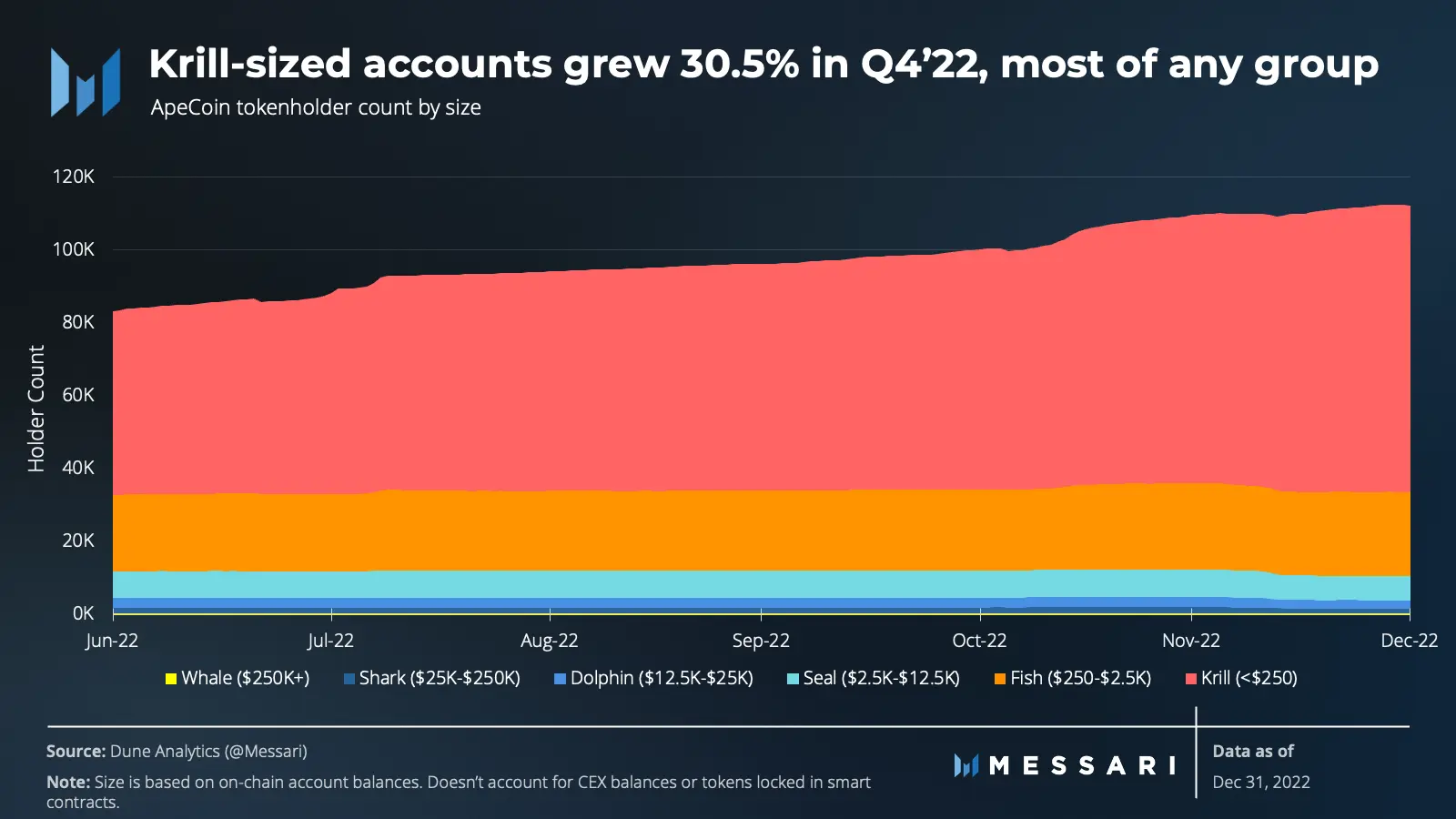 Read More
A new report released on Friday has cemented Apecoin (APE) as one of the biggest casualties of the fourth quarter of 2022.
Having kicked off the year with a promising start, staking the coin swiftly became a popular strategy for some holders. This unforeseen spike in demand led to a sharp increase in trading volume and reward rates. However, the ever- increasing popularity of the digital currency was ultimately its undoing.
An investigation by blockchain and digital asset research firm ChainLinkEyes revealed that the newly staked APE supply exceeded the available supply of APE tokens by December 2022. This mismatch of supply and demand rendered the coin incapable of dealing with the high user demand generated by staking, leading to an unrealistically high exchange rate and an impending market crash.
It is worth noting that Apecoin is not the only digital currency to have fallen victim to this sort of situation. Last year, similar supply issues forced several cryptocurrency projects to restructure their tokenomics.
While the implications of this incident remain unclear, it serves as a worthwhile reminder of the need to remain acutely aware of current market supply and demand dynamics. Going forward, would-be investors would do well to research their coin supplies in relation to the trading activity before making any large-scale investment decisions.