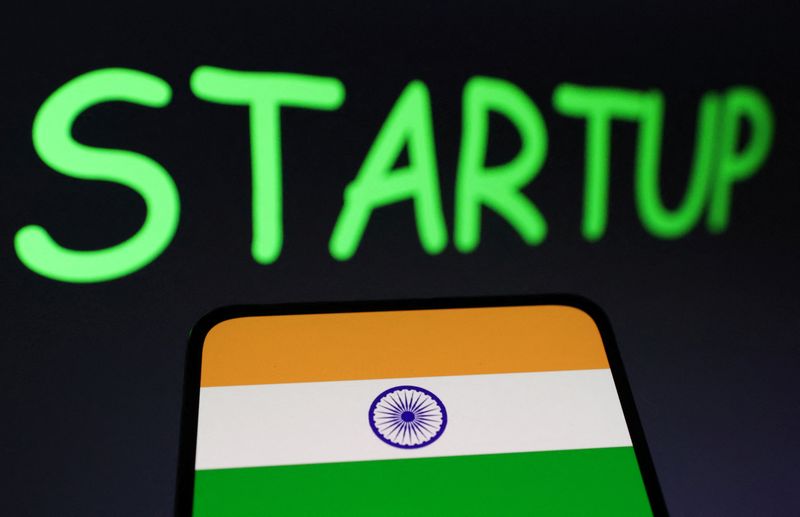 © Reuters. Indian flag and word "Startup" are seen in this illustration taken, April 18, 2023. REUTERS/Dado Ruvic/Illustration

By M. Sriram
MUMBAI (Reuters) – A funding squeeze at Indian startups that has already led to layoffs and delayed stock listings is set to worsen as investors reckon with stretched valuations and faltering consumption growth, likely laying the ground for industry consolidation.
Startups in India raised just $2 billion in the first quarter of 2023, 75% lower than the same period of last year, and the smallest quarterly number in nearly three years, figures from data firm CB Insights showed.
At this run rate, startups may end up raising less than $10 billion this year, a far cry from the record $30 billion garnered in 2021 and $20 billion in 2022.
The slowdown is a setback for startups as well as Prime Minister Narendra Modi who has lauded their success by calling such companies the "backbone of new India". It could hurt India's economic growth and its jobs market.
"This is a fundamental reset, not just another blip," said V.T. Bharadwaj, a former India managing director of Sequoia Capital who now leads venture capital firm A91 Partners. "I don't think I'll again see a record fund raise year like 2021 at least for a decade."
The prospect of fast rising consumption both offline and in India's digital space helped many startups clock multi-billion-dollar valuations in recent years, with the likes of Sequoia and Tiger Global betting big on businesses which burnt cash to lure consumers in the country of 1.4 billion people.
Global factors such as high rates and inflation have weighed on the investment climate in India and elsewhere – startup funding in the U.S. dropped by around half to $32.5 billion in the first quarter, while in China it fell 60% to $5.6 billion
But India's startups – which are far more reliant on foreign capital than global peers – have seen a more severe squeeze, which some executives say is also partly due to investors realising that they misjudged consumption growth.
Indian VC firm Blume Ventures said in an April report consumption outside the top 30 million Indian households dropped sharply, and is driven by a "tiny superuser set".
Despite India's billion-plus population, food-delivery company Zomato has just 50 million annual transacting users and state-backed digital money transfer service UPI is used by just 260 million, the report said.
"Indian startups are not catering to a billion consumers. All of them are selling to the same 100 million. The (consumer) market seems 2-3 times inflated," said Ankit Nagori, a former top executive of Walmart (NYSE:)'s e-commerce arm Flipkart who now runs cloud kitchen startup Curefoods.
Graphic: Startup funding falls to lowest level in nearly 3 years – https://www.reuters.com/graphics/INDIA-STARTUPS/zjpqjagaqvx/chart.png
FEWER DEALS, CONSOLIDATION IN SIGHT
The first signs of discontent in the Indian market came after the flop listing of loss-making digital payments firm Paytm in 2021, following which investors and regulators raised questions on whether valuations of many startups were unrealistic.
Since then, things have gotten worse.
Six investor sources and three startup founders told Reuters they expect the funding environment to worsen and many multi-billion-dollar firms to cut valuations within two years.
In recent weeks, BlackRock (NYSE:) internally halved the valuation of Indian online education firm Byju's it has invested in to $11.15 billion from $22 billion, while Invesco slashed food delivery firm Swiggy's valuation by a quarter to $8 billion, disclosures from the U.S. investors show.
And only 271 Indian startups raised funding in Q1 2023, compared with 561 last year, according to CB Insights.
After leading the funding boom in India for years, Japan's SoftBank has not made a single new investment in the country in the last one year as it waits for a further correction in valuations, two people familiar with its planning said.
SoftBank did not respond to a request for comment. It invested $3 billion in Indian companies in 2021 and another $500 million in 2022, by April that year, Reuters calculations show.
Amid all the pain, banker Shivakumar Ramaswami has sensed an opportunity and is setting up a new M&A desk at his tech-focused investment banking firm Indigoedge as he sees a wave of consolidation – two of his colleagues are only tasked to scout for M&A opportunities.
"So many funded companies hit some scale and then stalled. Everyone needs to find a home, and many of these companies can't go for an IPO. We are preparing to work with them," he said.
Read More
In the last few years, India has seen an unprecedented rise in the number of startups, fueled by increasing venture capital investments in the country. However, the current situation is far from rosy, with the funding crunch deepening, leading to a higher risk of failure for many fledgling startups.
The latest round of funding crunch began in October 2019, when major venture capital funds trimmed their investments in India-based startups. This trend has only been further amplified in 2020, with several Indian startups announcing layoffs and even complete closures.
Startups that were once booming are now hit particularly hard. Industry experts assert that these businesses are in the most danger, as their previously large cash reserves and built-in customer base may not be enough to sustain them in the current market conditions. This is especially true for businesses that have opted for aggressive growth strategies in the past, as the sudden contraction of their operations could affect their long-term stability.
Apart from businesses, the financial woes of Indian startups also impact their growing pool of employees. The subsequent layoffs and salary cuts have made it difficult for these young professionals to make ends meet, leading to an increase in stress and financial insecurity.
The current situation underscores the need for India's regulatory bodies to take a proactive stance on the startup ecosystem. Building the right legal and financial infrastructure can go a long way in allowing these businesses to thrive, while protecting their employees' rights in the process.
For now, the future of Indian startups hangs in the balance, as the funding crunch shows no signs of abating. It remains to be seen how many of these businesses can survive the current market conditions, and whether the industry will make it through this difficult phase.